Schoolboy in Lincoln footsteps
Read more below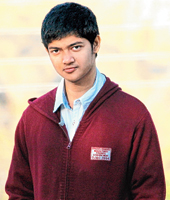 ---
Published 20.07.14, 12:00 AM
|
---
Abhishek Basu, the author
There exist two worlds. A sheltered one filled with an abundance of opportunities and another one that is characterised by its harshness and brutality. At 16 years, life gave me a chance to experience stark realities of the latter. It was a life-changing moment for me when I visited Sonagachhi along with team members of Apne Aap Women Worldwide.
My initial feeling was one of apprehension as we entered the area. Multiple emotions coursed through me as I was exposed to the atmosphere of the place. It's as if the very earth was trying to protest the innocence that is disfigured there. Congested lanes filled with more people than you can imagine. Children running about, their eyes reflecting poverty and sadness. And, of course, the women. They were there in throngs.
Young women of different ethnicities, all in heavy make-up and flashy clothing. They stood provocatively at the edge of the streets, hoping to attract customers. There were men all around keeping a watchful eye on them. I left knowing that my perspective towards life would never again be the same.
I landed exactly a week later in Dulles International Airport, Washington DC. I was one of the two fortunate people from India chosen to attend the Students Opposing Slavery (SOS) International Summit, which was a conference of young abolitionists around the world who have pledged to end modern slavery.
My heart skipped a beat when we arrived at President Lincoln's Cottage where the conference was to be held. The place was surrounded by a burial ground for the thousands of soldiers killed in and after the civil war. The atmosphere was electric. It was as if the ghosts of those valiant soldiers were chanting in unison and supporting our cause.
On arrival, we were taken on a tour of the cottage. We could almost sense the presence of the great man himself. We were struck by some of the incidents of Lincoln's life. His humility, his kindness, his dedication to his country and fellowmen and how good he was at checkers!
This was the place where the Emancipation Proclamation was signed and Lincoln had once talked about his unfinished work. He had understood that slavery hadn't completely ended. Something within me felt that he was passing on the torch to all of us. For a moment there I truly believed that I had the power to impact millions of lives. A power that each and every one of us possesses.
At the Cottage, there were students of various nationalities, all united in this fight. That day made me realise the magnitude of the problem that we are facing. Human trafficking is far more than just a simple crime. A thriving 200 billion dollar industry that has its reach in every nation and culture across the globe.
The day ended for us on a high note as we did some fun team-building exercises and got to know each other. It was pleasurable to see how representatives of so many different countries became compatible with each other and after a point we were all each other's best buddies. The discussion really got going on the second day when the students presented the problem from their country's perspective.
The US, Moldova, Cambodia, Thailand, Nepal, Myanmar, Philippines and, of course, India, each had a different perspective to add. Next we had a presentation by the MTV Exit Youth Leaders. MTV Exit is an organisation that spreads awareness about human trafficking through music. Since music is one thing that is universally loved, it forms a great medium to foster awareness among people. This idea really excited me.
The next few days passed by like a whirlwind. We had speakers from various organisations address us.
What really impacted me was the account of a survivor named Poonam. She was 12 when she was trafficked from Nepal into India. Condemned to work in servitude in a brothel in Mumbai, Poonam managed to escape during a police raid. She is now 18, studies in Class X and dreams of becoming a social worker. She is a living testament to the fact that survival was possible. That we don't have to cling on to the trauma of our past.
If there's one thing I learnt from this trip, it is inspiration. The thought that I can make a difference. I left knowing that my journey had just begun.
Class XI student of La Martiniere for Boys and one of the two winners of an essay- writing competition organised by The Telegraph, in association with Apne Aap Women Worldwide, that took him to the SOS summit in Washington DC last month