Scared of NRC? Come back in 2022
Thousands of citizens are responding desperately to ground rumours hinting at an NRC-like exercise in Bengal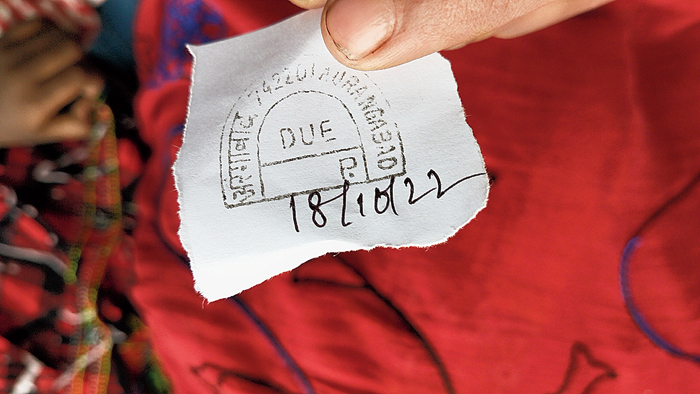 A slip mentions October 18, 2022, as the next date of appearance
Picture by Samim Aktar
---
Murshidabad
|
Published 26.09.19, 07:05 PM
|
---
Sabiya Biwi, 22, a daily wage beedi labourer from Aurangabad village in Murshidabad, queued up at the local sub-post office at 3am on Thursday to apply for a new Aadhaar card. But some time around lunch, post officials sent her home with a marked slip asking her to return on October 18, 2022.
Asgar Ali, 26, a mason from Nimtita village who requires a typographical correction in his Aadhaar card, was in the same queue as Sabiya on Thursday. Slightly luckier, Asgar's slip asked him to return on August 5, 2022.
Sabiya and Asgar are among thousands of citizens, especially those from low-income and rural areas, responding desperately to ground rumours hinting at an NRC-like exercise in Bengal.
"We are trying to make sure that our Aadhaar cards are in order because we will need them to prove that the family has been living in India from prior to 1971," Sabiya said.
Sabiya and Asgar had queued up for at least four days prior to Thursday but were unable to get anywhere near the official counters because of long, snaking lines. Most of them returned home with appointments dating to more than three years in the future.
"I left my job for three days to stand in the queue. But today they gave me a slip asking me to come back in three years. I might not be in the country by then," Sabiya said.
"My slip says 2022. But what if the NRC comes and goes by then and my name is not on the list?" Asgar asked.
Staff at the Aurangabad post office, numbering three including the postmaster, said they were compelled to take the unusual measure of providing slips in order to prevent law-and-order problems.
"Thousands are queuing up here everyday, and the matter, which is linked to the NRC, is of utmost importance to them," said a postal worker.
"We are issuing slips to 30 people a day. Within four days, all the working dates in this year and the next year were booked. Now we are giving dates of October 2022. If we continue this process, we will now have to allot dates in 2023," he added.
The postal staff said they could not handle more than 30 cases a day because of the workforce crunch and the fully computerised Aadhaar system with which the staff were still getting acclimatised.
On Wednesday, chief minister Mamata Banerjee released a video in which she asked the citizens of the state "not to worry", saying that "an NRC-like exercise is not on the cards in Bengal".
In East Burdwan's Galsi, at least 100 families have been camping in front of a nationalised bank branch, which hosts an Aadhaar centre, from the early hours. Similar queues have been spotted in front of land records offices, EPIC card correction centres and food supply (ration card) offices.
"We cannot ignore the repeated assertions by BJP leaders that they will conduct an NRC drive in Bengal," said a resident of Aurangabad.
The postal superintendent of Murshidabad, Prabal Bagchi, said on Aurangabad: "The post office can't distribute such slips. I will enquire into the matter."