Savings in banks, LIC go to ginger trader: Mamata Banerjee
Both LIC and the SBI have come under scrutiny for their investments and debt exposure in Gautam Adani owned companies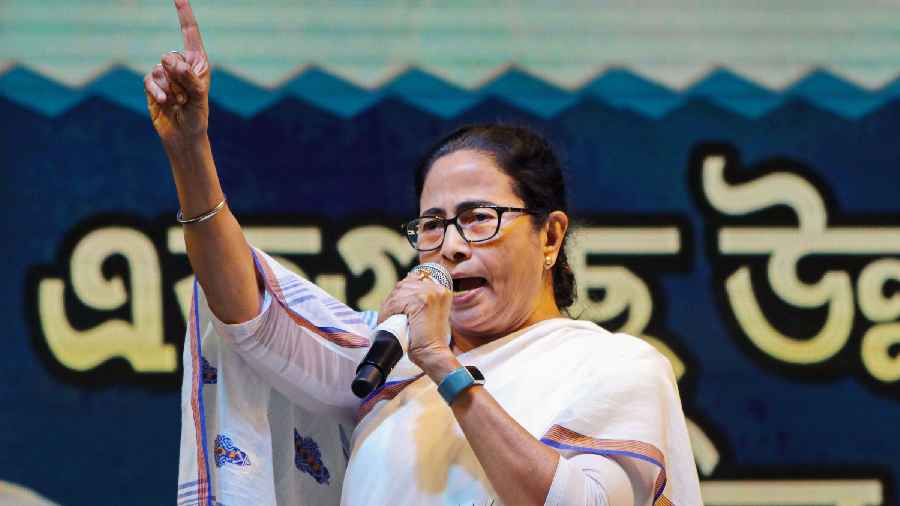 Mamata Banerjee
File picture
---
Calcutta
|
Published 10.02.23, 05:06 AM
|
---
Mamata Banerjee on Thursday said common people's savings in the LIC and nationalised banks went to the residence of a ada'r byapari (ginger trader) as she ramped up the attack on the Narendra Modi government over the allegedly shady deals in the Adani conglomerate. 
At a state government event in Howrah, the Bengal chief minister broached the subject, saying she did not want to make overtly political statements from the dais of an official programme.
"Where do you (the common people) keep your savings? Many in the LIC, many in housing investments, many in (nationalised) banks.... Where is all that money going? The money is going to the home of the ada'r byapari (ginger trader, an oblique reference to the Adani group)," said Mamata. 
Both the LIC and the SBI have come under scrutiny for their investments and debt exposure in Gautam Adaniowned companies.
"Any day, they might say the LIC will be shut down, same with the (nationalised) banks, the post offices. Where will people go? What do they turn to? This Centre runs only on bhashan," she added. 
The chief minister has been flagging the Adani issue in every public appearance since February 2.
Sources said there had been initial moments of hesitation over the degree of belligerence to be adopted in Trinamul's attack over the issue as the Adani group was entrusted with the responsibility by the state government of developing the deep-sea port at Tajpur and in consideration of the Deocha-Pachami coal mine project. But, said the sources, Mamata was now fairly convinced that the Adani issue would be "Modi's Waterloo", and the possibility of the Group's fortunes nose-diving had firmed her resolve to stop pulling punches.
Moreover, she was also averse to the idea of letting the Congress get away with mocking her party over its alleged reluctance to go all-out in its attack in Parliament.
After being mocked even on Monday by the Congress over her party's alleged reluctance to rub the Modi government the wrong way, even over an issue as serious as this, Mamata — according to sources — instructed Trinamul parliamentarians that night that it must not appear that way.
"Not everything we do has to be in accordance with the Congress's preferences. The Congress would like to ride on the coattails of wider Opposition unity while doing precious little to contribute towards it," said a senior Trinamul MP.
Over the past few days, Congress leaders, including Adhir Ranjan Chowdhury, have repeatedly jeered at the Bengal chief minister and her party over their allegedly lukewarm response to the Adani issue.
"Following her instructions, because the optics of this are important, our MPs conducted demonstrations outside the LIC headquarters on Tuesday and outside the SBI on Wednesday…. We have upped the ante inside and outside the Parliament," a Trinamul MP said.