Book store recalls Soumitra Chatterjee's days
Santiniketan speaks about actor's adda sessions and simplicity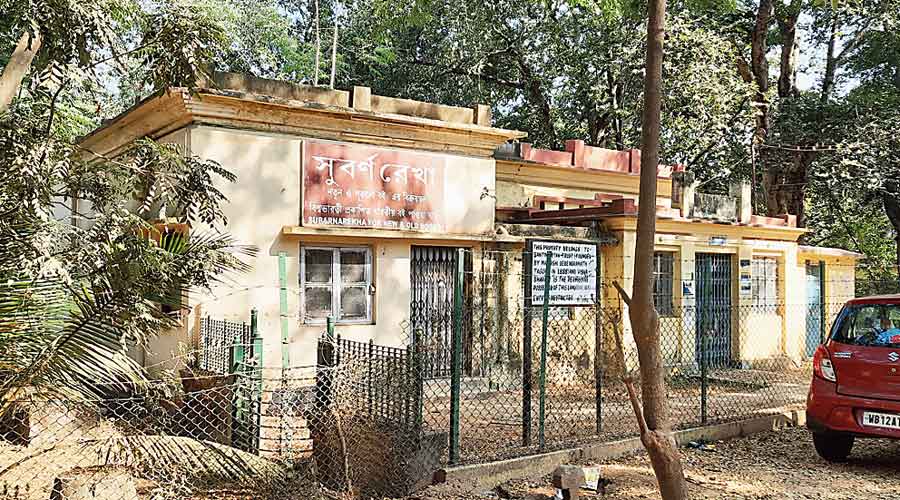 ---
Santiniketan
|
Published 17.11.20, 05:18 AM
|
---
Bengal's cultural icon Soumitra Chatterjee, who passed away on Sunday, had never wanted to miss one thing whenever he was in Santiniketan — an adda at the town's popular book store and intellectual hub Subarnarekha.
"It was a must for Soumitrababu to come to our adda whenever he was in Santiniketan. He enjoyed the conversations and interactions with several senior teachers, scholars and intellectuals of Santiniketan. The discussions covered a wide range of subjects and issues," said Sujit Chatterjee, an 83-year-old resident of Santiniketan and president of the decade-old film society Bikhshan.
Old timers, who used to frequent Subarnarekha, recalled that on several occasions, they had seen Soumitra engaged in animated discussion in the company of litterateur Sunil Gangopadhyay and poet Shakti Chattopadhyay.
Samiran Nandy, a retired photographer of Visva-Bharati, said he had first seen Soumitra in Santiniketan in September 1978 and later he would frequently run into him at the adda sessions at Subarnarekha.
" I have spent so many memorable evenings with the legend in the adda sessions at Subarnarekha . We used to sit there as a listener and rarely commented. We tried to hear and absorb his erudition and knowledge on a wide range of subjects," said Nandy.
Nandy said what was endearing about him was that he never used to flaunt his stardom.
"He was in every way a cerebral actor whose knowledge was immense. We could enjoy those sessions because the torture of autograph hunters and selfie-seekers was not there on those days," Nandy added.
"Soumitrababu did not speak about his profession at the adda sessions but used to spend time discussing various books, poems and what stood out was his sense of humour and wit," he added.
Soumitra also had personal ties with several persons in Santiniketan.
In 2009, the veteran actor came to visit Rabindranath Tagore's museum at Rabindra Bhavana for an interview with its special officer Nilanjan Banerjee for a radio programme on the bard.
"He was really versatile as he had a deep knowledge about Tagore and his works," said Banerjee who knew Soumitra for many years as he was a part of the production unit of a English film that was shot in 2001 in Santiniketan.
"He was a really nice person. One day, he suddenly asked me to take him to the local cinema as he wanted to watch Aamir Khan's film Lagaan. We took a rickshaw and went to Gitanjali auditorium to watch the film. He enjoyed the movie. He was so simple," recalled Nilanjan Banerjee.
Old timers, however, said Soumitra's visits to Subarnarekha became less frequent after the death of the book store's owner Indranath Majumder in 2013.
Soumitra had visited Santiniketan for the last time in 2019 and told his close friends that he felt happy whenever he got a chance to visit Santiniketan.
However, his last trip was not marked by a visit to Subarnarekha and from Sunday, the innumerable sessions that Soumitra had attended at the bookstore became a part of history.