Safety lessons for mothers
Parents educated on harmful social media friendships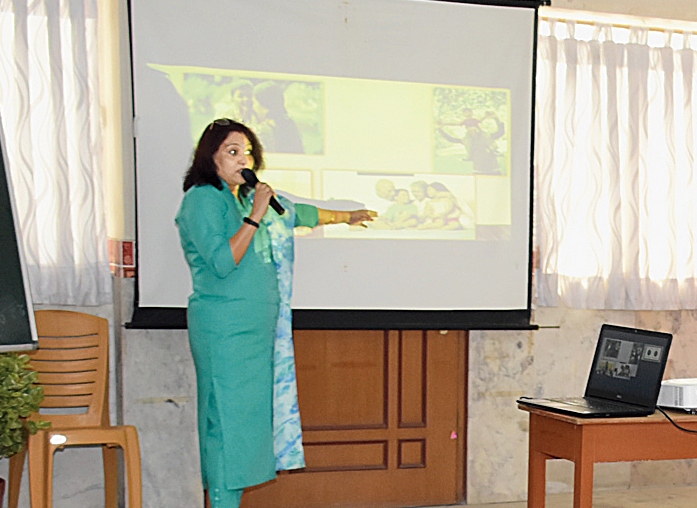 Clinical psychologist Suparna Ghosh talks to students at Young Horizons School.
Picture by Tisya Das
---
Calcutta
|
Published 02.08.19, 09:16 PM
|
---
Mothers of 130-odd students of classes I and II were given lessons on child safety, rights and trafficking at a city school on Friday.
The students, too, attended the workshop at Young Horizons School, Kalikapur, and were encouraged to speak up about abuse. The mothers were asked to share their problems to help them handle a child's trauma better.
Many of the mothers admitted they had never heard of Pocso (The Protection of Children from Sexual Offences Act) and most were not aware of any helpline number for children in distress.
"Parents need to know that trafficking is not just a rural problem and how harmful social media friendships are for their children. Boys are as vulnerable as girls. Most of these kids come from diverse backgrounds and some cannot express themselves too well. I want the children to learn to speak up about abuse," principal Sharmistha Sen said.
The workshop was split into two sessions conducted by Mumbai-based clinical psychologist Suparna Ghosh, gender and child rights activist Monijinjir Byapari and corporate trainer Indrani Mukherjee.
The counsellors showed their audience a film on good and bad touch and went on to explain laws, what constituted abuse and also gave tips on personal hygiene and help at hand.
"I have tried to educate my child about good touch and bad touch from my own experience. I know my child is at risk in pool cars, public places and malls," said Dipanwita Mukherjee, a mother of a Class II student.
She was however, shocked to learn that most abuses take place at home, at the hands of tutors and relatives.
"Ten per cent of abusers are direct family members… trafficking is also common among all income groups," said Byapari, citing statistics and busting many other myths.
She urged parents to look out for warning signs. "A child may not always talk about abuse but express through her behaviour, like not wanting to go to school or play," she said.
Ghosh educated the children about their anatomy, what constitutes bad touch and how they should learn to say no to offenders. "Call 1098 for help. Shout no and run in case of trouble," she said.
The school's decision to conduct the workshop on safety was triggered by an incident in March, when a student allegedly fell into the clutches of traffickers. "The girl was rescued by her parents from Bongaon. She had gone out with a 'friend', a 19-year-old boy, who convinced her to travel with him. The boy has been arrested but the girl is still in trauma," principal Sen said.
"Parents need to learn how to handle such trauma. An incident of abuse can scar a child for life."
The children were asked to name areas where they are likely to meet uncomfortable strangers. "Playgrounds, Metro station, picnic, zoo, Digha…" came the answers. They were also asked to name their most trusted person to whom they would turn to as "bodyguard".
"My father is my bodyguard. I once got lost near Garia station. The area had bad strangers but he found me," a Class I child said.