Rs 5 to cross just one station
Most Metro commuters to pay Rs 5 more for a ride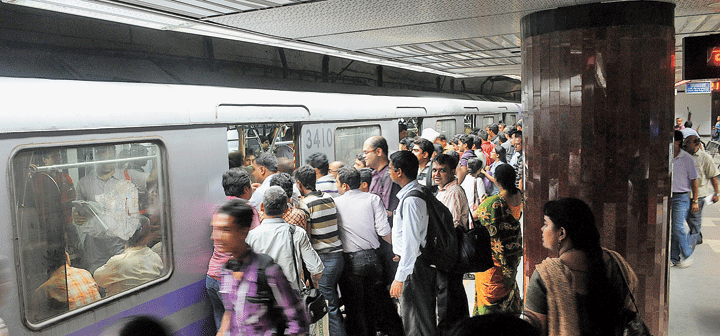 ---
|
Calcutta
|
Published 27.11.19, 09:17 PM
---
More than 90 per cent of Metro Railway passengers travel longer than 2km but less than 25km in one ride and will have to shell out Rs 5 more for the journey from next month, Metro officials said on Wednesday.
Metro Railway fares will go up by Rs 5 on most stretches from December 5, the first revision in six years.
Metro reported on Wednesday that minimum and maximum fares will remain the same under the revised structure but the distance slabs have been tweaked. In the existing system, the minimum fare is Rs 5 for a ride up to 5km. Post-December 5, the minimum fare will remain Rs 5 but only up to 2km, said a Metro official.
Metro has ferried 7.03 crore passengers between December 2018 and March 2019, according to records. Close to 32 per cent Metro passengers travelled up to 5km. Most passengers (40.86 per cent) travelled between 5km and 10km, over 20 per cent between 10km and 15km, around five per cent between 15km and 20km and less than 1.5 per cent between 20km and 25km. A meagre 0.26 per cent passengers travelled beyond 25km.
Noapara and Dum Dum and Dum Dum and Belgachhia are the only consecutive stations more than 2km apart from each other. The distance between two consecutive stations on the rest of the stretch is less than 2km. There are 24 Metro stations.
That means Rs 5 will only ensure crossing just one station from December 5. Those travelling between Noapara and Dum Dum and between Dum Dum and Belgachhia will have to pay Rs 10.
"The passenger fare earning for the December 2018 to March 2019 quarter was Rs 66.64 crore. With the fare revision, the projected earning in the same quarter this time should be Rs 97 crore, even if the passenger count is the same," said Indrani Banerjee, the Metro spokesperson.
Metro Railway carries around seven lakh passengers every day. It earns around 80 per cent of its revenue from fares and spends around Rs 2.48 for every rupee earned.
Almost the entire revenue from passenger fare is spent on staff salary and other expenditure, including power consumption, said an official. The annual expenditure on power is around Rs 80 crore, he added.
The Metro authorities had long been trying to revise the fares but successive railway ministers had refrained from approving a hike, leaving the transport lifeline struggling to operate smoothly.