Rs 1cr pledge by alumnus
Big donation to IIEST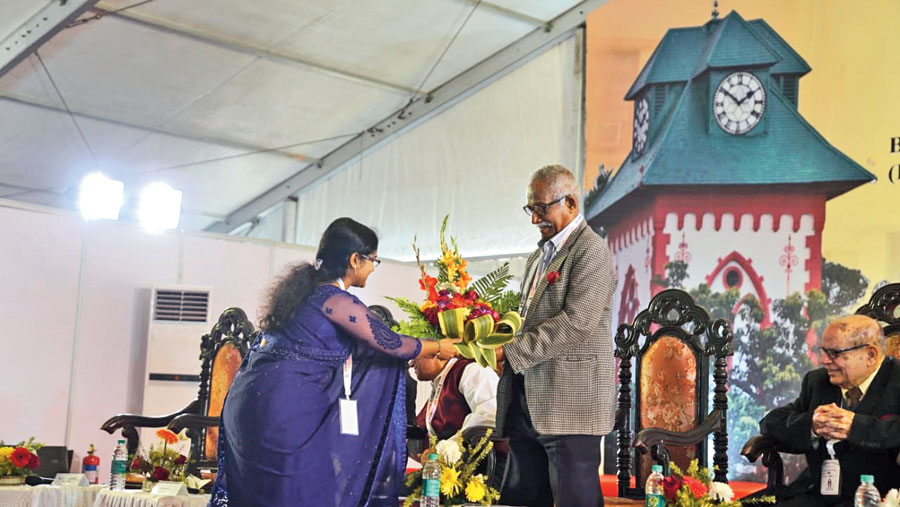 Sunandan Narayan Basu at IIEST on Saturday
The Telegraph picture
---
Calcutta
|
Published 02.02.20, 07:10 PM
|
---
An alumnus of the Indian Institute of Engineering Science and Technology has pledged Rs 1 crore, which will be spent on upgrading the infrastructure on the Shibpur campus.
Sunandan Narayan Basu, 86, a civil engineer who had graduated from the erstwhile Bengal Engineering College (now IIEST) in 1956, promised the amount at the global alumni convention of the institute on Saturday.
"This is the highest contribution from an individual in recent times," an IIEST official said.
Basu said the generous contribution that IIT Kharagpur alumni make to their alma mater inspired him to make the donation.
"The alumni of IIT Kharagpur contribute to their alma mater big time. Take the example of Vinod Gupta. A school of law and management has been set up with his contribution. So, I thought why not I contribute to our alma mater. I have been told that the amount would be spent on improving the infrastructure," said Basu, who retired from CESC in 1996.
"It's now a central academic institute and the volume of students has increased. The infrastructure needs to be upgraded."
Vinod Gupta, an India-born US businessman, investor and philanthropist, has donated millions of dollars to IIT Kharagpur since 1993.
"We will raise a corpus with contribution from the alumni. The fund will be used to improve the infrastructure. We have plans to build hostels, auditorium and renovate buildings...," IIEST director Parthasarathi Chakrabarty told The Telegraph.
Vasudev K. Atre, the chairperson of the IIEST's board of governors, had on Friday expressed his concern over the state of infrastructure on the campus.
"Look at the campus. Hundred-and-sixty-year-old campus. You go around, walk around the campus. You will feel sorry. Academic world requires a calm atmosphere, clean atmosphere. Buildings are falling down. Are not they?" he had said.
Last November, director Chakrabarti had sought "generous funding" from the Centre for the renovation of buildings on the campus.