Rhino shot in Jaldapara
Horn missing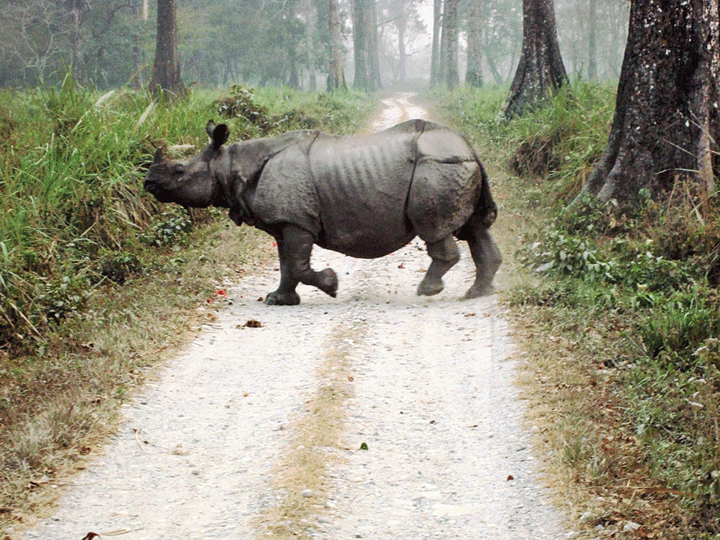 A rhino in the Jaldapara National Park
File picture
---
Alipurduar
|
Published 31.10.19, 08:58 PM
|
---
The carcass of an adult female rhino was found with the horn missing in the Jaldapara National Park on Thursday.
With over 250 rhinos, the Jaldapara sanctuary is the largest habitat of the species in Bengal.
"We have started an investigation and suspect involvement of some local poachers. Two sniffer dogs have been engaged to search for hunters and our officers are also collecting information," said Ujjwal Ghosh, chief conservator of forest (wildlife, north).
Sources said two bullets had been recovered from the carcass, suggesting that the animal had been shot.
"The poachers used a sharp weapon to sever its horn. We suspect the bullets were shot from sophisticated firearms," said a forester.
Animesh Bose, a wildlife conservationist based in Siliguri, said: "Surveillance should be intensified in the Jaldapara and Gorumara (the second habitat of rhinos in Bengal). In 1985, rhino population in the Jaldapara had come down to 14 because of poaching. It was through consistent efforts that the species could be conserved and over years, their population has increased in the reserve forests. We don't want a single animal to be killed."
The incident has raised questions about the safety of rhinos as it happened at a time the department was planning to relocate some of the animals to Patlakhawa, a third habitat for rhinos in the neighbouring Cooch Behar district.
"We have to be very sure about the security arrangements in the new grassland developed in Patlakhawa. Otherwise, the animals released there can be easy targets of the poachers," said a senior forest officer.
According to sources, in 2014, three rhinos were killed in Jaldapara and four the following year. Between 2014 and 2016, as many as 44 people had been arrested in connection with poaching and 14 different cases were registered.
"Earlier, as we made the arrests, it was found that poachers based in the Northeast were involved in the killings with the help of local people. We have a similar suspicion this time, too," said a forester.