Rhino carcass found on fringes of Gorumara
In Bengal, Gorumara is the second largest habitat of one-horned rhinos after Jaldapara National Park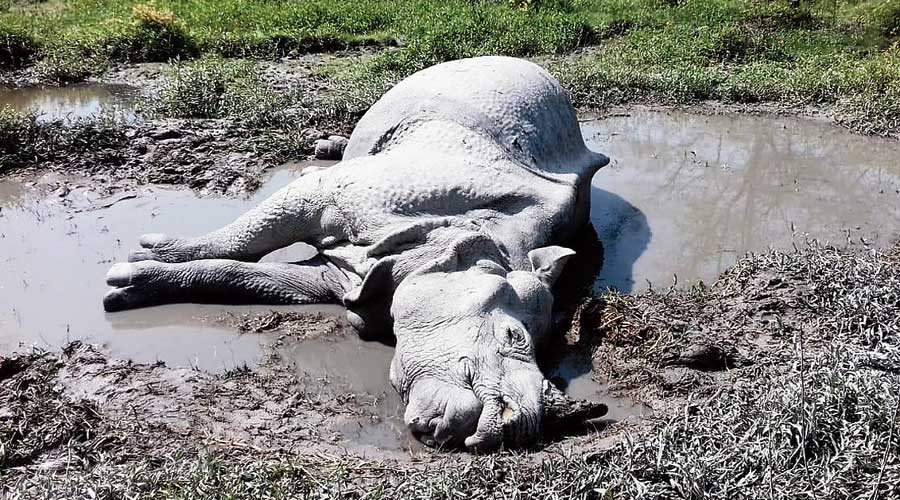 The carcass of the adult male rhino on the fringes of the Gorumara National Park in Jalpaiguri on Wednesday.
Biplab Basak
---
Jalpaiguri
|
Published 15.10.20, 03:41 AM
|
---
An adult male rhino was found dead on the fringes of the Gorumara National Park in Jalpaiguri district on Wednesday morning.
Senior forest officers visited the spot along with vets to find out whether the animal had fallen prey to poachers or had died a natural death.
In Bengal, Gorumara is the second largest habitat of one-horned rhinos after Jaldapara National Park that is in the neighbouring Jalpaiguri district.
Around three years back, poachers had targeted rhinos of the two habitats. In Gorumara, poachers had killed two rhinos. They had severed the horns and had buried the carcasses. During the investigation, it was found that rackets based in Northeast were involved in the crime, along with some local people.
On Wednesday, some residents of Bamandanga —Tondu tea estate — spotted the carcass. They immediately informed foresters and the policemen from Nagrakata reached the spot.
"Our officers went to the spot and confirmed that it is one of the rhinos of the Gorumara.
"Gorumara has around 55 rhinos. It is a common trend to name each rhino. This rhino was known as Don," said a forest officer.
Foresters examined the rhino's body and also used a metal detector to find out whether it had been hit by a bullet. However, they didn't  find presence of any metal in the animal's body.
"The horn was there but we can rule out the chances of poaching only after we come to know about the cause of the death from the vets. This is because the location from where the carcass has been seized is the same area which poachers had used as a passage three years ago," the forester added.
Nisha Goswami, the divisional forest officer of Gorumara wildlife division, said preliminary investigations indicated that the animal died because of ailments.
"The same rhino had fallen ill a few weeks back and we had treated it. We are waiting for the post-mortem report," Goswami added.