Rhino and jumbo thrills for tourists in Dooars
As the news spread, hundreds assembled to watch the animals and to click its photographs and record videos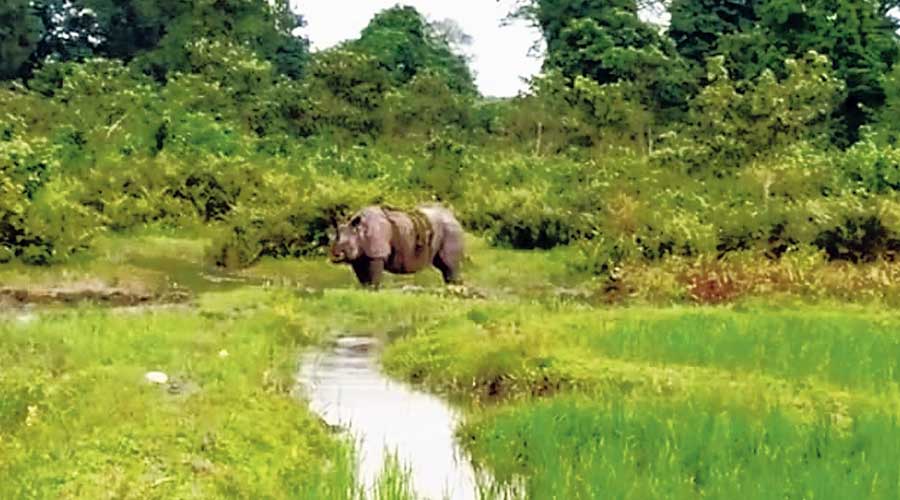 The rhinoceros in Ajgarpara under Matialli block of Jalpaiguri district on Thursday.
Picture by Biplab Basak
---
Jalpaiguri
|
Published 01.10.21, 03:39 AM
|
---
A rhinoceros and a herd of elephants turned out to be the points of attraction for tourists and residents in two different places in the Dooars on Thursday.
Around 7am, residents of Ajgarpara, a locality under Matialli block of Jalpaiguri district, spotted a rhino. The animal had come out of the Gorumara National Park, one of the two rhino habitats of Bengal, and was drinking water from a stream near an agricultural field when it was spotted.
As the news of the rhino spread, hundreds assembled to watch the animal and to click its photographs and record videos.
Also, tourists staying in nearby areas like Lataguri, Batabari and Chalsa reached the spot in vehicles to watch the rhino.
"It was the experience of a lifetime. I have never seen a wild rhino up so close. It was interesting to see its relaxed attitude. It went on devouring water and grass even though so many people had gathered nearby," said Sushanta Dutta, a tourist from Calcutta who is touring the Dooars with his family. He added that he was "simply thrilled".
After a while, a team of foresters from the Khunia forest range reached the spot. They burst crackers which made the rhino go back to the forest.
According to local residents, this rhino often moves out of the forest area and roams between Gorumara and the Chapramari Wildlife Sanctuary.
"Earlier, the animal was also sighted on the banks of the Murti river that is on the fringes of Gorumara," said a resident.
Raj Kumar Layak, the range officer, said they had managed to steer the rhino to Gorumara.
"We will keep the rhino under watch for the next few days," he said.
A herd of wild elephants was also sighted at Kanthalguri tea estate in Banarhat block of Jalpaiguri on Thursday morning.
The herd, a forester said, was heading towards the Reti forest from the Moraghat forest and got stranded in the plantations of the tea estate in the morning.
The elephants drew a large crowd from the garden and its adjoining areas.
Hundreds of people were seen rushing to Kanthalguri on motorcycles to catch a glimpse of the herd. People clicked pictures of the herd.
Local residents informed foresters about the herd and a team from the wildlife squad stationed in Binnaguri went to the spot. "Foresters are keeping watch on the herd and also controlling the crowd. Once the evening falls, they will try to steer the herd to Reti forest," said a forest officer.