Anxiety across north Bengal and Murshidabad
Residents, traders worry over BSF's inroads
Home ministry decision resulted in anxiety across north Bengal and also Murshidabad to the right of the Ganga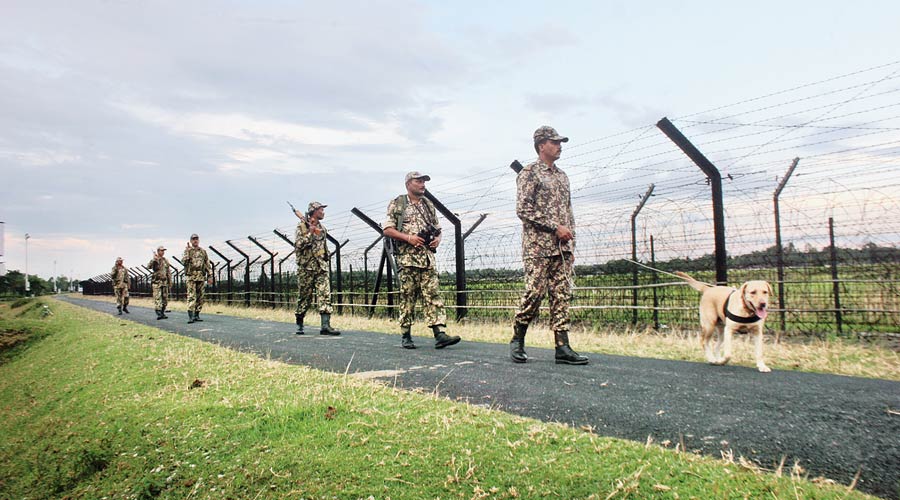 ---
Siliguri
|
Published 19.10.21, 02:16 AM
|
---
The decision by the Union home ministry to extend the jurisdiction of the Border Security Force (BSF) up to 50km from the existing 15km inside the Indian territory from the border, has resulted in anxiety across north Bengal and also Murshidabad to the right of the Ganga.
In north Bengal, six of the eight districts, barring Alipurduar and Kalimpong, share borders with Bangladesh.
"If we go by the decision, it is clear that the BSF will have access to almost all the district headquarters (except Darjeeling) of the remaining six districts and also most other towns of these districts. Hence if residents of these areas articulate a fear of intense vigil by the BSF, it can't be ignored," said a retired police officer.
The BSF is a central armed police force tasked with the security of India's borders with Pakistan and Bangladesh.
A rough estimate indicates that the extension of the BSF's jurisdiction means the force will have control in areas covered under 52 police stations in these districts.
In Cooch Behar and South Dinajpur, the BSF will have access to areas under all police stations, as all come within 50km of the border.
"Similarly in Siliguri sub-division, all the police stations are located within 50km of the India-Bangladesh border. The situation is no different in Malda and North Dinajpur," said an observer.
In Malda, nine of the 14 police stations are within the prescribed jurisdiction, while in North Dinajpur, eight of the nine police stations are located within 50km.
On the right of the Ganga, the situation is no different.
In Murshidabad, earlier the BSF had access in parts of eight of the 28 police stations, but now will have access to areas under 21 police stations.
"We are worried and have sent a letter to the chief minister, requesting her to take up the issue with the Centre. We apprehend that it might have an adverse effect on the local economy as in Siliguri all major markets will come under the jurisdiction of the BSF," said Ayush Tibrewal, the general-secretary of North Bengal Merchants' Association. Shankar Kundu, general-secretary of West Dinajpur Chamber of Commerce, a trade body in North Dinajpur, added: "Most BSF men don't understand local dialects too."
Trinamul leaders have also criticised the Centre's decision. Senior state minister Firhad Hakim, in Dinhata, Cooch Behar, to campaign for the October 30 bypoll, drew parallels with a famous line of Sholay's Gabbar Singh. "We have heard the dialogue (of Gabbar Singh) that if any child does not sleep at night, the mother says if you don't sleep, Gabbar will come…. Now, mothers will say that if you don't sleep, (Narendra) Modi's BSF will come," said Hakim.
However, BJP leaders accused Trinamul of trying to politicise the issue and also claimed that the Centre's decision would help in curbing crimes near the border.
Ajay Ganguly, a district vice-president of the BJP in Malda, said: "There is no problem in any other state over the issue, but here, Trinamul is trying to politicise it. The decision was taken for national security."