Reel connect for CAA protesters at Park Circus
Nooreh, a 22-minute film on Kashmir, was screened at the protest ground in Park Circus on Thursday evening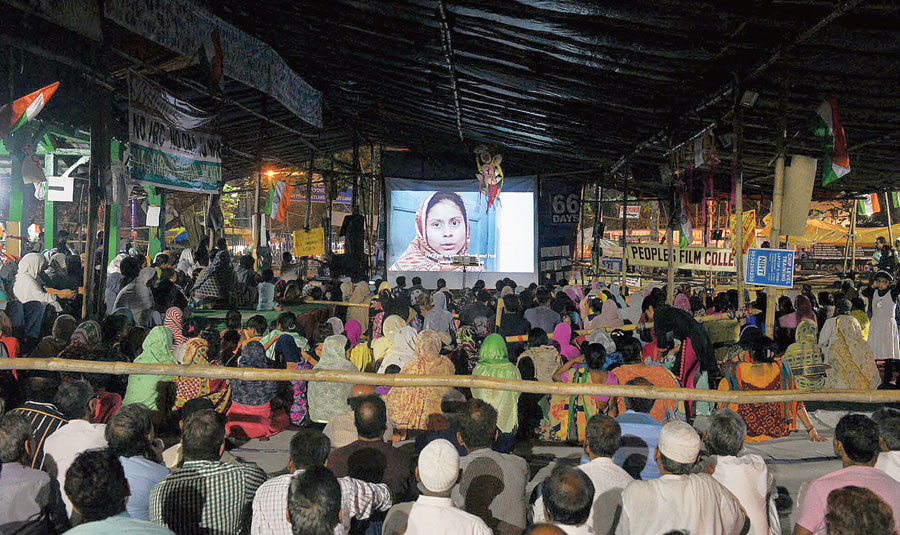 ---
|
Calcutta
|
Published 12.03.20, 07:58 PM
---
An eight-year-old girl living in a border village thinks she has found a solution to the continuous crossfire by staying awake all night.
The girl's story was narrated in Nooreh, a 22-minute film on Kashmir, which was screened at Park Circus Maidan on Thursday evening.
A young mother sitting in the audience with her two-year-old daughter sleeping in her arms — her seven-year-old was at home — said she understood how strife and unrest had touched her children, too, whether she wanted it or not.
"My daughters say azaadi. I come here almost every evening and if I am late any day my daughter tells me 'you have to go to Park Circus'. This is what it has come to. We have to finish our work at home early to be here for the rest of the day. It is for the future of my daughters," Shabnam Khatoon said.
In between the film screenings, a social worker from Delhi spoke about his experience when he visited a hospital in the capital after the riots and a sweeper there told him something he could not forget.
"He came to me and said the people of this country do not want this," Ashok Mishra recalled. "He then took me to a place where a Muslim woman was crying because she had lost her son and a Hindu man was crying because he had lost his brother. Even after so much storm, Shaheen Bagh has been standing not just like a torch but like an example in front of the whole country."
People's Film Collective, a group that makes and screens films and conducts film festivals, organised an open-air screening for more than two hours at Park Circus Maidan, where a women-led vigil against the new citizenship regime has completed more than two months.
"The films help connect people with other people's lived experiences and they feel they are not alone. They feel that if others could rise, they can, too, in a similar manner and it might give them a sense of uplift," Kasturi Basu, a member of the People's Film Collective, said.
The screening started with a film called Animated Tribute to Shaheen Bagh, where at the end of two minutes 10 seconds the women at Park Circus started shouting azaadi slogans. The film shows how one woman and then hundreds of women stand up with candles and demand azaadi at Shaheen Bagh, Park Circus and many other places.
"Some of these films, whether documentary or fiction, are not easily accessible to people and when there is a collective viewing like this, there is a direct interaction between the film and the audience. When they saw the first film, the women sitting here reacted on their own because they could relate to it," said Basu.
A portion of Anand Patwardhan's Reason and Memoirs of Saira and Salim by Eshwarya Grover were also screened.
The films taught the audience to apply reason before spreading any information. "Often we receive messages on social media and many a times we tend to forward them without thinking about the implications. We have to be very careful now when there is so much unrest and apprehensions around," Shehnaz Begum of Topsia said.