RSS's fresh Netaji pitch
RSS seeks to appropriate icon's legacy; Trinamul, CPM and historians rebut claims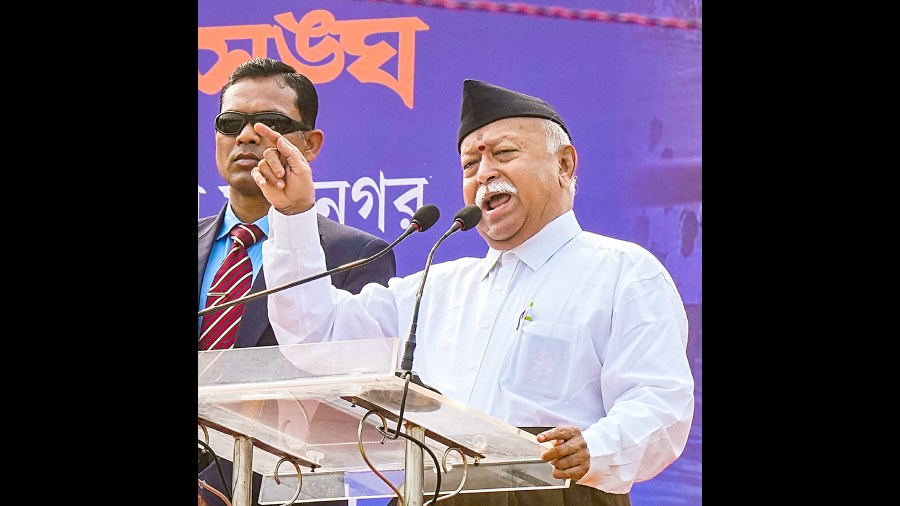 RSS chief Mohan Bhagwat speaks in Calcutta on Monday
PTI
---
Calcutta
|
Published 24.01.23, 03:45 AM
|
---
RSS chief Mohan Bhagwat on Monday made several tall claims about what he believed was an ideological parity between his organisation and Netaji Subhas Chandra Bose on the icon's 126th birth anniversary, prompting criticism from political opponents in Bengal as well as historians who recommended a fact-check.
In a 30-minute address, Bhagwat tried to appropriate Netaji through a Sanghaligned interpretation. Bhagwat's speech was part of what has been the saffron ecosystem's attempts for some time to stake claim to the gigantic legacy of a revered leader, known for his distaste for Hindutva that the Sangh parivar embodies. 
The project was, most notably, discernible from Prime Minister Narendra Modi's address at Netaji's 124th birth anniversary celebrations at the Victoria Memorial.
The Trinamul Congress and the CPM issued statements on Monday debunking the claims.
The Telegraph  takes a look at some of the claims and the response they generated.
'Nation first always' 
Bhagwat:  Netaji said that from the day India became captive, we stopped working towards a collective good and focused all our resources on individual betterment. There is no success for an individual sans the nation, everyone has to learn this by heart today.... The nation comes first always. We offer our prayers every day at the Sangh, "Bharat Mata Ki Jai (Hail Mother India)"... we pray to the nation first, and then to the almighty. Our prayer even ends with "Bharat Mata Ki Jai". 
Trinamul state general-secretary Kunal Ghosh: After the statement from Anita Bose-Pfaff (Netaji's daughter), whatever they (the RSS) claim is pointless. Netaji didn't like their ideology. Now, these people are trying to exploit the Netaji sentiment and confuse the common people so that they can make some political gains. The people will reject them.
Bose-Pfaff (recently, to PTI): From what I hear about the RSS ideology, I would agree that it and Netaji's ideology are poles apart. The two value systems do not coincide. It will certainly be good if the RSS felt it wanted to embrace Netaji's ideals and ideas.... RSS and Netaji's ideology of secularism do not coincide with each other.
'New India'
Bhagwat: Netaji said that if we want to build a new India, then on one hand, we will have to create a true human being and along with it, we will have to develop ways to perform collectively in various spheres. What is the Sangh...? The Sangh is the process of developing a human being, an individual.
CPM state secretary Md Salim:  In everything he did with the Arzi Hukumat-e-Azad Hind (Provisional Government of Free India) and the Azad Hind Fauj (Indian National Army) – starting from their Urdu names – Netaji was reposing his faith in the diversity. Did Sangh ever do that?.
National institution
Bhagwat: Netaji also said that every national institution is a result of the country's historical legacy, principles, and the necessities of its daily life. So, our organisation has also come up like this.… This is why we get the Sangh in Subhasbabu's words, in the words of Rabindranath (Tagore) and we consider ourselves as an extension of what Swami Vivekananda preached…. We are just creating the qualities to behave according to whatever these people have said.
Trinamul:  Netaji and countless others in the pantheon of icons that Bengal gave to south Asia over the past centuries stood for secularism. The Sangh parivar can't even stand its mention. Historians' response
Several historians said Netaji — often far removed from the Mahatma Gandhi brand of pacifism — had unending faith in secularism and described himself as Leftist and socialist with no patience for communal politics.
A city-based historian, on the condition of anonymity, cited from Bose's book, The Indian Struggle: "The Hindu Mahasabha (the RSS's ideological first cousin), like it's Moslem counterpart, consisted not only of erstwhile Nationalists, but also of a large number of men who were afraid of participating in a political movement and wanted a safer platform for themselves. The growth of sectarian movements among both Hindus and Moslems accentuated intercommunal tension. The opportunity was availed of by interested third parties who wanted to see the two communities fight, so that the Nationalist forces could be weakened."
A teacher of history at a central university — who did not wish to be named — said Bose was privately a religious Hindu but it did not interfere with his secular politics.
"He firmly believed that each person ought to have complete freedom in following their own religious path, but must not let it meddle with politics or public life… His ideology was, at its core, that all Indians — regardless of religion or its nuances — must come together against the imperialist colonizers, and then for nation-building," he said.
He underscored the significance of a 1942 broadcast from Azad Hind Radio, Germany, where he extolled the Quit India Movement (which the saffron camp had infamously worked against) and was critical of RSS icon Vinayak Damodar Savarkar alongside Muslim League chief Mohammad Ali Jinnah.
"I would request Mr. Jinnah, Mr. Savarkar, and all those leaders who still think of a compromise with the British, to realise once for all that in the world of tomorrow, there will be no British Empire. All those individuals, groups or parties who now participate in the fight for freedom will have an honoured place in the India of tomorrow," Netaji had said.
"The supporters of British imperialism will naturally become non-entities in a free India," he had added, in the same context.