Rare feat by sabang students: 22 of one school on merit list
Jalchak Nateshwari Netaji Vidyayatan in West Midnapore's Sabang achieved the rare trend when the government announced examination results on Friday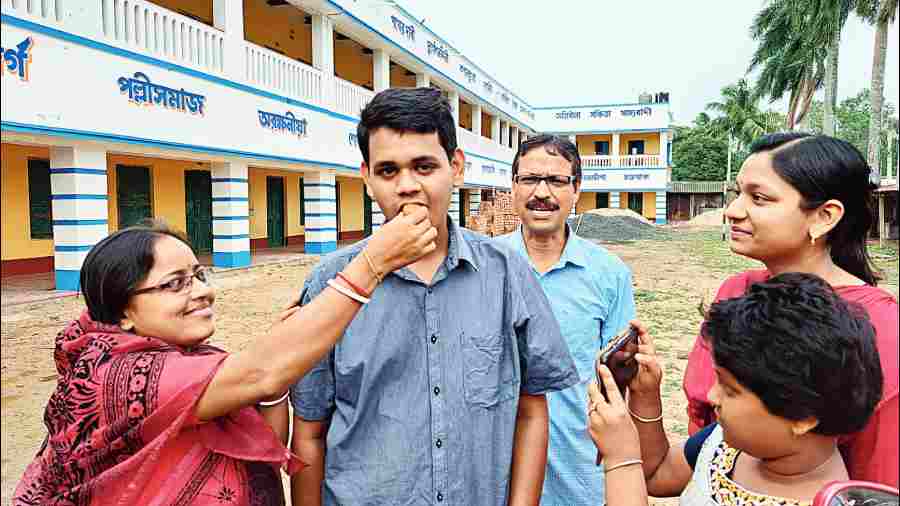 Sayandip Samanta with his mother on Friday.
Saikat Santra
---
Midnapore
|
Published 11.06.22, 02:16 AM
|
---
For any school, having 22 students feature on the merit list for a board examination would be no mean feat.
Jalchak Nateshwari Netaji Vidyayatan in West Midnapore's Sabang achieved the rare trend when the government announced examination results on Friday.
Not only did 22 of their students feature on the top 10 merit list, one of their students even stood second in the state. Sayandip Samanta bagged this honour against a marksheet reading 496/500.
Soumyadeep Mandal, Pritam Midya and Kingshuk Roy jointly ranked fourth. Srikrishna Samanta ranked sixth jointly whereas Pinky Khatun, Shantanu Pal and Pratik Mandal ranked seventh jointly against a score of 492.
Sharmistha Ghorai, Sheikh Rahul Hossain, Soumyadeep Samanta, Ankan Sahu, Saheb Das Adhikari and Saikat Roy ranked eighth jointly against 491 marks. Shatasmit Mohapatra, Amiya Shasmal and Shailesh Jana ranked ninth whereas Pabitra Bera, Akash Ghosh, Soumyadeep Karan and Shubhjit Shasmal jointly ranked tenth.
These students' feat is all the more exemplary owing to their modest backgrounds. The Netaji Vidyayatan boasts no extraordinary infrastructure that would otherwise mass-produce toppers, nor do its parents come from wealth.
"Though we appeared for this examination from home centres, it was no less daunting. Yes, that aspect made things a little more comfortable, but no less difficult academically," says Sayandip, who along with his peers weathered school lockdowns starting in 2020 owing to the pandemic.
Incidentally, he wants to be a doctor.
"I was not expecting to do so well. I just wanted to do well.... My wish is to stand by my fellow man in the future and to be a doctor," he added, when asked about the unorthodox lead-up to the board examinations for his batch.
A total of 247 students from the Netaji Vidyayatan appeared for the examination, which means that nearly one in 10 of its students is a state-wide topper.
Staff, however, are not used to such adulation, nor do they say they expected it. A teacher of the school said around eight students, who figure on the merit list, come from economically backward families. Most of the parents are marginal farmers, the teachers said and added their monthly earning is around Rs 7,000 or even less.
Headmaster Tarun Kumar Chakraborty explained that the last such statistic was gleaned in 2020, when one of their students made the merit list and ranked seventh.
He added that the school had prepared well for lockdown measures, and had ensured that students were able to avail of tuition in long absences of schoolroom sessions.
"We are in a rural area, but nonetheless we tried our best. And it paid off," he said.
Manas Bhunia, MLA of Sabang and state minister for consumer protection, said: "A total of 29 students, including 22 from a single school in the Sabang Assembly constituency, have been placed on the merit list. The students will be given a reception on June 18."
Statistics suggest the financial cost of pursuing higher education is beyond the reach of the average student's family here.
Ayesha Rani A., district magistrate of West Midnapore, said: "The students of Midnapore have always been talented. The pass rate in this district is much higher than in other districts."