Raju Bista seeks national law for granting land rights to tea workers
Even though Tamang had prominently raised the same issue, it did not resonate with the Bengal government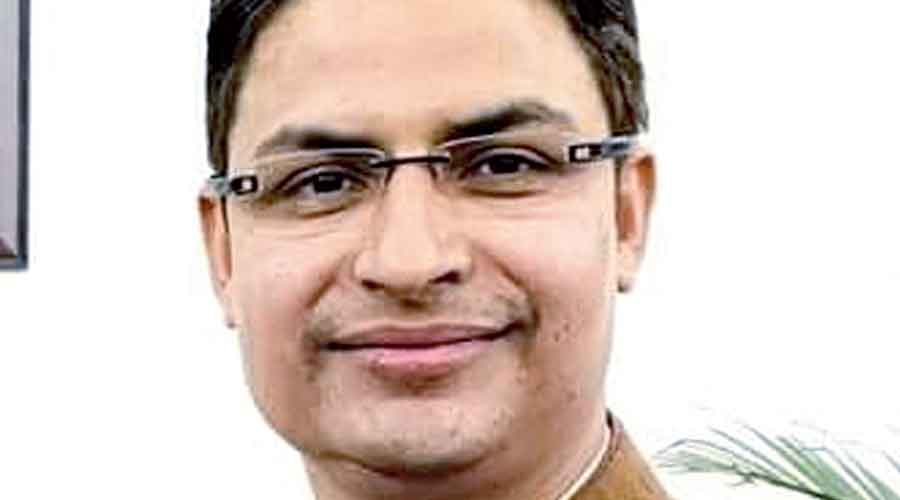 ---
Darjeeling
|
Published 01.12.21, 01:11 AM
|
---
Raju Bista, the Darjeeling BJP MP, on Tuesday demanded in the Lok Sabha a national law for granting land rights to tea and cinchona plantation workers, literally snatching a topic from pro-Trinamul Congress parties in the hills.
In a media release, the MP said: "Today, I have raised the demand for developing a National Law for granting Parja Patta land rights to the tea garden and cinchona garden workers from Darjeeling hills, Terai, and Dooars region under the Rule 377 of the Parliament."
The tea gardens in the Darjeeling hills had been set up from the 1850s, but workers have been without land rights but for more than 170 years even though jobs in tea plantations are automatically transferred to the next of their kin upon retirement.
Bista said: "I informed the house that despite 75-years since Independence, these tea and cinchona garden workers are denied the right to Parja Patta of their ancestral land. The British denied our worker Parja Patta rights, and the succeeding West Bengal government has continued to do the same."
While hill parties have been demanding the land rights for the dwellers of the tea and cinchona plantations, former Gorkha Janmukti Morcha leader Binay Tamang had made the issue a major plank of his campaign while he was contesting the Darjeeling Assembly byelection in 2019.
Leaders of his faction in the Morcha had then claimed that nearly 80 per cent of the hill population did not have land rights.
"Land in the hills either belongs to tea garden lessees or the forest department," said a retired land and land reforms official in Darjeeling.
Even though Tamang had prominently raised the land rights issue, the same did not resonate with the Bengal government.
"Bista's decision to demand a national law on the lines of the forest act that grants land rights to residents of forest villages will find traction among hill people. Trinamul and its allies have probably lost the plot on this issue," said a resident.
Not just the Darjeeling hills, tea gardens dominate the Terai and the Dooars as well.
"In 2019, the West Bengal Govt granted 15 percent of tea gardens lands to tea estate owners, yet the TMC Govt has refused to give Parja Patta rights to the tea and cinchona garden workers," said Bista.
DBT scheme
Bista said, according to a reply by Pankay Choudhary, minister of state for finance, Bengal had received Rs 75,233 crore under direct benefit transfer (DBT) schemes from April 1, 2020, till date.
The DBT schemes include old age pension, national widow pension, 100-day work and Kisan Samman Nidhi among others.
Darjeeling and Kalimpong district have received Rs 1,0964.40 crore during the same period under the same scheme, said Bista.
"Today, the people are getting 100% benefit directly accredited into their accounts, without any involvement of the middleman, thanks to the DBT scheme started by the Central Government," said Bista.