Raju Bista plays up central aid to Bengal
Direct benefit transfer schemes would include 100-day work, housing schemes and various subsides in which money is directly transferred to beneficiary accounts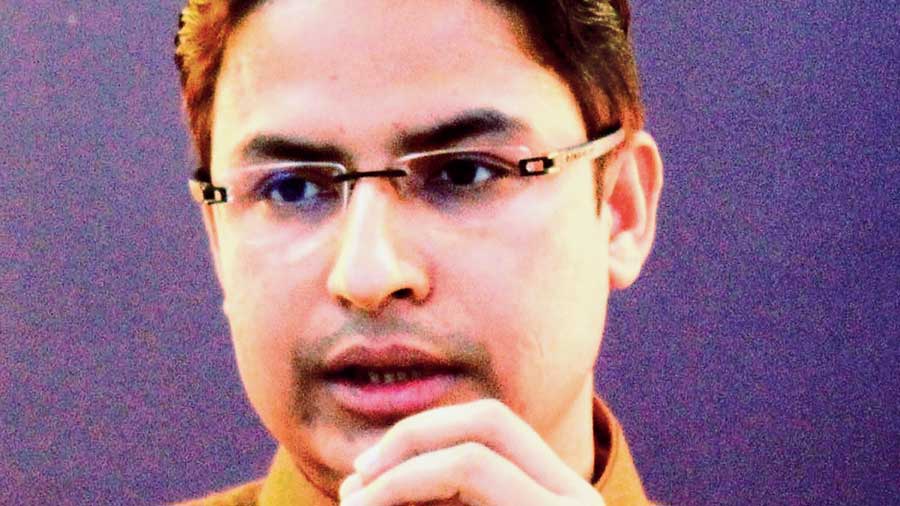 ---
Darjeeling
|
Published 10.02.21, 02:18 AM
|
---
Darjeeling MP Raju Bista and Union minister of state for finance Anurag Thakur have underscored central assistance to Bengal during the Covid-19 lockdown period, indicating that the BJP is trying to play the dole card in the poll-bound state.
In his statement, Bista revealed Union minister Thakur's response to the MP's question on the quantum of central financial aid to Bengal under direct benefit transfer schemes (DBT). "Rs. 14,971.87 crores in cash and another Rs. 8,117.63 crores in kind have been disbursed to West Bengal under various DBT schemes in FY (2020-21) till 01.02.2021," Thakur had replied to Bista.
Direct benefit transfer schemes would include 100-day work, housing schemes and various subsides in which money is directly transferred to beneficiary accounts.
In a written release issued by Bista, the BJP MP has also quoted from Thakur's reply: "…For the year 2020-21, all states have been allowed borrowings up to 2% of GSDP over and above normal borrowing limit of 3% of GSDP. Borrowings of 1% of GSDP amounting to Rs. 13,574 crores have already been issued to West Bengal. This will provide another Rs. 27,149 crores to the State of West Bengal."
The Centre has also claimed that Bengal has been allocated Rs 630 crore out of which Rs 315 crore "has been released to the state," under the scheme of special assistance to states for capital expenditure.
The intent of Bista's decision to release the figures seem evident. "The response by the Finance Ministry debunks the repeated attempts being made by the TMC Government to project that the Central Government has not helped West Bengal during the COVID-19 pandemic situation," went Bista's written statement.
Addressing his hill constituency directly, Bista stated: "Responding to my query, Hon'ble MoS Finance Anurag Thakur ji has responded that a total of Rs 267.98 crores have been disbursed through Direct Benefit Transfer to the people from Darjeeling and Kalimpong districts in the past 10 months."
Many observers feel Bista's decision to make public the finance figures is to counter chief minister and Trinamul chief Mamata Banerjee's spate of dole announcements, including pension for all over 60 years of age and widows over 18 years of age, financial aid to clubs, among others.
Mamata had on Tuesday alleged that the BJP-led government at the Centre was not disbursing funds under the PM-Kisan Samman Nidhi scheme to Bengal peasants despite the state having sent verified names of farmers to it.
She had informed the Assembly that out of 6 lakh applications of farmers sent by the Centre for verification for payment of monetary assistance under PM Kisan Samman Nidhi, the state government sent 2.5 lakh names following necessary verification.
Accusing the BJP of falsely claiming that she was denying funds to farmers, she said her government was paying Rs 5,000 each to peasants and had arranged free crop insurance.