Race to reach Sandakphu from Rimbick in a single day
Competition being organised under the aegis of International Trail Run Association by Delhi-based company 'The Hell Race'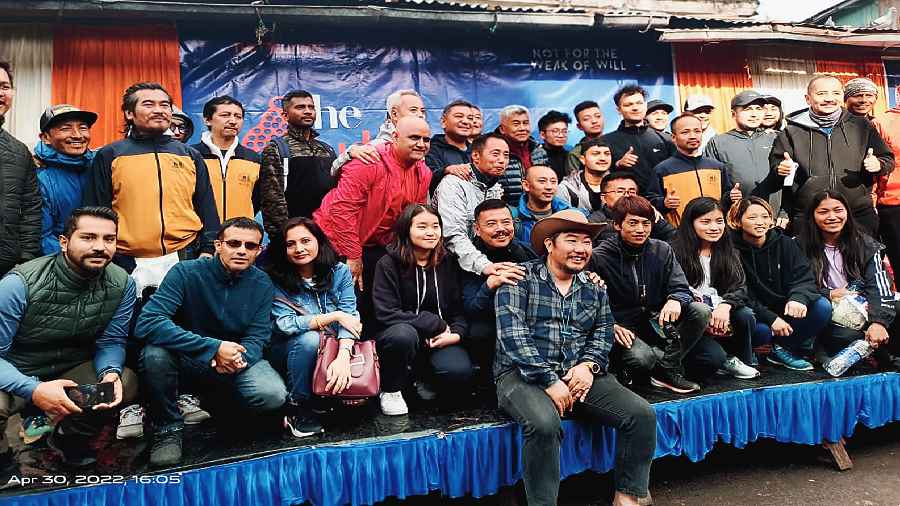 Participants of The Buddha Trail run at Rimbick on Saturday
Sourced by The Telegraph
---
Siliguri
|
Published 01.05.22, 12:57 AM
|
---
It takes five days to trek from Rimbick to Sandakphu, Bengal's highest point, but on Sunday morning runners will look to cover this 65km hill trail in eight hours.
The event has been christened The Buddha Trail, organised by the Delhi-based company The Hell Race. It has attracted nearly 350 participants from across the country.
"There will be a 65km, 30km and 12km race. The 65km race will start at 4am, while the other two races will start at 6am and 7am, respectively," said Vishwas Sindhu, founder and race director of The Hell Race.
While Rimbick is situated at an altitude of 7,500 feet, Sandakhphu is 11,929 feet above mean sea level.
The race is being organised under the aegis of International Trail Run Association (ITRA) and points generated in the course of this event would go into selecting India's trail run team which can participate in the world championship.
"We have submitted details of the runs and based on the timing and other criteria of runners the ITRA will be giving points to the runners," said Sindhu, who organises similar runs in Ladakh, Manali and Jaisalmer.
Around 100 participants will be running the 65K run, while the rest will be participating in the other two events. "Out of the total of 350 participants, around 250 are from outside the region. We think that some runners will complete the race in less than 8 hours," said Sindhu.
A local resident and entrepreneur from Darjeeling, Gatty Shrestha, is attempting 65km run for the first time. "I along with my friends have practised for four months for this event at the Senchel wildlife sanctuary," said Shrestha.
Shrestha is accompanied by his friends Ronak Pradhan and Rohan Pradhan, who are IT professionals, Nalan Moktan who works in the banking sector, Wangchuk Bhutia, a café owner, and Ashish Tamang, a tour guide.
Ronak had participated in an Ironman Triathlon held in Goa recently which involves competing in an event that comprises running, swimming and cycling.
Vikram Rai, founder, Vik-Run foundation, which is sponsoring three local participants, said that the profile of local runners suggests that tough runs are gaining currency in the region. "We decided to sponsor three participants, including two girls, as we wanted to give them exposure to national athletics," said Rai.
Tour operators said that the trail is one of the most difficult in the region. "In this region, we make our clients walk for five to six hours a day on an average. Ideally, it takes five days to complete this route," said Ajay Shashanker, director, Himalayan Voyages, a company that conducts trekking across India.
The race has also boosted the economy of a small place like Rimbick. "Rimbick has about 120 rooms but we are having to accommodate 350 plus participants. The runners are staying in houses and even tents," said Migma Sherpa, founder, Rimbick Fresh, a chain that deals in organic products.
Given the difficulty of the race, almost 30 percent of the runners reached Rimbick almost 10 days back to familiarise themselves with the terrain and the weather. "The local economy has received a major boost by this event as unlike other marathons where runners come only a day in advance, many runners came here from across India almost 10 days back," said Sherpa.