Quiet flow cello strains by the river
New York musician's tribute to bach comes to town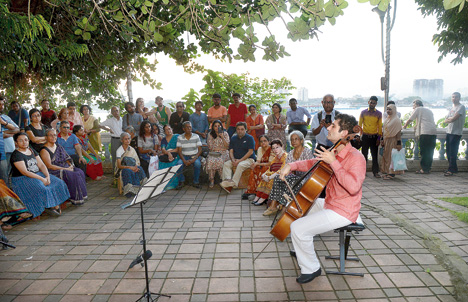 ---
Calcutta
|
Published 11.09.18, 06:30 PM
|
---
Calcutta: Babughat resonated with Bach on Saturday evening. Cellist Dale Henderson from New York performed Bach's Cello Suites at the foot of the Gwalior Monument, even as the Hooghly flowed on one side and Circular Railway trains rolled on the other.
The tropical heat was intense, no microphone had been installed and an occasional policeman erupted into a fury very near the musician.
But Henderson played on for almost two hours, holding his audience captive. Some had heard of his performance, held with the support of Calcutta Classical Guitar Society; some had just stopped to listen when they saw him playing. At the end there was loud applause.
Was it difficult competing with Calcutta noise? Henderson smiled and said no. He has a tougher choice home, where he has started a "movement", in more than one sense.
In 2010, Henderson began to perform Bach's Cello Suites in the subways of New York. He called the project "Bach in the Subways".
"The noise in the New York subways is much greater than here," said Henderson. Anyway, he explained, the idea is to perform in a public place where the noise would not be controlled.
He would perform in the subways of New York, for free, as he felt that classical music had declined in popularity because many people never had the opportunity to hear the art form live. He wanted to sow the seeds for future generations of classical music lovers. He would not accept donations; instead, he would offer a picture card with Bach wearing a birthday hat.
On Bach's 326th birthday on March 21, 2011, Henderson invited other musicians to join him. The "Bach in the Subways" movement was born. It caught on. On Bach's 330th birthday in 2015, thousands of musicians in 150 cities across 40 countries played Bach for free in public places.
The idea is to spread the music far and wide. Why Bach? Henderson feels the German composer born in the 17th century hits the right note, also in subways and riversides. From The Simpsons to the Godfather, there's Bach everywhere.