Protesters ransack bank over aid delay in North 24-Parganas
The blockade continued for over two hours and was withdrawn only after senior officials of the district administration and lender authorities assured to address their grievances soon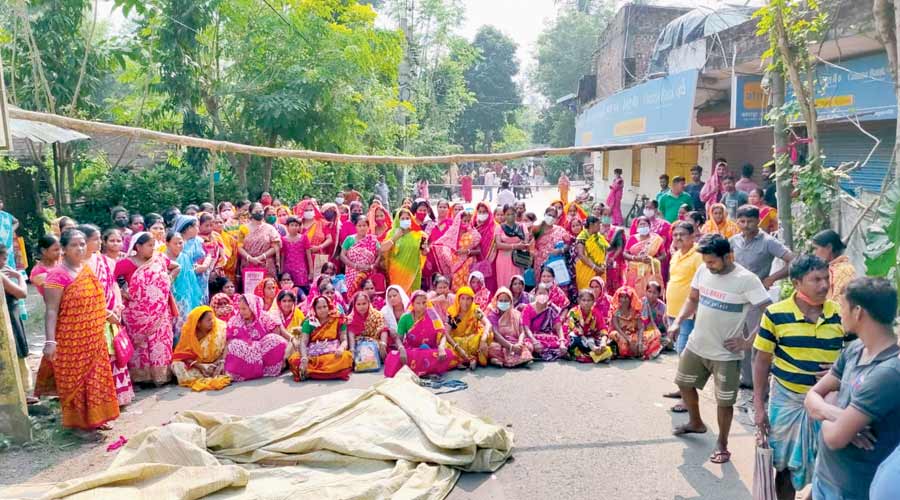 Protesters block a road in Bongaon on Monday.
Picture by Chanchal Pal
---
Kalyani
|
Published 26.10.21, 02:17 AM
|
---
Over 500 women beneficiaries of Lakshmir Bhandar scheme allegedly ransacked a branch of a nationalised bank at Bongaon in North 24-Parganas on Monday morning and raised a blockade in Bongaon town accusing the bank authorities for non-cooperation in maintaining their accounts and delaying disbursement of money allotted to them by the state government.
The women gheraoed the bank situated at Saatbhai Kalitala area of Bongaon, forcing suspension of day's operation and also allegedly vandalised the door and window panes of the bank. They then blocked a road to protest against the authorities "refusal to update their passbooks for the last three years".
The blockade continued for over two hours and was withdrawn only after senior officials of the district administration and bank authorities assured to address their grievances soon.
Unnati Bawali, a protestor, said: "Poor service by the bank is nothing new. The bank has over 10,000 customers and a large number of them are beneficiaries under the Lakshmir Bhandar scheme. But, unfortunately, most of the beneficiaries are yet to get money that disbursed by the state under the scheme. While all other banks have credited the amount to the beneficiaries, this bank has been harassing us. They don't even allow us to print our passbooks and the ATM is also defunct."
Sonali Pathak, another protester, accused the bank officials of threatening customers with police complaints whenever anyone raised a voice against their poor service.
Senior manager of the bank Ratan Roy, however, has refuted the allegations. "An upgradation process has been going on due to  merging of our bank with another nationalised bank. This has created some problems because of system-related changes and unavailability of stationery like passbooks. We have informed the higher authorities about the problem and they have assured cooperation. But people have become impatient."
"Moreover, till very recently there was a Bengal government ban on printing passbooks because of the Covid situation. The customers are wrongly accusing us of non-cooperation," the manager added.