Protest spirit grips 80-year-old
To show solidarity, Regent Park octogenarian travels to Park Circus Maidan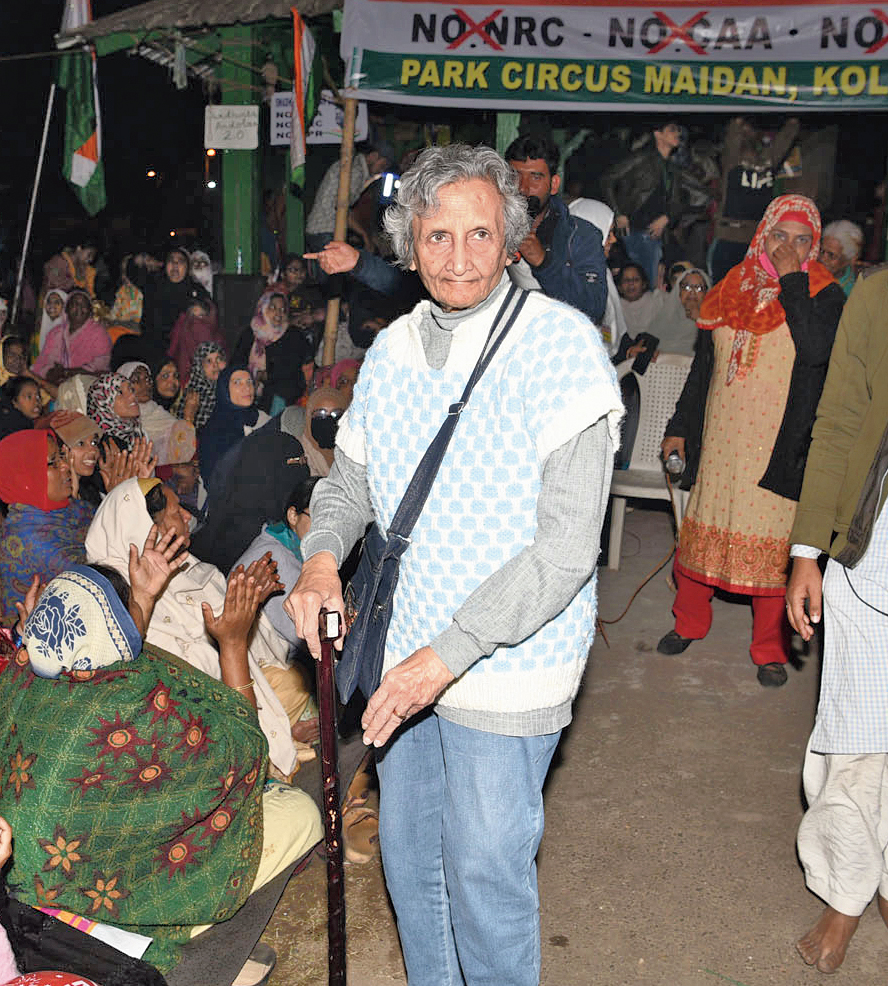 Jayanti Sen, 80, came from Regent Estate to Park Circus Maidan on Wednesday evening to express her solidarity with the women protesting against CAA and NRC
---
Park Circus
|
Published 15.01.20, 09:11 PM
|
---
Solidarity for protesters at the Park Circus Maidan came in all ages and from all parts of the city.
Jayanti Sen, 80, travelled from Regent Estate to Park Circus Maidan on Wednesday evening to express solidarity with hundreds of women, some of who are spending nights under an open sky to protest against the Citizenship (Amendment) Act, the National Register for Citizens and the National Population Register.
Cries of "Hum chahtey kya hai?… Azaadi!" and "Halla bol" came to an abrupt halt at the Park Circus Maidan on Wednesday evening as the young girl shouting the slogans on a portable microphone stared in amazement as Jayanti walked in carrying a stick.
Azmat Jamil, 45, who has been spearheading the protest, handed her the microphone to address the gathering.
"Amar naam Jayanti Sen. Amar aashi bocchor boyos. Ami esechhi aapnader abhinandan aar suvechchha janatey. Aapnara, mohilara ja korchen ta atulonio (My name is Jayanti Sen. I am 80 years old. I have come here to extend my regards and congratulate you all. What you women are doing here is unparallel)," Sen told the crowd that erupted in applause.
Sen later told Metro that she came to express solidarity as she could not bear to stay back home and watch televised images of the protest. Sen spent at least 45 minutes at the ground sloganeering and singing with the women.
"I felt extremely motivated to be here. I want the Citizenship (Amendment) Act to be revoked as it is not only divisive but unconstitutional. I am here as I fully support the cause of women who are spending their days and nights in the open," said Sen, who used to run a consultancy firm and is now part of a women's group. Kunal Chattopadhay, a professor of comparative literature at Jadavpur University, came to the protest venue in the evening after his classes and started recording videos on his mobile phone and took several photographs.
Chattopadhay said the new act not only targeted Muslims but also a wide spectrum of people, including pavement dwellers, migrant workers, transgender people and sex workers.
The one thing common with these people is the fact that they are poor and oppressed, he said.
"Proper figures are not available in terms of the number of transgender people in the country. Moreover, it will be extremely hard for them to fish out documents as they are often driven out their own homes. Similarly, most sex workers are trafficked women, so its nearly impossible for them to get the required papers. Migrant workers and pavement dwellers, too, will face a lot of trouble for nothing," said Chattopadhay.
As Thakurpukur resident Shabina Sultana picked up the microphone and sang Dhono dhanye pushpe bhora, nearly everyone joined in.
Azmat Jamil said she, along with three other men, had to meet chief minister Mamata Banerjee and reached her Kalighat residence at around 10.15am.
According to her, Mamata met them for around 15 minutes and assured them of all possible help.
"We explained to her why we are staging the sit-in. She told us that she knew our cause and gave us an assurance that the police will not evict us. When we told her that we wanted to erect a tent at the ground as the women are spending chilly nights in the open, she assured us of all help," Jamil said, adding that the chief minister promised necessary action and told them "not to worry".
As the evening set in, the crowd at the Park Circus Maidan swelled as people trooped in after finishing their day's work and the cries of "Hum chahtey kya hai?… Azaadi" and "Halla bol" began to grow louder with each passing hour.