Protest against Delhi violence in Calcutta
Time to fight for freedom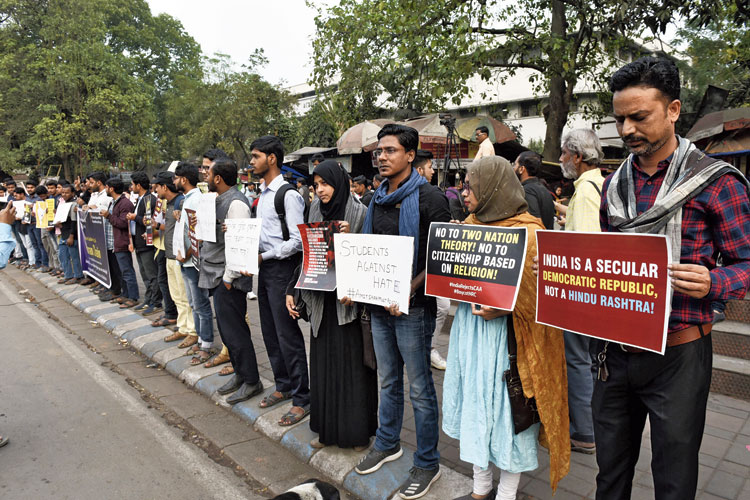 ---
|
Calcutta
|
Published 26.02.20, 09:02 PM
---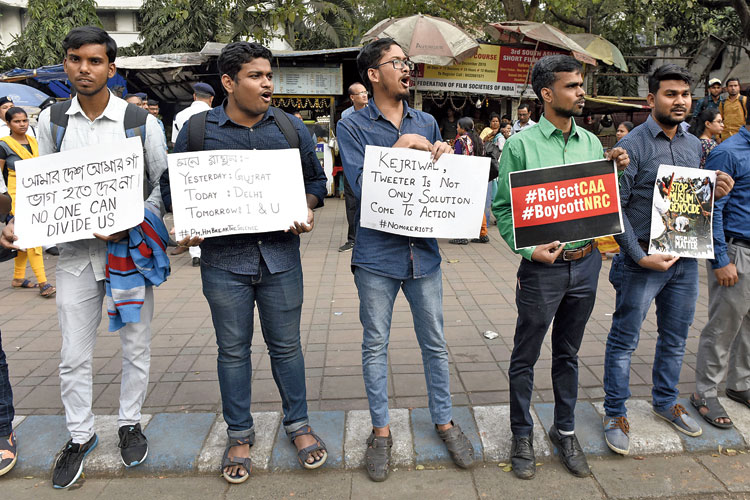 Slogans were raised and posters flashed against BJP leader Kapil Mishra and some of the anger was also directed at Delhi chief minister Arvind Kejriwal for failing to protect the people when they were being attacked.
"There are many who are still not reacting to the violence in Delhi. We want them to understand that what has happened is not correct and we have to raise our voice. We will have to make society more aware and we will keep doing so if we have to protect our country and our Constitution," said Farooq Ahmed, a student of Presidency University and one of the organisers.
A student who participated in the human chain said the "largest roar" was coming from colleges and universities and the BJP government at the Centre was trying "to silence" those voices.
"We are at least able to peacefully voice our opinion in Calcutta. Students in Delhi are finding it difficult to even do that," Arsalan Khalid, 19, from Howrah, said.
Arsalan, who has taken part in several protests, was having tea at a roadside stall with a friend when he saw the human chain. "Hindus and Muslims are both part of this nation. If Muslims leave, India will suffer. CAA-NRC-NPR is not about me, it is about us. If NPR is to take place both Hindus and Muslims will have to stand in queues," said Arsalan, taking a close look at the posters.
But Noor, who still hears grim stories of Partition from her aunt, sees a flicker of hope. "When I gave the call for a rally against CAA and NRC, a Hindu girl was the first to join me…. We believe in fighting but not with violence."
A young woman whose mother lost several members of the family in riots during Partition joined a human chain on Wednesday to condemn the violence in Delhi.
"Few people would know what my family went through at that time… despite everything my grandparents decided to stay in India," said Noor Mahvish, a law student in Allahabad, now in the city.
Noor grew up hearing stories of Partition from her maternal grandmother, one of them about how her brother-in-law's family who lived in Calcutta could not be found.
"They were my mother's uncle, his wife and three children, one of them four years old. My grandfather looked for his brother's family everywhere but in vain. Then they understood what had happened to them," Noor said.
Noor came from Garden Reach to stand with other students outside the Academy of Fine Arts because if she didn't, she would be "betraying our freedom fighters".
"Our freedom fighters fought for the independence of the country, so that all of us could live in a free country. If we don't come out to protest when the freedom of every citizen is under threat, we would be betraying them," said Noor, who, along with her friends, organised a rally in Allahabad in December to protest the new citizenship regime.
The human chain on Wednesday was a call by a group of students to "raise your voice before you are attacked".
The students stood with posters that read "Nafrat phailanewalon ko jail bhejo (send hatemongers to jail)", "National call for protest /Against hate speeches/Incitement and violence by/Hindutva leaders", "Kejriwal, Tweeter is not only solution/ Come to action" and "Yesterday: Gujarat/Today: Delhi/ Tomorrow: I & U".