PM welcome as PM, not politicians
Netaji kin snubs BJP, says the event shouldn't be politicised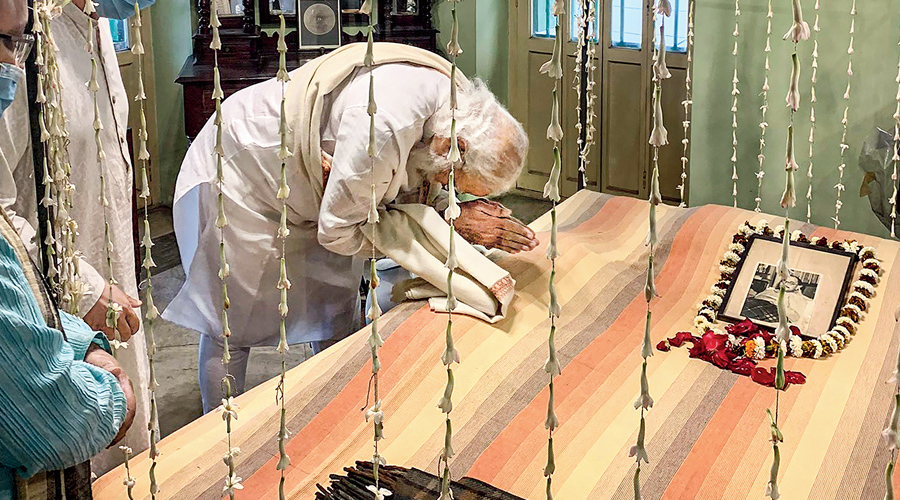 ---
|
Calcutta
|
Published 24.01.21, 01:30 AM
---
A family member of Subhas Chandra Bose stood firm against the politicisation of Netaji's 125th birth anniversary celebrations, refusing to allow any member of the BJP to accompany Prime Minister Narendra Modi to the freedom fighter's ancestral home at Elgin Road in Calcutta on Saturday.
Sources said Netaji's grandnephew Sugata Bose, a historian who chairs the Netaji Research Bureau, received a call from the Prime Minister's Office on Saturday afternoon that Modi wanted to visit Netaji Bhavan and that some BJP leaders would accompany the PM.
Sugata — also a former MP for Trinamul — refused to allow entry to any politician other than the Prime Minister.
He said that Modi was welcome as the Prime Minister, but the event shouldn't be politicised.
"Initially what was sent (the itinerary) looked like he (Modi) would come with some political functionaries of his party. I said that it is the occasion of Netaji's birth anniversary and (so) the PM should come as a PM," Sugata told this paper.
BJP leader Kailash Vijayvargiya, the party's minder for the state, and Rajya Sabha member Swapan Dasgupta were present outside Netaji Bhavan to welcome Modi. They were joined by another grandnephew of Netaji, BJP leader Chandra Kumar Bose.
However, only Modi entered Netaji Bhavan.
None of the other BJP leaders entered the premises, and many waited outside. Vijayvargiya left soon afterwards. A few BJP supporters raised Jai Shri Ram slogans in front of Netaji Bhavan.
A section of Bengal BJP said a family member of Bose snubbing BJP leaders would not send a good message ahead of the polls in Bengal. "Our leaders wanted to show their love for Netaji by accompanying the PM to Netaji Bhavan. What happened is a face loss," a member said.
Sugata said this was the first time a communication about the Prime Minister's visit (to Netaji Bhavan) was announced a few hours before the event.
"Whenever Prime Ministers have visited in the past, the PMO has always been in touch long in advance. This time, I directly heard from the PMO only a little before 1 o'clock today (Saturday)."
According to his original itinerary, the Prime Minister's first stop was supposed to be the National Library. Sources said a change was made to the itinerary late on Friday when it was decided that Modi would visit Netaji Bhavan.
Chandra Kumar Bose claimed that he had placed a request with the PM "through appropriate sources", requesting him to visit Netaji's ancestral house. "I'm happy that the Honourable PM accepted my request," Bose said, adding that the visit was a last-minute inclusion to the PM's itinerary, ahead of the main event on Victoria Memorial lawns.
The saffron brigade had also started a narrative that no Prime Minister other than Lal Bahadur Shastri and Modi had ever visited Netaji Bhavan on January 23. Refuting this claim, Sugata said that in 1995, then PM P.V. Narasimha Rao had visited the house on Netaji's birth anniversary.