Price buffer for potato farmers in Bengal
A senior government official elaborated why a minimum price guarantee was needed in a year of bumper production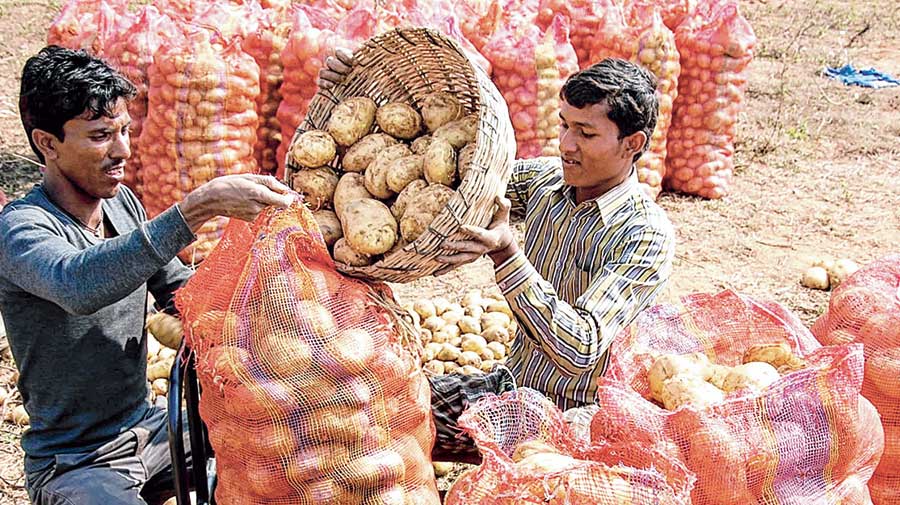 ---
|
Calcutta
|
Published 24.02.21, 01:44 AM
---
The Mamata Banerjee government has decided to encourage cold store owners in Bengal to buy 10 lakh tonnes of potato at Rs 6 a kilo directly from farmers to cushion them from the vagaries of a demand-supply mismatch in a year likely to see a bumper harvest.
The state government initiative is also seen as an attempt to keep over 15 lakh potato farmers across Hooghly, East Burdwan, West Midnapore and Birbhum in good humour with a price buffer ahead of the Assembly polls as the BJP has organisationally strengthened itself in these four districts.
"The state government will encourage cold stores to buy 10 lakh tonnes of potato from farmers as a bumper production is expected this year. The government will help the cold stores to secure bank loans for this purpose and the government will compensate the store owners if they incur any loss, which, however, is a distant possibility," said chief secretary Alapan Bandyopadhyay.
A senior government official elaborated why a minimum price guarantee was needed in a year of bumper potato production.
"This year, around 115 lakh tonnes of potato will be produced against an average annual production of 90 lakh tonnes. The result of the bumper production is already visible as farmers are being forced to sell off potatoes at Rs 4 a kilo these days," he said, indicating that the minimum price of Rs 6 a kilo would offset their losses.
However, some government officials are unsure if the government's plan to help the farmers can be implemented on the ground.
"The plan to ensure a minimum procurement price for the tuber will be successful only if certain preconditions are fulfilled," said a source.
The most important factor, he said, was to ensure that cold-store owners, who actually control the price of the potato in the retail market, actually procure from farmers. "In most cases, traders buy potato from farmers and then sell cold-store owners...If that keeps happening, the benefits will not reach farmers," he added.
According to him, monitoring the procurement by cold-store owners holds the key to the success of the plan. "Orders would have to be issued and the district authorities would have to keep watch on the procurement process... In an election year, such micro-management is easier said than done," said another official.
Some officials think both the targets — procurement price and direct procurement volume — are too low.
"Given the rise in input cost, farmers have spent on an average more than Rs 5 to produce a kilo of potato. So, the offer price of Rs 6 is not good enough. Besides, the target volume of procurement (10 lakh tonnes) is also low, it should have been at least 25 lakh tonnes to ensure that the farmers do not suffer from the demand-supply mismatch," said an official.