Preamble is changeable: VC
'Today, those who are opposing the CAA are reading the Preamble. But this Constitution was drafted by 'minority' votes'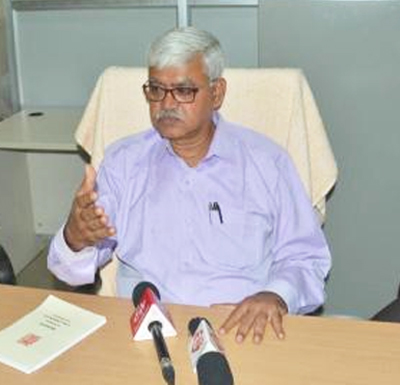 Bidyut Chakraborty
File picture
---
Santiniketan
|
Published 27.01.20, 09:42 PM
|
---
Visva-Bharati vice-chancellor Bidyut Chakraborty courted yet another controversy on Sunday when he criticised those opposing the Citizenship (Amendment) Act by reading the Constitution's Preamble, which he said had been drafted with the support of a few and had become the Vedas for the protesters.
"Today, those who are opposing the CAA are reading the Preamble. But this Constitution was drafted by 'minority' votes. (Only) 293 people met at the Constituent Assembly and drafted the Constitution. If you read papers of that time, (you will find) many people opposed it. Now that has became the Vedas for us. Preamble has become the Vedas. But if we do not like (the Preamble),
we, who are voters and form Parliament, will change it. But the process to change does not mean a wave (of protest), hurling abuses," Chakraborty said.
He made the observation while addressing students on Republic Day at the Vidya-Bhavana Senior Boys' hostel. While addressing the students on Sunday morning, the VC spoke mostly on the Preamble to the Constitution. His speech has been met with criticism from students, teachers, constitutional experts and academics.
On the night of January 15 night, a group of students had carried out an attack the a few inmates of the Vidya-Bhavana Senior Boys' hostel.
Several students and teachers found in Chakraborty's speech resonance of a similar comment made by BJP leader and former Union minister Anant Kumar Hegde in 2017. Hedge had said: "We (the ruling BJP) are here to change the Constitution."
Hedge's comment had received widespread criticism.
Hostel inmates said that on Sunday morning the warden had knocked on their doors and asked them to join him in an open area downstairs.
"The VC referred to the attack on the students who lived in the hostel and said he condemned such things. But suddenly, he started talking about the CAA and Constitution…. We were surprised listening to the VC's speech," said a student of the hostel who was present during Chakraborty's speech.
Sugata Bose, a professor of history at Harvard University, said: "The Preamble is the most beautiful part of the Constitution. The Preamble may be called the Vedas because it encapsulates the spirit of our democracy. I can't understand what he (the VC) meant by 'minority'. If he refers religious minority, that is not right as there were very few Muslim members. The Constitution was passed with majority votes."
Advocate Bikash Ranjan Bhattacharyya said: "It is Hindutva propaganda and they (BJP) are posting such people like the VC to promote their agenda."
Responding to the criticism, the varsity's public relation officer Anirban Sircar said: "To destroy the tradition of Visva-Bharati, a doctored video, which has a distorted version of the VC's Republic Day speech, is being circulated to create confusion among the people about the university's philosophy. We strongly protest against this…"