Post-mortem: Victims brutally attacked and set on fire
Those who died in the carnage also included six women and one child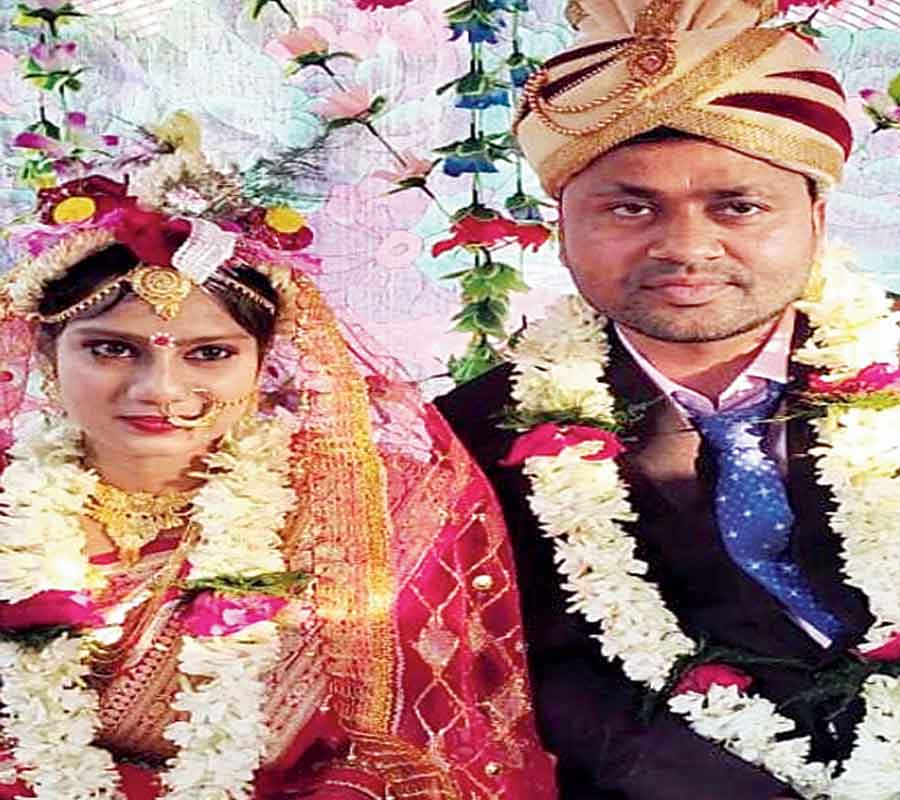 Wedding picture of Kazi Sajidur Rahman and Lili Khatun, who were among the eight killed at Bogtui.
Telegraph photo
---
Bogtui (Rampurhat)
|
Published 25.03.22, 12:49 AM
|
---
Police sources on Thursday said post-mortem reports and evidences collected by forensic experts from the scene of crime revealed that several victims of the Monday night massacre at Bogtui village in Birbhum's Rampurhat had been brutally assaulted before they were charred to death.
Police sources said though the bodies had been charred beyond recognition, there were tell-tale signs on many to conclude that the perpetrators had brutally attacked the victims before setting houses on fire that led to eight deaths and burn injuries of three others.
Those who died in the carnage included six women and one child. There are two children among the injured.
"The bodies had shrunk and were charred to a point that made it difficult to medically conclude if they had been hacked to death before the houses were set on fire. However, many of the bodies had grave injuries other than burns to suggest that they had been assaulted with sharp weapons like axes commonly found in rural areas," said a senior officer of Birbhum district police.
At Bogtui on Thursday, chief minister Mamata Banerjee hinted at victims being brutalised before they were set on fire."To murder someone is vile, but burning the person after murder is also bad. I condemn both," she told people on the loudhailer. 
Soon after the massacre came to light early on Tuesday, some police officers had confided to this correspondent their suspicion that the victims had been hacked before they were set on fire.
"Seven bodies were recovered from one spot. It is unusual in case of a fire. If the victims had not been physically brutalised, they would have been desperate to escape the fire and found lying here and there," a police officer said on Thursday.
He added if they were not "dumped" at one place, the burns would have varied. "Seven bodies found from one home bore similar burns and were found at one place. This further confirmed our suspicion," the officer added.
The officer's contention was echoed by the police in its suo motu complaint lodged following the massacre. In the course of presenting a rough chronology of events, the complaint stated seven charred bodies were found dumped in one of the houses set on fire.
The suspicion of the police was corroborated by Fatik Sheikh, 60, who lost his wife Mina Bibi in the massacre. Mina was recovered injured by firemen and died on Tuesday in  the hospital.
Describing the night of the carnage, Fatik said: "The attackers in large numbers raided our homes armed with axe and other sharp-edged weapons on Monday night, within almost an hour of Trinamul leader Bhadu Sheikh's murder. I hid myself in a corner  but my wife couldn't. I saw them hit my wife on the neck with an axe. They also hit her behind the knees with the axe. I fled to save my life."
When Mina was recovered from the burnt house, she was not fully charred. Her post-mortem revealed several deep cuts.
Asked if the brutality witnessed by Fatik would be enough to kill someone, a doctor at Rampurhat hospital said if the person didn't die, he or she would be immobilised and unconscious.
"One of the reasons for finding seven persons dumped at one place is that they must have been hacked and left immobilised if not killed," the doctor said.
Confirming Fatik's version of the Monday-night attack, a police officer said: "This is typical of mass killings. Those who perpetrate mass murders usually kill or physically immobilise victims before setting them on fire."