Portrait of a mother as district magistrate
Ahead of Women's Day next week, The Telegraph Salt Lake meets a cross-section of women who serve at home and at work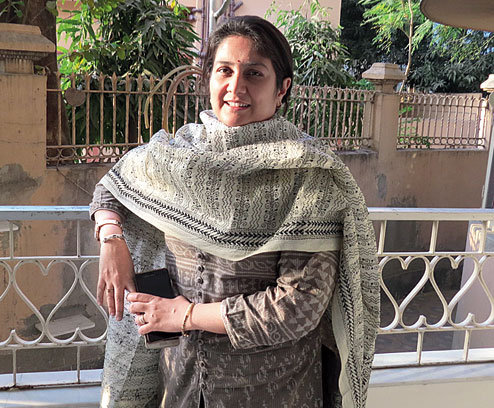 ---
Published 03.03.17, 12:00 AM
|
---
Meeting her at her in-law's place in CA Block, it is difficult to imagine she is the head of administration of the entire district. On one side, she calls up her daughter's tutors to juggle their schedules ahead of the school examination, introducing herself just as "Arushi's mummy", on the other she drops everything and rushes, shouting "Aschhi, Ma" as soon as her mother-in-law is heard calling her upstairs. The Telegraph Salt Lake meets Antara Acharya Dutta away from the district magistrate's bungalow in Barasat.
You were featured on our pages when you cleared the civil services entrance in 2006. How has the journey been since then?
My first posting was as sub-divisional officer, Serampore; then I was additional district magistrate of Durgapur. My next post was ADM, Asansol, and chief executive officer of Asansol-Durgapur Development Authority. After that, I became DM of East Midnapore. I took charge here in North 24-Parganas last June. Though our house is here in Salt Lake, I have to stay in Barasat as that is the district headquarter. I come here once a fortnight or so.
Have your daughters got adjusted to their new school?
Yes, they are in DPS Newtown. The older is in Class V and the younger in upper KG. Since my husband is in Delhi, they stay with me in Barasat. Their school bus doesn't come there so I have to drop them in the morning. Arushi has changed five schools already. This has advantages also. She is more confident and has learnt to adapt to new situations. Since my next postings are likely to be in Calcutta, now I think they can settle down here.
What are the biggest challenges of your job?
North 24-Parganas is the largest district of Bengal with a population of 1.1 crore. On one side, you have urban areas under the Bidhannagar and Barrackpore corporations and on the other Hasnabad, Bongaon and Basirhat which are rural. Basirhat also has a part of the Sunderbans. The population is diverse with different communities. We have to co-ordinate with a number of departments for infrastructure and other development work.
Which project is at the top of your agenda now?
The expansion of National Highway 34. Because of widening of the road at the Calcutta side till the Dak Bungalow More, Barasat now takes barely 40 minutes to reach from Salt Lake. Now we are working on making the 16km stretch four lane from Santoshpur near Barasat to Dalkhola in North Dinajpur from the existing two lane. The arbitration process is going on for land losers. Building consensus is important. So far, everyone is cooperating.
What has been your biggest achievement in eight months?
We could become open defaecation free (ODF), as the second district in Bengal to be declared as such (after Nadia, which was the first in the country). The construction of toilets was already done when I joined. We undertook eight weeks of awareness campaigns — with a week each in schools, religious institutions, markets, banks etc. In the 100 days' jobs under the Mahatma Gandhi Rural Employment Guarantee Act, there was low women's participation. We realised this was due to lack of toilets in the fields where they have to work all day. We started building temporary toilets, where a pit is dug and later covered with soil once the project finishes. That shored up women's participation to above 50 per cent. The ODF declaration was done by the chief minister in end-September. Now we are taking follow-up measures like setting up vigilance committees and progressing to the next phase of Swachh Bharat programme — we call it Nirmal Bangla — which involves promoting hygiene through hand wash, safe drinking water and solid waste management.
Are there enough public toilets even in the urban areas?
We need more. In New Town, we are building a 24-hour pay-and-use toilet complex near Eco Space in Action Area 2. To make it a viable business model, we built a two-storied structure, on the top floor of which there will be a cafeteria serving affordable healthy food. It will be run by a women's self-help group. NKDA is supporting us. It will open in April. If it succeeds, we can replicate this elsewhere.
Have you faced the problem of mosquitoes in Salt Lake?
I know. Things get bad in the evening. This year, winter did not last long. So the mosquito larvae did not die. They have become active sooner than usual. Salt Lake has many houses under lock and key to which the civic workers do not get access even if water has accumulated on the roof-top or garden. It is also people's responsibility not to litter their surroundings, especially the neighbourhood empty plots. The chief secretary conducted a review with the health department a month back so that there is no recurrence of vector-borne diseases like last year.
Residents are complaining that fogging is not being done.
This is the corporation's jurisdiction. All I can do is point out that fogging does not kill mosquitoes. It merely makes them inactive for a while. The origin of mosquito larvae has to be traced to solve the problem.
A decade back, hardly anyone from Bengal would make it to the top rungs of the Indian civil services. Is that scenario changing?
Definitely. I was speaking to JPC sir (Jyotirmoy Pal Chaudhuri of Institute for Civil Service Aspirants in DB Block) who had coached me for the exam. He said this year as many as nine candidates have qualified for the interview from his centre alone.
Good students these days do not want to join the civil services. What would you tell them?
Everyone wants good administrators, be it the corporate sector or in government service. But here you have scope to help people and find solutions to problems in innovative ways. I take pride in the service.
Does being a woman help or hinder an IAS officer?
I have never experienced gender bias. There are six lady DMs currently in Bengal. Rather, women feel comfortable approaching us and sharing their problems. Girls feel motivated seeing us. There was this survivor of a bad marriage whom we had helped. She is now studying in ITI, Serampore. She keeps me informed about developments in her life.
Finally, how do you balance work and home?
My daughters know that mummy has to work. But once I am home, I'm no longer the DM. Though Arushi has tutors, I try to sit with her everyday. Seeing that, Oishee too comes to me with her books, saying she too has homework (laughs). We have already planned what all we would do once their exams are over — go to Eco Park and the museum, learn quilting… They are very disciplined.
What is your message for Antara Acharya Dutta?
Write to The Telegraph Salt Lake, 6 Prafulla Sarkar Street, Calcutta 700001 or email to saltlake@abpmail.com