Birbhum: 'Political pressure' stalls move to intensify policing
A proposal was sent to Nabanna to divide Rampurhat into two divisions so that proper surveillance can be put in place in the area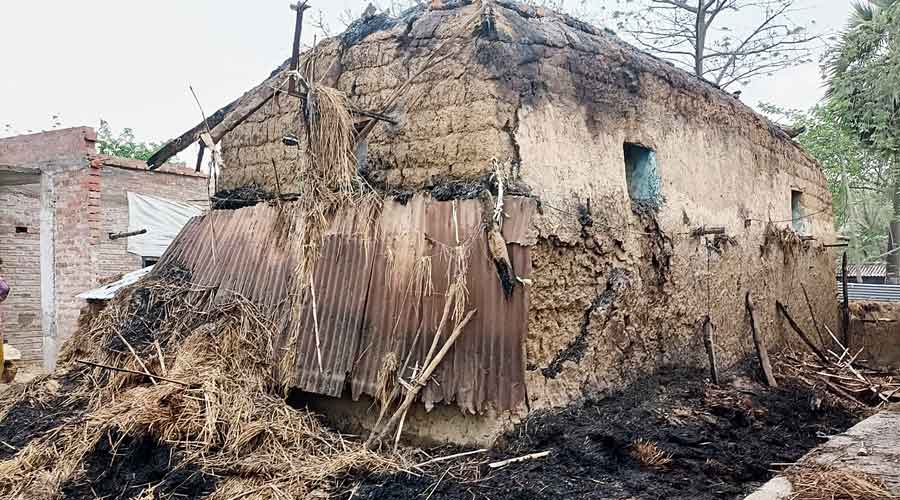 One of the houses that was charred in the fire at Bogtui village in Birbhum's Rampurhat on March 21.
File photo
---
Rampurhat
|
Published 02.04.22, 02:54 AM
|
---
The Birbhum district administration had initiated a plan to intensify policing in Rampurhat, under which the carnage-hit Bogtui village falls, by splitting the subdivision into two police divisions but "political pressure" from Calcutta allegedly stalled the initiative a few months ago, a source in the state administration told this paper.
According to sources, the district authorities had sent a proposal to Nabanna to divide Rampurhat into two police divisions so that policing could be done more efficiently in the subdivision.
Rampurhat is spread over 1,507sqkm with a population of nearly 20 lakh and shares borders with Murshidabad and Jharkhand.
Before the proposal was approved by the police directorate in Calcutta, the district authorities had in September last year tried to make a temporary arrangement by posting an officer of DSP rank.
This officer was supposed to look after three of the eight police stations in the subdivision.
"But the initiative could not be implemented as a police officer in Rampurhat who has the blessings of a powerful political leader in Calcutta opposed the decision…. I can't say that the Bogtui incident could have been averted if the plan was materialised, but definitely it would have helped the Rampurhat police to monitor the area in a more efficient way," a senior IPS officer told this correspondent.
Sources said the proposal that was sent to Calcutta from Birbhum was to create a separate police division with three police stations — Muraroi, Paikar and Nalhati.
Five other police stations in the subdivision — Rampurhat, Mayureswar, Margram, Tarapith and Mallarpur — would have remained under the jurisdiction of the Rampurhat SDPO.
A senior bureaucrat said he was not aware of this proposal. "I have not seen the proposal yet. But if there is such a proposal, it is a good one. The creation of a new division, however, involves several issues like creation of infrastructure and posts, which involves a handsome expenditure. So it takes time. I am not aware whether any arrangements were made at the district level and then those were cancelled," said a senior government official.
According to the sources, the alleged resistance from a section of police officers needs to be seen in the light of the
irregularities in sand and stone trading in Muraroi, Nalhati and Paika.
The Bogtui carnage, in which nine lives were lost, is being viewed as a retaliation to the murder of local Trinamul strongman Bhadu Sheikh, allegedly linked to these illegal activities.
"As the spoils from illegal trades of sand and stone allegedly reach some politicians as well as a section of administrative officials, the resistance from within a section of Rampurhat officials as well as politicians is quite natural," said a source.
Sources in Calcutta said that the Bogtui incident was likely to expedite the process of setting up an additional division in Rampurhat.
"Even the state government can consider posting of an additional police superintendent in Rampurhat who would be in charge of two police divisions there. As of now, there is an additional police superintendent in Bolpur, which is a smaller area with only four police stations," said a senior official.