Police and Left youths clash, bandh today
Police sources said 38 protesters and 25 policemen were injured in the face-off, and 42 protesters were arrested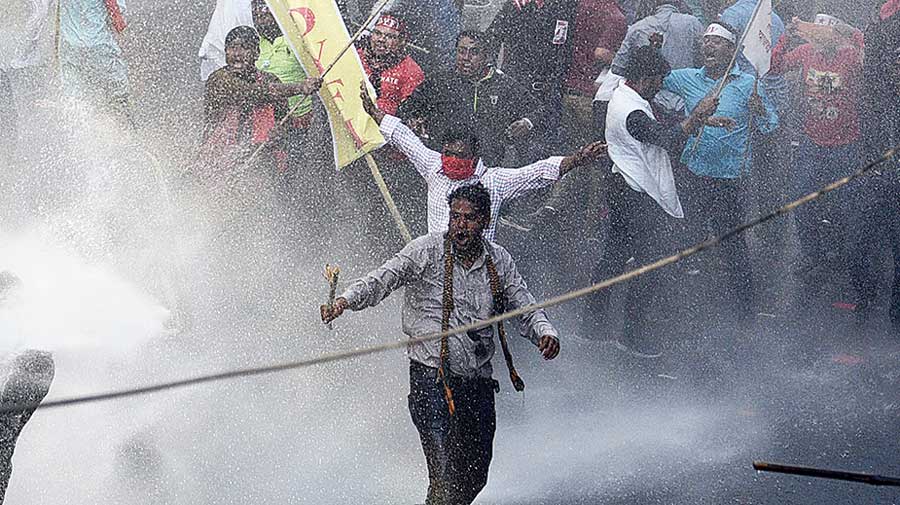 ---
Calcutta
|
Published 12.02.21, 03:06 AM
|
---
The march of 10 Left student and youth organisations such as SFI and DYFI to Nabanna on Thursday took a violent turn as the police and protesters clashed, leaving many injured and prompting the Left Front to call a 12-hour strike on Friday against "police brutality".
Police sources said 38 protesters and 25 policemen were injured in the clash, and 42 protesters were arrested.
SFI state secretary Srijan Bhattacharya, however, claimed around 400-500 protesters had been hospitalised.
Thursday's march to demand jobs started from College Street and was to reach Nabanna to hand over a list of demands to chief minister Mamata Banerjee. "All we wanted was to give the list to the chief minister. They could've arrested us there (Nabanna) but instead cops brutally beat us up on the road," said Minakshi Mukherjee, DYFI state president.
The police had put up layers of barricades to stop the rally at Dorina Crossing in Esplanade. The Left outfits, however, wanted to breach this and head towards Nabanna.
Police sources said at least 25 police pickets had been set up along the route of the rally and some 4,000 personnel were on duty. All alleys along the SN Banerjee Road, which the rally took to reach Esplanade, were blocked by the police and water cannons had been set up at two points.
Eyewitnesses said trouble started at Dorina Crossing when the police halted protesters. As some protesters tried to break barricades, the police fired water cannons and tear gas shells. When protesters tried to counter with stones, the police did the same. As tension grew, the police lathicharged protesters.
Left sources said a protester's eye was injured and many others were gravely wounded.
An angry Left Front leadership reacted to "police brutality" with a 12-hour bandh call from 6am on Friday.
"When BJP goons go on a rampage in the name of protest, the police do nothing. But they brutally come down on a peaceful protest of Left student and youth outfits," said Left leader Sujan Chakraborty.
The Congress, whose youth wing had taken part in Thursday's rally, condemned the police attack. Congress MLA and leader of the Opposition in the Assembly Abdul Mannan said his party would back Friday's strike. The strike coincides with the day schools are set to re-open after almost a year of Covid-induced shutdown.
Govt cancels leave
The Bengal government issued a notification on Thursday evening cancelling all types of leave for government employees and those in state-aided institutions in view of the strike called by the Left on Friday. Employees who don't attend duties on Friday will face a day's pay cut and a day's deduction from their service life.