Plaque vandalised, glare on Haldia Trinamul tiff
Around 10am on Friday ruling party workers allegedly owing allegiance to district president Debaprasad Mondal began demolishing the plaque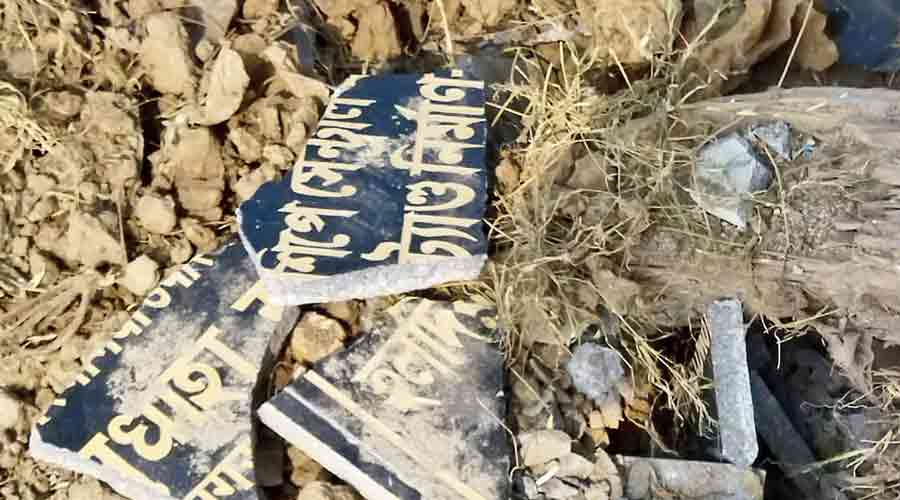 Remnants of the vandalised plaque in Haldia
Telegraph photo
---
Haldia
|
Published 22.01.22, 01:48 AM
|
---
The foundation stone-laying ceremony of a Rs 80-crore bus stand to be built jointly by Haldia Refinery and the Indian Oil Corporation here was marred a few hours prior to the event purportedly by a factional tiff within the local Trinamul Congress, leading to the destruction of a commemorative plaque that had been installed for the occasion.
The incident reportedly took place around 10am on Friday when Trinamul workers allegedly owing allegiance to the ruling party's district president Debaprasad Mondal came to the site and began demolishing the plaque. It had been installed for the foundation stone-laying ceremony for building the state-of-the-art bus stand facility.
Trinamul sources said Debaprasad's supporters were angry as their leader's name was not mentioned in the plaque that had been installed for the event and that led to the act of vandalism.
Haldia municipality chairman Sudhangshu Mondal accused Debaprasad, who is also the councillor of ward No. 29, of orchestrating the act of vandalism.
Sources said that Debaprasad and Sudhangshu had fallen out over the arrest of INTTUC leader Tapas Maity in connection with labour disputes in Haldia earlier this week.
"Debaprasad reportedly alleged that Sudhangshu wanted to slight him by excluding his name from the plaque, and deliberately decided not to submit it to the IOC for inclusion. There is some substance in Debaprasad's allegation as Sudhangshu is known to be close to Maity, whose arrest probably happened on the basis of a formal complaint filed to the party by the Trinamul district president," said a source.
"Debaprasad could have felt the exclusion of his name on the plaque was Sudhangshu's way of paying back at him," the sources added.
IOC officials declined elaborating upon the incident, stating they had been stuck to names that had been provided to them by the municipal authorities.
However, the organisers went ahead with the foundation-stone laying ceremony later in the day. The organisers hurriedly got a flex printed that included Debaprasad's name among the dignitaries present on the occasion. The foundation stone was laid by senior IOC official Partha Ghosh in the presence of Sudhangshu and Debaprasad.
"A temporary plaque was placed at the site of the event and the Rs 80-crore project was set rolling," said an IOC source.
Asked, Sudhangshu termed the incident "unfortunate" and attributed it to "Debaprasad's followers". "We would have included his name if he had simply asked. The IOC's motives were not intentional. All this has sent a negative message to the people of Haldia," he said.
In response, Debaprasad said that he had "not asked anyone to demolish anything", adding," the people might have vented their ire on seeing the plaque".