Plan to resettle NH12 traders
The National Highways Act as the law does not offer any benefit for encroachments on government land.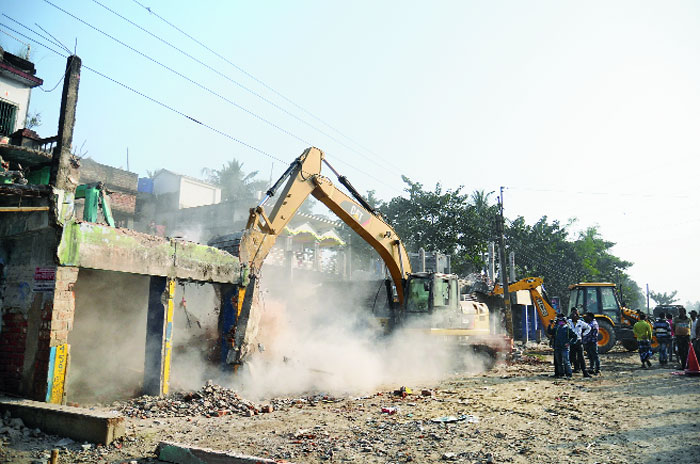 A shop along NH12 being dismantled near Krishnagar
Pranab Debnath
---
Krishnagar
|
Published 06.02.20, 08:59 AM
|
---
The Bengal government has decided to frame a policy to rehabilitate small shop owners, whose stalls — set up on encroached plots — were dismantled for widening of the 66km stretch of NH12 between Jagulia and Krishnagar in Nadia.
The traders could not get compensation under the National highways Act as the law does not offer any benefit for encroachers on government land.
Responding to an appeal made by the members of district chambers of commerce during an administrative meeting in Krishnagar on Wednesday, chief minister Mamata Banerjee said the state government would try its best so that such shop owners could at least earn their bread for living.
"I cannot assure you how much we will be able to do for them, but we will try our best to help them on the humanitarian ground," she said while asking the Nadia administration to submit proposals in consultation with the members of the chambers of commerce.
"We will examine the potentiality", she said.
Sources said there were instances where the government decided to rehabilitate shop owners, who had set up stalls on government plots along NH35 that connects Barasat and Bongaon, both in North 24-Parganas.
"It was decided that 60-odd shop owners would be given stalls to be set up by the state government on an adjacent state government plot. But the project did not materialise as the widening of NH35 was withdrawn because of unavailability of land," said a source.
It would be interesting to see, sources said, whether the state initiates a similar step this time.
"Problem of such populist project is that it opens a floodgate… If the state sets an example in Nadia, it would be tough for the state to arrange land for any project," said a source.
The much-awaited four-laning works of 66km stretch of NH-12 (formerly NH-34) between Baro Jagulia and Krishnagar began in October last year by the National Highways Authority of India (NHAI) with a stipulated time period of 30 months to complete the project.
However, the work was delayed as a large number of illegal occupants, who refused to shift their structures, could not be removed. In last month after much persuasion, the district administration began eviction drive to clear land for construction work.
Members of the chambers of commerce claimed that at least 2,000 small shop owners who had stalls adjacent to NH-12 are facing trouble to earn their livelihood.
Nadia district magistrate Vibhu Goel said: "Legally we cannot pay compensation to the encroachers. But offered to accommodate some of them in Karmatirtha, Kishanmandi."
After hearing the issue, chief minister discussed briefly with the state's chief secretary Rajiva Sinha.
"We will try to make hubs for these shop owners if government land is available... At the same time if you can offer any private land we may consider to make such hub too," the chief minister told the chamber members.
However, she asked the administration and the members of the chamber to ensure that such shop owners do not again occupy lands adjacent to road while refusing a demand to allow them doing business on carts.
"Road must remain clear for transportation," she told the members.
Earlier speaking at the administrative meeting she told police to increase naka checking on NH and other important roads since a number of incidents had come to light where goons were nabbed carrying bombs and arms in vehicles. She also told the police to ensure that no private vehicle should be allowed plying with police sticker.