PhD scholar helps Sunderbans resident repay Rs 40,000 she raised to treat her husband wounded by a tiger
A fan of P.C. Sorcar Jr, Ujjwal raised the money to gift Jyotsna on the magician's 75th birthday on Saturday so that she could free her land from the moneylender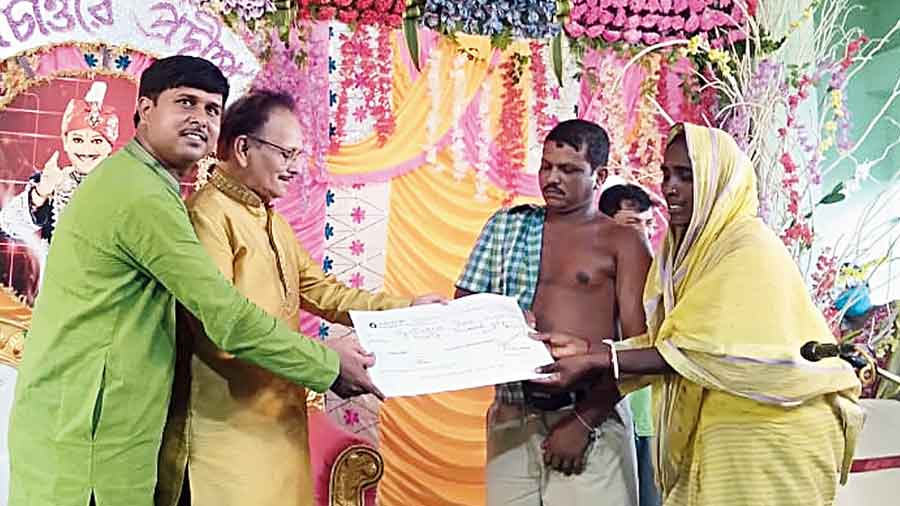 Ujjwal (in green) and PC Sorcar Jr hand over a cheque to the Shee couple
Telegraph picture
---
Calcutta
|
Published 01.08.21, 01:58 AM
|
---
A PhD scholar of Assam University and his family and friends teamed up to help a Sunderbans resident repay Rs 40,000 she had raised by mortgaging her land to treat her husband wounded by a tiger this April.
Shankar Shee and his wife Jyotsna of Bhubaneshwari-Koilagheri village had on April 3 gone to catch crabs near a river when a tiger pounced on Shankar.
Jyotsna put her hand inside the tiger's ear to irritate it so that it would free Shankar. It saved Shankar's life. Ujjwal Sardar, a PhD student researching on the economy of the Sunderbans, found her presence of mind "magical". A fan of P.C. Sorcar Jr, Ujjwal raised Rs 40,000 to gift Jyotsna on the magician's 75th birthday on Saturday so that she could free her land from the moneylender.
Ujjwal and his hero P.C. Sorcar Jr on Saturday gave the cheque of Rs 40,000 to the couple at an event in Baruipur.
"I heard my husband's screams to see a tiger's paw on his left shoulder. I had no time to shout or think. I immediately put my fingers inside the animal's ear in a bid to to make the tiger go and save my husband's life. After half an hour, I could drive away the tiger," Jyotsna, 45, and the mother of two girls, said at the event.
Shankar's life was saved but the tiger had crushed many bones of his shoulder.
"I have been treated at several private hospitals and to meet the expenses we had to take loans. A local doctor (a rural health service provider) helped me with Rs 3 lakh. But it was not enough as the cost of treatment has crossed Rs 5 lakh. So, my wife had to mortgage our land to a moneylender," said Shankar.
"The 15 cottah of land was our only property that I mortgaged as there was no other option," said Jyotsna.
As the couple struggled to repay the money or lose the land, Ujjwal came forward to help the couple.
"I am a fan of P.C. Sorcar Jr., who says every person is a magician in his own field. This lady who saved her husband after a fight with a tiger is a real-life magician. So, I tried my best to help the family," said Sardar, who is researching the economic history of the Sunderbans.
Ujjwal pitched in with Rs 5,000 from his pocket and his friends and family raised another Rs 35,000. "I know my effort was not enough. But I thought if I can help them get back their farmland, the family can at least survive," Ujjwal, the son of a Calcutta Police constable, added.