Petty crimes pockmark Santiniketan road
Several policemen were seen in Guru Pally on Thursday, investigating the break-in at 83-year-old Kajari Roy Choudhury's home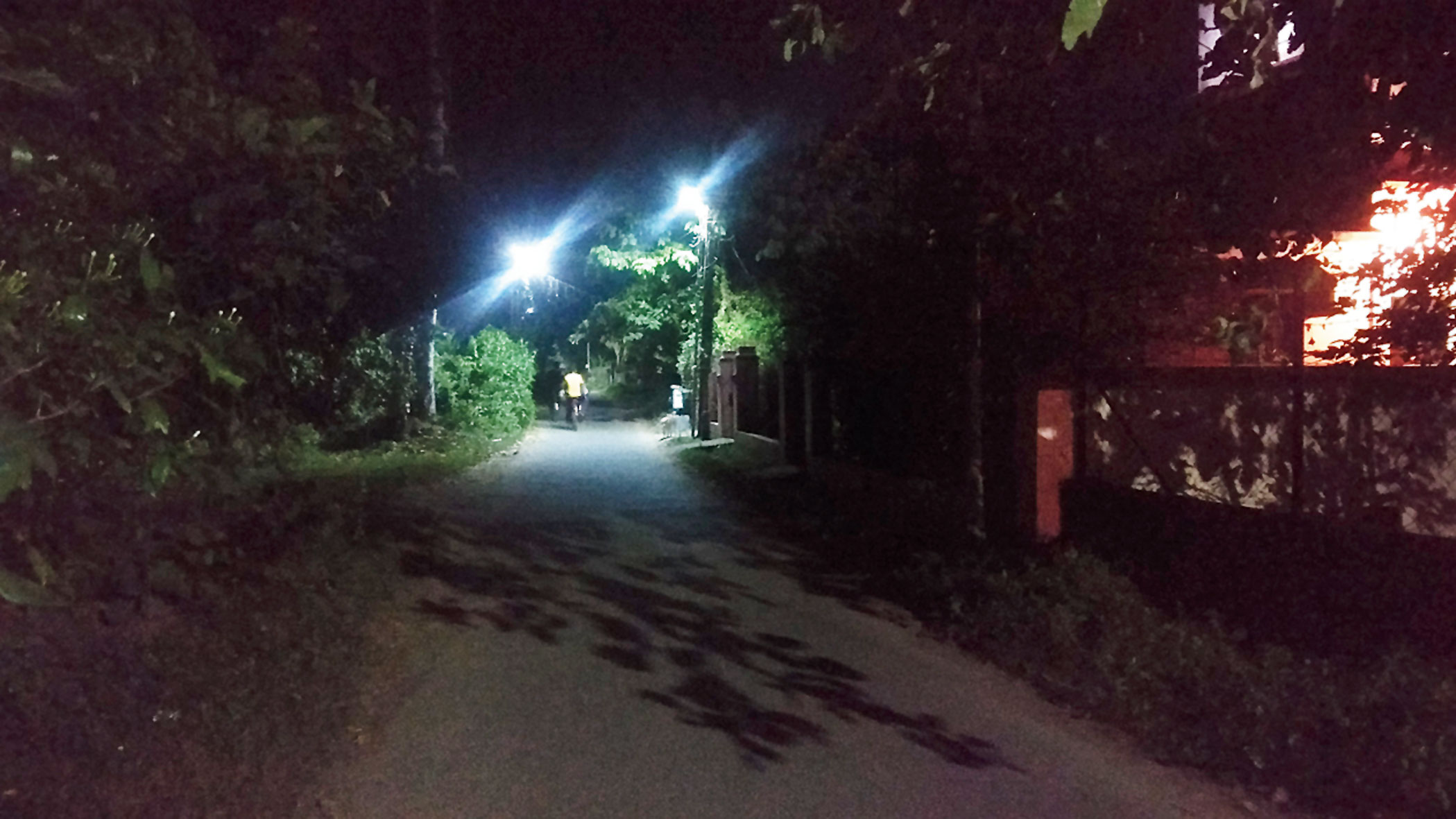 ---
---
At least 12 incidents of snatching, theft and molestation have taken place over the past year in the
Santiniketan neighbourhood near Visva-Bharati where the house of one of economist Amartya Sen's cousins was burgled on Tuesday night, with residents pointing to inadequate lighting and lax police patrolling as possible abettors.
Several policemen were seen in Guru Pally on Thursday, investigating the break-in at 83-year-old Kajari Roy Choudhury's home.
The house was empty at the time of the burglary because Kajari, a cousin of Nobel laureate Sen, lives in Salt Lake with her son.
"A part of the road in Guru Pally has earned notoriety for crimes…. This house falls in that area, where at least 12 incidents of snatching, theft and molestation have taken place in the past year. Not all of them were recorded with us, but we know it's a problem area," a police source said.
Kajari's one-storey bungalow is located opposite the Visva-Bharati campus.
The road beside which the Roy Choudhury bungalow is located is maintained by Visva-Bharati and is dotted with addresses of prominent residents such as Diyali Lahiri, another cousin of economist Sen, economist Pranab Bardhan and family members of Pramadaranjan Ghosh, a Visva-Bharati teacher during Tagore's time.
Most of these houses, including that of the Roy Chowdhurys, are looked after by caretakers as the owners live either abroad or in Calcutta.
"The area is known as Guru Pally because teachers used to live here," said a long-time resident.
"The area is not properly illuminated…. There are no streetlights on several stretches of the main road in Guru Pally. The police and the local civic body are aware of the problem, but no one does anything," the resident added.
A classic game of passing the buck played out when The Telegraph made enquiries about the allegations of lack of illumination and shoddy patrolling.
Visva-Bharati claimed that the Bolpur municipality should be held responsible for the dearth of streetlights. But Rina Birbanshi, the Trinamul councillor of Ward 5 under which Guru Pally falls, said it was the university's responsibility to install and maintain streetlights.
"We are ready to take up the responsibility if residents approach us," she said.
Pinaki Ranjan Ghosh, a history teacher of Bolpur High School and grandson of Pramadaranjan Ghosh, told this newspaper: "We feel insecure…. We often hear screams of people, mainly girls, when they are attacked by snatchers. Hundreds of motorbikes ply on the road at high speed. I never see a police van patrolling the area although some of the houses belong to prominent people."
On September 17, a girl student pursuing a BEd course at Visva-Bharati was robbed at Guru Pally. Miscreants tried to snatch valuables from another girl student of Sangeet Bhavana, Visva-Bharati's music school, on the Guru Pally road in the last week of September.
Another girl student of Sangeet Bhavana who was beaten up and molested by goons after they failed to snatch her bag last year on the same stretch said: "I have to take the road after dusk everyday but I try not to be alone. After that incident, I am always accompanied by one of my friends."
Haze over jurisdiction seemed to have hobbled patrolling, with none sure which police station — the one in Bolpur or the one in Santiniketan — is in charge of Guru Pally.
Officers of the two police stations, however, refuted the allegation of insufficient patrolling. "Personnel from both Bolpur and Santiniketan police stations maintain regular vigil on that stretch," a police officer in Bolpur said.
Tanmoy Sarkar, the additional superintendent of police of Bolpur, said: "We will make a list of roads where there are inadequate or no streetlights. We will submit the list to the Bolpur municipality or other authorities concerned. We will increase patrolling in the pockets of Santiniketan where there are a number of empty houses, including Guru Pally."