Patient overload in dengue towns Ashoknagar and Habra
8 people have died of the disease so far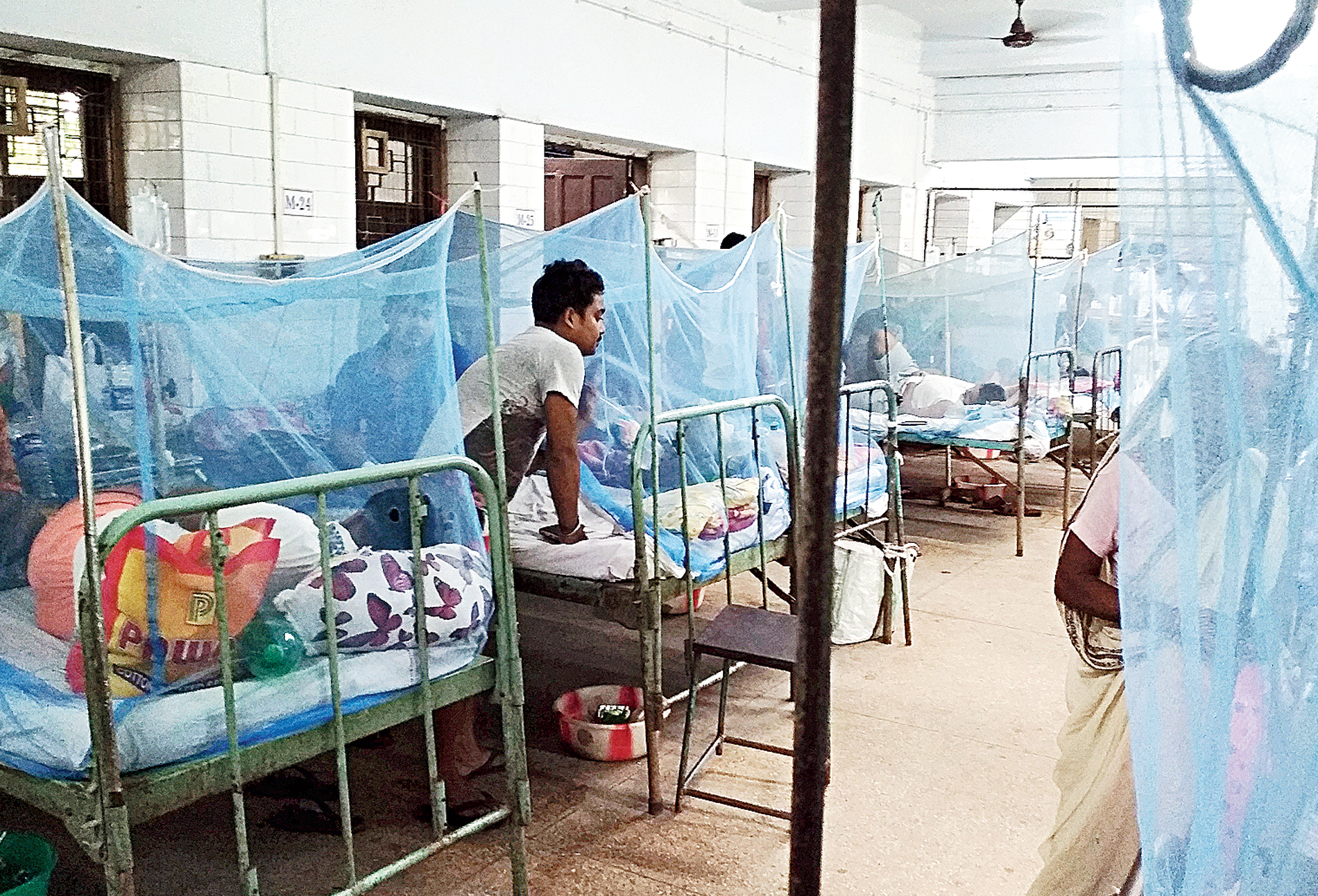 ---
|
Calcutta
|
Published 11.08.19, 10:35 PM
---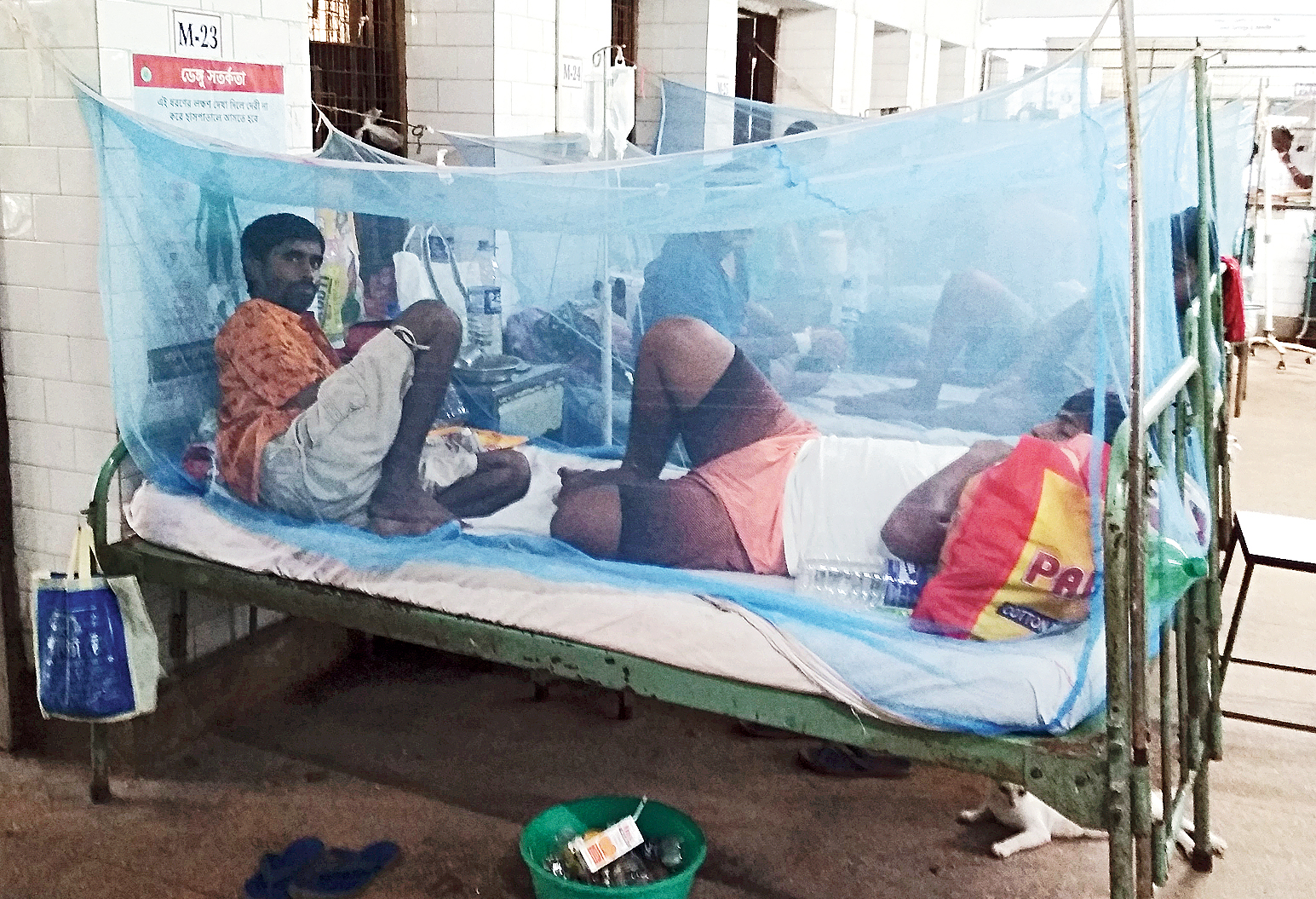 Ashoknagar and Habra, about 40km north of Calcutta in North 24-Parganas, have turned into a dengue virus den.
Almost every second house has a family member with high fever and hospitals are struggling with the sudden surge in patients.
Eight people have died of the disease so far, the last death on August 8, in the region, according to official records.
Some residents alleged doctors in nursing homes were unwilling to write "dengue" in death certificates.
Many have been queuing up at the municipalities for bleaching powder, unaware that doctors have said it doesn't kill the Aedes aegypti larva.
An official of Ashoknagar Kalyangarh Municipality said the health department had sanctioned a laboratory technician to test blood samples collected by civic health workers. But he has been shifted to Ashoknagar State General Hospital from the municipality clinic because of the large number of patients, the official said.
"This year, the number of fever cases has gone up exponentially and no one knows why," Patit Paban Pal said sitting outside his house in Ashoknagar's Debinagar. "I probably could have saved my son if there were more awareness drives."
Pal's son Jayanta, 30, died of dengue this year. He had been admitted to Ashoknagar State General Hospital with high fever and later shifted to a private hospital in Calcutta when his condition worsened, Pal said.
Doctors apparently told the family the hospital was not equipped to handle critical patients who might need ventilation, which is why they shifted Jayanta to a private hospital.
The Ashoknagar State General Hospital has 56 beds but is crowded with patients with high fever and pain in the joints.
The patient count on Friday was a little over 200.
"Everyone in this ward has dengue," Pintu Banerjee, a Kalyannagar resident, said.
Banerjee shares his bed with Projesh Roy of Sendanga in the hospital's male ward and both lie under a mosquito net.
All the beds have two patients each and a net over them.
"There were three patients on some beds even a few days ago," Sunil Ghosh who's been sharing his bed with Anup Roy said. "There are no other patients in this hospital right now. It's all dengue."
Doctors at the hospital said they have been collecting blood samples and sending them to Habra State General Hospital twice every day. Dengue test kits have been stocked up at the hospital where hundreds have been queuing up with fever.
So far, there have been more than 540 dengue patients. The hospital has 131 beds but it is teeming with more than 300 patients.
"We have kept our stock of mosquito nets ready," a doctor at the hospital said. "We have made it mandatory for dengue patients to be under nets."
In Ashoknagar, since Jayanta's death, his cousins have been sprinkling bleaching powder around the house that is covered with bushes and shrubs.
Down the road, plastic sheets, bamboo poles and flowerpots lie stacked in front of houses. Water keeps collecting in them every time it rains.
"We have heard of a few more dengue deaths in nursing homes. A few days ago, a child near our locality died after battling high fever," Jayanta's cousin Amit Pal said. "In many cases, doctors are not writing 'dengue' in death certificates."
Prabodh Sarkar, the councillor of the ward the Pals live in, is the chairman of Ashoknagar Kalyangarh Municipality.
When Metro visited his office on the ground floor of the municipality, residents had turned up in large numbers, asking for bleaching powder to keep their places clean.
Some of the employees at the municipality said there weren't enough vehicles to dispose of garbage from across the 23 wards of Ashoknagar.
"We are doing our best," Sarkar said. "We hope the number of cases will come down soon."
Last year, 32 people died of dengue in Deganga, North 24-Parganas.