Passerby injured in tubri blast
'I was thinking of the child who died on Diwali when the flowerpot exploded'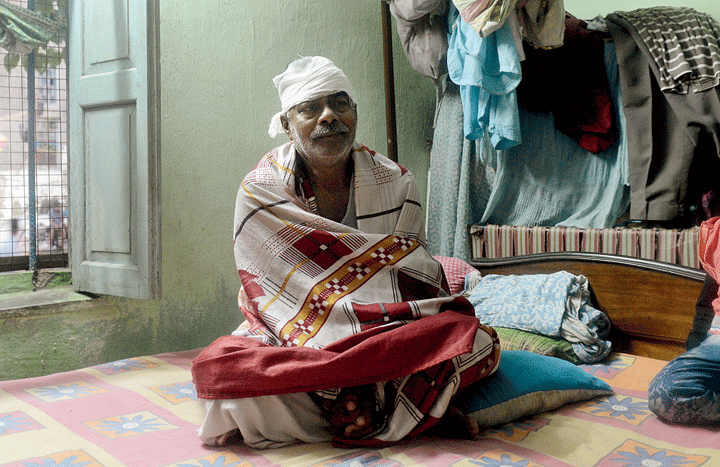 Bhabatosh Roy Chowdhury, who was injured in a tubri explosion on Sadananda Road in Kalighat on Tuesday evening, at his house on Wednesday
Bishwarup Dutta
---
Calcutta
|
Published 30.10.19, 08:54 PM
|
---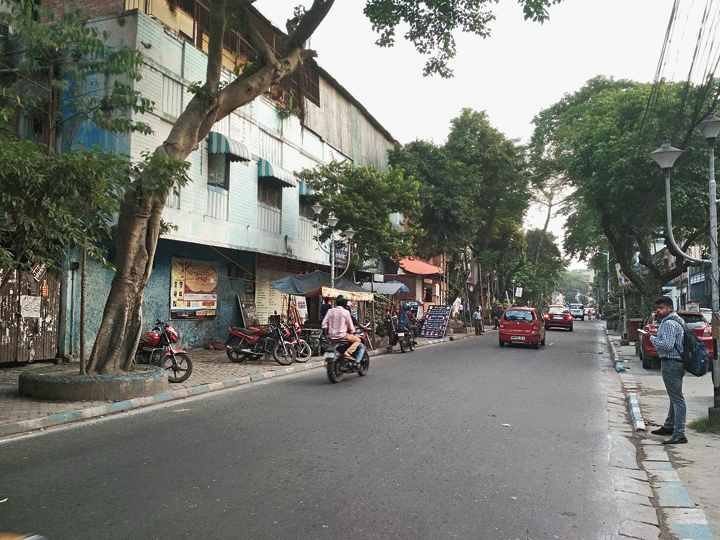 "The more the earthen pot is heated, the tougher it becomes. During an explosion it becomes a projectile."
Tubri is not a banned firework because it does not produce sound beyond the permissible limit — 90 decibels at five metres from the source.
Roy Chowdhury recounted that something very hard hit him on his forehead. As he raised his hand to the spot, he realised that blood was oozing out.
People in the locality took him to a medicine shop, where he was given first aid. A woman alerted Kalighat police station, from where a team reached Sadananda Road and took Roy Chowdhury to SSKM Hospital.
"My wife is a cardiac patient. So, I did not want my family to know about the accident. But eventually they had to be told. I realised much later how close I had come to death or losing an eye," he said at his quarters. By the time he was back home early on Wednesday, his shirt and sacred thread were caked with blood.
Roy Chowdhury has been advised "bed-rest" to prevent bleeding from the wound. He has also been asked to talk as little as possible.
Roy Chowdhury's wife and daughter said none in the family was fond of firecrackers.
"I lost my father when I was very young. I could never imagine buying a tubri or any other firework in my youth," Roy Chowdhury said.
An officer at Kalighat police station said it was difficult to identify the person who had lit the tubri since he or she was part of a procession. "Moreover, lighting a tubri is not illegal. Ideally, the manufacturer should he held responsible for the defective tubri," an
officer of Kalighat police station said.
On Diwali, five-year-old Adi Das from Haridevpur died after a tubri that was lit by a neighbour exploded and a splinter got lodged in his throat.
The other victim that night was 35-year-old Deepak Kumar Kole. The Kasba resident was bending too low to check out a tubri when it exploded.
Fingers lost
Babu Nayek, 17, lost four fingers after a chocolate bomb he was trying to light exploded in his hand on Kalighat Road on Tuesday night. The teenager was part of an immersion procession. A case under the explosives act and sections of the IPC dealing with negligent handling of explosive substances has been started against the youth.
 A 58-year-old man cycling home had a close shave after a tubri (flowerpot) exploded and a splinter hit him on his head on Sadananda Road in Kalighat on Tuesday evening.
Bhabatosh Roy Chowdhury, who works at Jnan Chandra Ghosh Polytechnic in Kidderpore and lives in quarters on the campus, has survived with four stitches on his forehead.
He told Metro on Wednesday that he was thinking of the five-year-old boy killed in a tubri explosion on Diwali night when he was cycling past one on Sadananda Road.
"The sight of a tubri reminded me of the child who lost his life in a tubri blast. Just then the firework exploded," said the father of one.
Tuesday's accident occurred at 8.15pm, when traffic on the Kalighat road had come to a standstill to make way for an immersion procession. Roy Chowdhury said the tubri was lit by someone at the end of the procession.
Lakhs of tubris are manufactured every year without following any guideline. Manufacturers often stuff more-than-enough chemicals inside the earthen pot to make the fire-show more dazzling and increase its duration.
"More chemical means longer burning time and greater height of the fire. But as chemicals are stuffed inside tubris without any sense of proportion, they become more prone to explosion," said an official in the state forensic department.