Sliding exit from smoky IndiGo cabin at Calcutta
It was like being on a slide during our childhood days, recounts passenger of flight 6E237, which made an emergency landing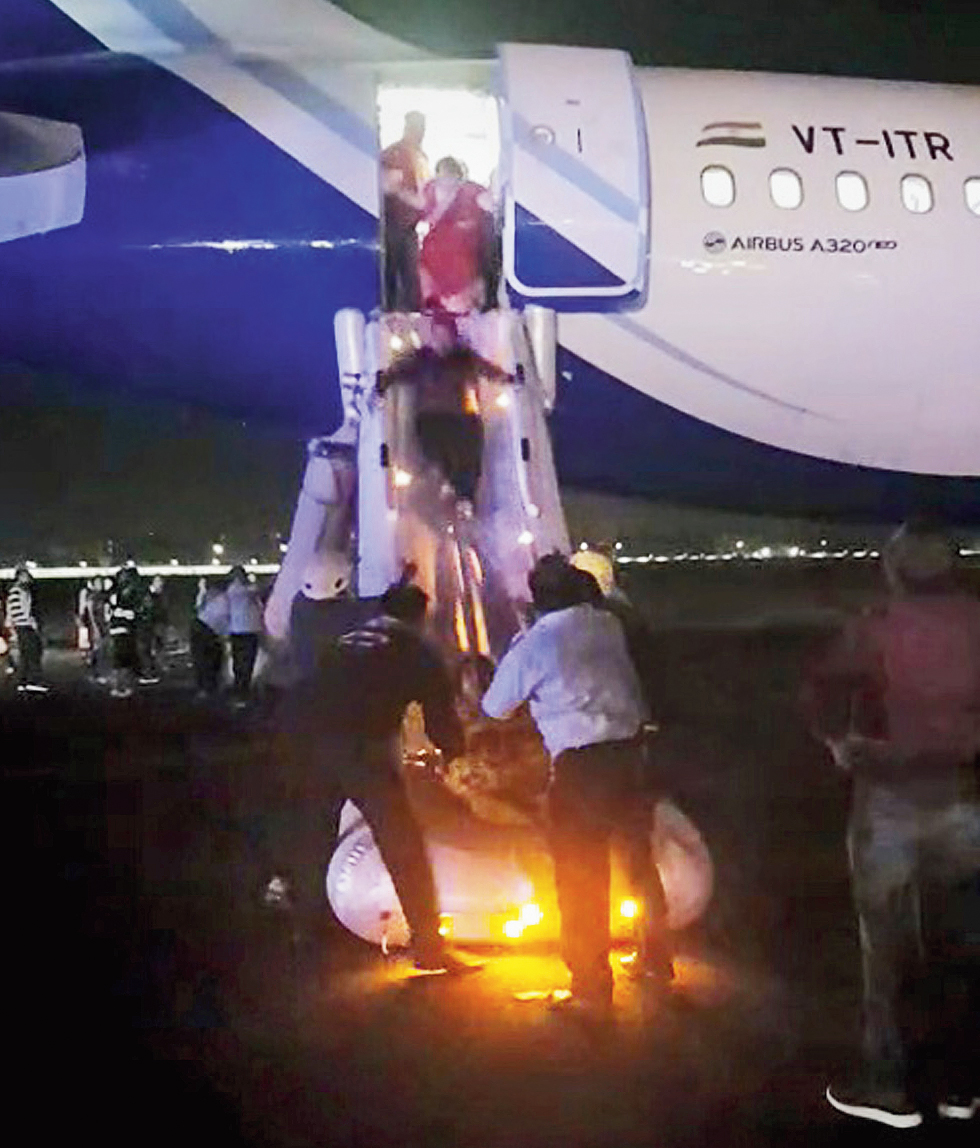 ---
|
Calcutta
|
Published 11.12.18, 09:30 PM
---
Passengers aboard an IndiGo flight from Jaipur to Calcutta on Monday night spent around 30 minutes in a cabin filled with smoke and cries of children before the aircraft made an emergency landing and an inflatable evacuation slide opened for a succession of panic-stricken faces to come down the rear exit.

Flight 6E 237 with 136 passengers and a nine-member crew on board landed at 10.32pm amid full emergency preparations on the ground, airport officials said.
Once the Airbus A320 safely came to a halt, the crew guided many of the passengers lining the aisle to the rear exit for a sliding evacuation. The rest exited through a ladder placed at the front exit. Nobody was allowed to carry cabin baggage.
A doctor who attended to the passengers said many of them complained of breathlessness but did not require medical intervention.
The directorate general of civil aviation (DGCA) has instituted an inquiry into the cause of the smoke.
Ajit Dey, a 72-year-old resident of Garia, recounts to Metro the longest 30 minutes of his life before he and his wife Shampa, 62, were evacuated through the slide.
I first noticed the smoke around 10pm. It wasn't long before the entire cabin was filled with smoke so thick that we could not see beyond a few metres ahead of 19E and 19F, where my wife and I were seated. Many of our co-passengers were screaming in panic. Some were praying. The airhostesses were running up and down the aisle. They appeared to be panicking, too. They were talking among themselves but not responding to our queries about what was happening.
My wife and I were returning from an enjoyable trip to Rajasthan, where we spent time in Jaipur and also visited Jaisalmer and Udaipur, among other places. And then this happened. I remember thinking to myself that if things got worse, I would not be the only one to die.
The airhostesses gave us wet handkerchiefs to place over our eyes to alleviate the burning sensation. We did as told. There was no announcement from the captain, and I think this was because he did not want to raise the panic level in the cabin.
The plane landed sooner than the estimated arrival time that had been announced. I think it was because our flight was given priority over others. (6E 237 got priority over four other aircraft, officials said).
As we were making an emergency landing, I got really scared because I have heard that in such situations a plane can catch fire. Thankfully, nothing of the sort happened and I later learnt that our plane was guided to the isolation bay on landing.
Through the window, I could see security personnel and fire engines surrounding the plane. Firefighters holding hoses were ready to spray water.
Once we were stationary, the airhostesses asked everyone to leave their luggage and evacuate. I find it difficult to walk (Dey, who has had knee replacement surgery, uses a wheelchair and so does his wife) but I somehow got out of my seat without assistance and proceeded towards where the airhostesses were. Most of the passengers were in a hurry to get off the plane. I asked those near me to be calm.
The crew helped me get on the slide and then let go. I slid down smoothly and there were several men at the other end to catch me. My wife did the same. She later joked that she hadn't expected the slide to be so smooth. It was like being on a slide during our childhood days.
We were helped onto a coach and taken to the terminal. The captain and the co-pilot were garlanded by some passengers for saving our lives.
We had to wait several hours for the luggage to arrive. It was around 2.30am when we got ours and could finally leave for home.