Park 'renaming' in Malda sparks row
Trinamul protests move, BJP stands by it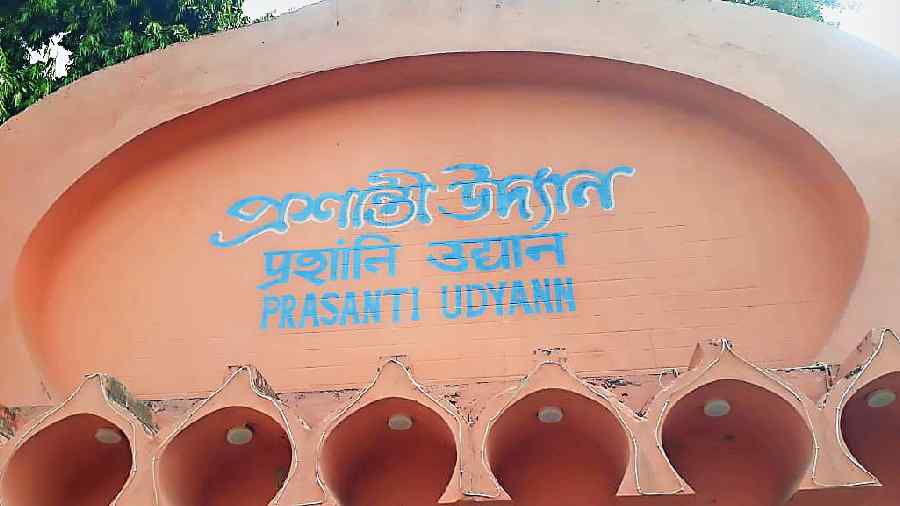 The entrance to the railway park with the new name in Malda.
Soumya De Sarkar
---
Malda
|
Published 24.06.22, 12:11 AM
|
---
The alleged change in the name of a railway park in Malda has sparked a political row as Trinamul has protested the move and the BJP has stood by it.
Located next to Malda Town station, it was inaugurated by former Union railway minister and Congress stalwart A.B.A. Ghani Khan Choudhury on August 30, 1983 as Eastern Railway Park.
"Later the park was named after Alauddin Hussain Shah, Sultan of Bengal from 1494 to 1519 AD," said Dulal Sarkar, a Trinamul councillor of Englishbazar municipality, Malda.
Sources said though no plaque came up with Hussain Shah's name on the park, it was known as such even on railway records. Recently, the park was renamed as Prasanti Udyan.
"It is a ploy to disrespect late Ghani Khan Choudhury and dishonour a Muslim Sultan who had a major role in uniting Hindu and Muslims," Sarkar said.
Krishnendu Narayan Choudhury, Trinamul leader and civic chairman of Englishbazar municipality, has sent a letter to Jatindra Kumar, the DRM of Malda division of ER, criticising the move.
"He (Hussain Shah) was not only a king but made remarkable contributions towards culture and betterment of common people of this region without any religious, linguistic or cultural bias," said Choudhury.
Hindu religious icon Lord Chaitanya Dev had visited Malda to preach Vaishnavism when Shah was on the throne. "He (Shah) paid due respect to Lord Chaitanya although the he was a Muslim by religion," Choudhury added.
Narendranath Tiwary, Englishbazar town Trinamul chief, threatened a protest if railway authorities did not "roll back the decision".
The DRM declined to comment on the issue.
Eklabya Chakraborty, the chief public relations officer of Eastern Railway under whose jurisdiction the park falls, said that an MP also complained verbally in this regard but declined to name the person.
"He (the MP) has been requested to submit his objection in writing. After we get it, fact-finding will be done. We have to ascertain first that the park had a name which has been changed. If allegations have substance, railway authorities will take suitable decisions."
Partha Sarathi Ghosh, the BJP district chief of Malda south organisational district  found nothing wrong in the change. "This is new India…. I do not want to comment on Hussain Shah. But if a big station (Mughalsarai) or a city (Allahabad) can be known by new names, Malda railway park is a small case," he said.