Bengal panel on Netaji's 125th birth anniversary
Mamata: History being rewritten to leave out icons of Independence movement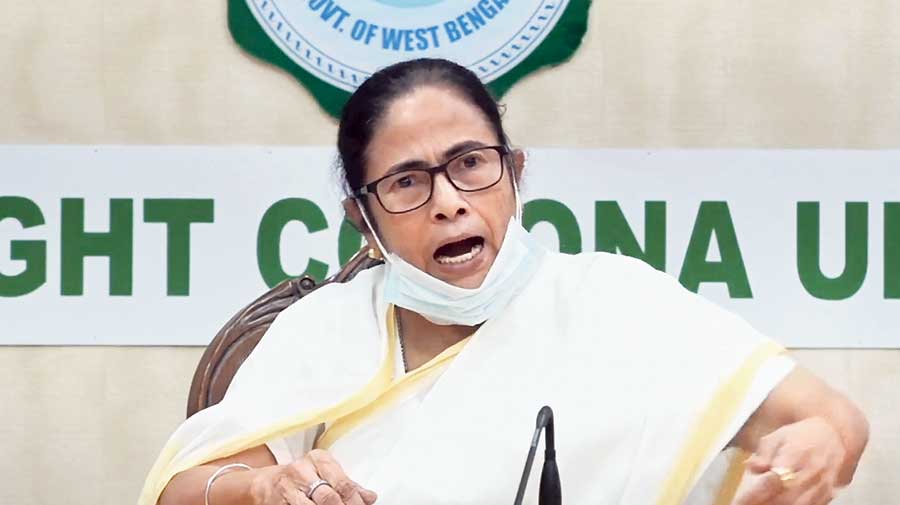 ---
|
Calcutta
|
Published 27.11.20, 03:06 AM
---
Mamata Banerjee on Thursday announced the formation of a committee to oversee the yearlong celebrations of Netaji Subhas Chandra Bose's 125th birth anniversary and launched a scathing attack on the saffron camp over alleged attempts to rewrite history.
The Bengal chief minister said the committee, which she would chair and would include Nobel laureate economists Amartya Sen and Abhijit Vinayak Banerjee among others, would begin work immediately for the celebrations.
Netaji was born on January 23, 1897. His quasquicentennial birth anniversary celebrations are likely to begin from January 23 next year and continue till that date in 2022.
"The core idea is to once again, spread far and wide the ideas of Netaji and everything he stood for…. A national, global icon, who rose from Bengal," Mamata said while announcing the committee's launch at Nabanna on Thursday.
"Nowadays, I see a propensity to change history. History being rewritten on a whim…. Those who actually were in the Independence movement being left out, while those who opposed it — some who betrayed it — some of them are being brought forward, being portrayed as pioneering leaders, with political colours and intent," she said in what sources in her party said was a direct attack on the saffron camp.
A minister said Mamata was referring to attempts to deify figures that the saffron ecosystem considers iconic, such as Vinayak Damodar Savarkar, Syama Prasad Mookerjee and Deendayal Upadhyaya.
One of the Sangh parivar's pet peeves is that most universities in the country teach a "Leftist" version of Indian history that, among other things, glorifies Mughal rule. It wants Indian history rewritten to project the whole of Islamic rule as retrogressive, lionise Hindu kings like Prithviraj Chauhan and Rana Pratap who fought Muslim invaders or rulers, and extol ancient Indian (Hindu) knowledge and wisdom.
"This is one area that she will increasingly attack the saffron camp on, with the help of Netaji's legacy. Netaji, as it is widely known, was an uncompromisingly secular socialist who intensely detested the Hindi-Hindu-Hindustan vision of the Sangh parivar," said a senior Trinamul Congress MP.
Mamata said the committee included the likes of Nobel laureate economists Amartya Sen and Abhijit Vinayak Banerjee, poet Shankha Ghosh, scholars and Netaji kin Sugata Bose and Sumantra Bose, finance minister and Netaji relative Amit Mitra, authors Shirshendu Mukhopadhyay and Abul Bashar, thespians Rudraprasad Sengupta and Manoj Mitra, artists Jogen Chowdhury and Suvaprasanna, poet Subodh Sarkar, danseuse and actor Mamata Shankar, and author and activist Manoranjan Byapari. The committee also includes seniors in the government and the administration, besides several vice-chancellors.
The chief minister said surviving members of Netaji's Indian National Army were also being reached out to, for inclusion in the committee.
On Thursday, she rued Netaji's legacy "being neglected" even now. "It is time everything is brought to light, in this special year. We declassified everything we had, the Centre did not, despite all the promises. The truth about his disappearance remains hidden."
In 2015, her government declassified documents it had on Netaji. Taking a cue from the Bengal government, the Centre had declassified a clutch of files related to Netaji in 2016, but the information failed to shed more light on his disappearance.On Thursday, asked if she thought Netaji was neglected because he was a Bengali, Mamata said: "Some things that come to mind cannot be said."
"They need not be said though. Speech is silver, silence is golden…. We never made any difference between Bengali and non-Bengali icons. But they (the BJP) do. They keep claiming they will turn Bengal into Gujarat, into Uttar Pradesh… why? Everyone knows what has been going on in Gujarat and Uttar Pradesh. Why must Bengal be subjected to that?" she asked.