Online ruckus over stadium 'name change'
Many questioned the DSA Krishnendu Narayan Choudhury's 's decision of suddenly coming up with a new name for the familiar landmark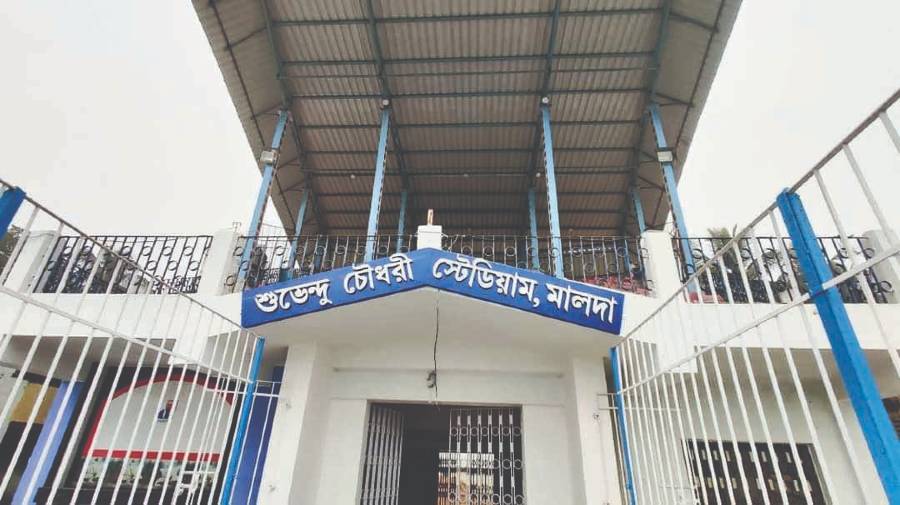 ---
|
Malda
|
Published 10.12.20, 03:07 AM
---
Former state minister and Trinamul leader Krishnendu Narayan Choudhury's apparent decision to name the stadium run by the District Sports Association (DSA) in Malda after his elder brother has drawn flak.
He was also reprimanded by officials of the district administration and asked to remove the metallic letters of the new name from at the entrance of the sports arena.
The stadium, inaugurated on April 4, 1962 by then Bengal chief minister Bidhan Chandra Roy, has six galleries including a VIP gallery, surrounding a lush green ground. It has the capacity to accommodate 15,000-odd spectators.
On Wednesday, a picture of the stadium's main entrance with the new name "Subhendu Choudhury Stadium, Malda" surfaced on social media.
Soon, comments from people came flooding in, as they questioned the DSA's decision of suddenly coming up with a new name for the familiar landmark.
It was soon learnt that Krishnendu, who is the secretary of DSA, made the move. Subhendu Choudhury was his elder brother and also the former secretary of DSA. He died on September this year of Covid-19 complications.
Subhasish Sarkar, another former secretary of DSA, was quick to raise questions.
"The new name of the stadium is definitely questionable. Before changing the name, a resolution has to be adopted at a meeting of members. Also, the decision has to be approved by the state government and the administration. No such approval was taken," he said.
Officials of the administration called up Krishnendu and asked him to remove the alphabets which were put at the entrance of the stadium.
The former minister, who initially was flummoxed by the reactions, later tried to downplay the change.
"It was a minor mistake. Actually, it has been decided to name each gallery block after the name of prominent players and sports administrators of the district. The name was put at the entrance by mistake," said Krishnendu.