NRC sets off Matua hub clash
The clash between two Matua factions started around 2.30pm in front of the local 'Naat Mandir'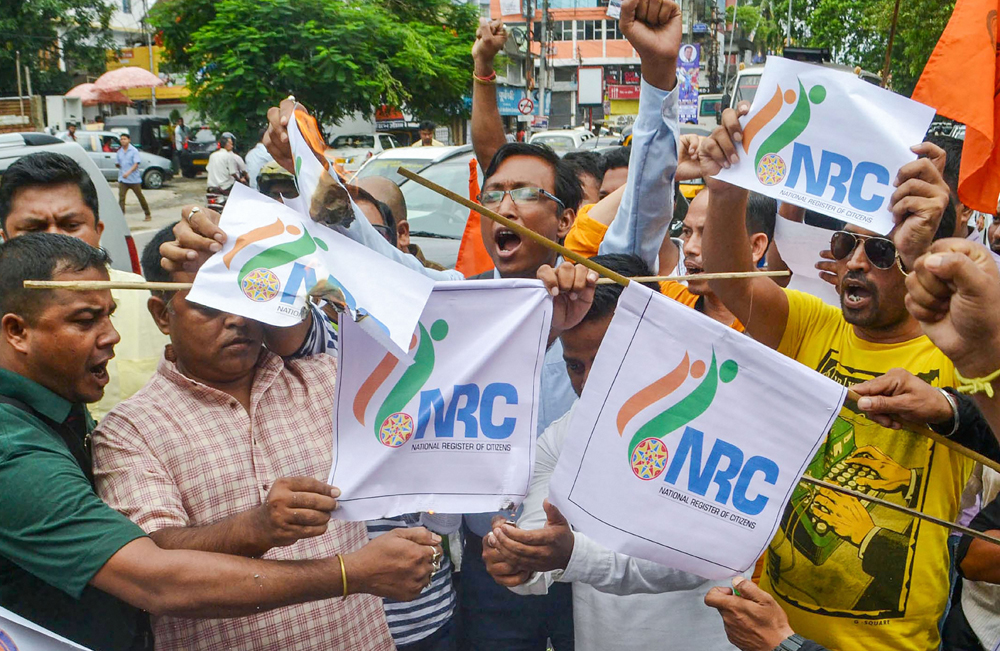 ---
Thakurnagar (North 24-Parganas)
|
Published 02.10.19, 08:39 PM
|
---
Two Matua factions owing allegiance to the BJP and Trinamul on Wednesday clashed when they attempted to organise rival NRC-related campaigns at the group's spiritual headquarters in North 24-Parganas' Thakurnagar.
"The NRC issue deepened an existing political divide among members of the community," said a source.
The Matuas — who belong to the Namasudras community of Bengal — are divided between Mamatabala, the widow of the great-grandson of community founder Harichand Thakur, and her nephew Santanu, vice-president of the Matua Mahasangha and the Bongaon BJP MP.
"In this year's Lok Sabha polls, Santanu seemed to take an upper hand in the battle by winning the Bongaon seat, where the Matuas form 67 per cent of the electorate. But the lingering fight is now going to manifest itself in the NRC issue. Wednesday was the start. The conflict within our community is beginning to reflect the nationwide Trinamul-BJP quarrel," said a source.
The clash started around 2.30pm in front of the local 'Naat Mandir' where aides of MP Santanu were organising a pro-NRC campaign.
"At the same time, a group led by Trinamul's former Bongaon MP Mamatabala and her aide Sukriti Ranjan Biswas began campaigning in front of the Naat Mandir. This enraged Santanu's aides, who attacked them," said an eyewitness.
Asked, Mamatabala said her motive was to raise her voice against the NRC's alleged injustices. "The NRC exercise has unleashed panic in Assam and across the nation. We want to ensure that the Matua community is fully aware of this because many may be vulnerable to it," she said.
"I tried to avoid a confrontation, so we went to a nearby place and began our campaign when some RSS youths on bikes interrupted us. They beat us with sticks and pulled me by my hair before dragging me by my sari," Mamatabala added.
Santanu refuted the allegations and hinted at a conspiracy by the rival group. "We wanted to clear all misconceptions that the NRC is causing among people. We were not informed about any other programmes at Naat Mandir. This is an attempt by Sukriti Babu (Biswas) to get back at us for their Lok Sabha defeat," Santanu said and claimed the rival faction had "plotted" accidents against him.
A large police contingent sent to the Thakurnagar complex contained the clashes.
Arabinda Biswas, spokesperson of the All India Matua Mahasangha — of which Santanu is vice-president — said "this was an attempt by Sukriti Biswas to politicise a disagreement". "Nobody assaulted anyone. We respect Mamatabala Thakur because she is a member of the Thakur family despite the fact that she is involved in a conspiracy against Santanu Thakur," said Arabinda.
Both factions claimed they had filed complaints at Gaighata police station. No arrests were made till Wednesday evening. "As of Wednesday evening, we have received only one complaint, lodged by Mamatabala Thakur", said an officer.