Now, Modi woos minorities in Bengal
In Birbhum, PM harps on Haj quota hike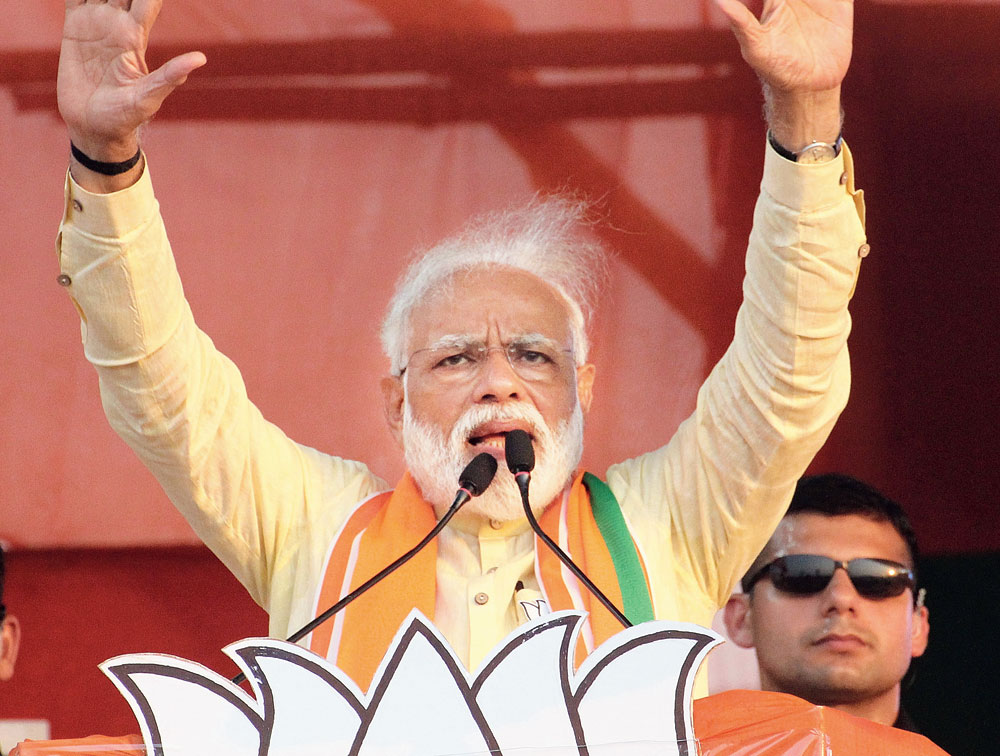 ---
---
Prime Minister Narendra Modi on Wednesday told a rally in Birbhum that Saudi Arabia had recently increased India's quota for Haj pilgrims by 2 lakh following his request, appearing to reach out to minority voters.
"The Crown Prince of Saudi Arabia came here (India). I told him the number of middle class families is increasing in India. The financial condition of Muslims is improving. They are willing to go on Haj. I asked him to increase the quota by two lakh and he did so," Modi told the gathering in Kamarpara village of Birbhum's Illambazar, a minority-dominated pocket.
Birbhum has a minority population of nearly 40 per cent and neighbouring Murshidabad — where voting for the Behrampore seat will be held on April 29 — close to 70 per cent. In a few blocks of Birbhum, such as Illambazar, Hansan and Muraroi, the percentage of minority voters is over 55.
Modi also said Saudi Arabia had freed more than 800 Indian prisoners after efforts by his government. "I told him (the Saudi prince) that there are over 800 Indian prisoners in Saudi jails. The month of Ramadan is coming and I requested him (the prince) to release them. You will be surprised that they took the decision to release them within 12 hours."
In 2014, several Birbhum areas where the minority community outnumbered others, like Parui and Illambazar, had become supporters of the BJP. But over time, many of the BJP pockets switched to Trinamul. "Modi knew about the rise of the BJP in Parui in 2014 when party supporters from minority-dominated villages had clashed with Trinamul. About 40 per cent of the voters in the Birbhum and Bolpur Lok Sabha constituencies are Muslims. So, he tried to reach out to such voters," a BJP leader said.
Trinamul leaders did not attach much significance to Modi's latest pitch, asserting that the minority community in Birbhum was with them.
"Modi knows BJP nominees will be defeated as Hindus, too, not vote the BJP this time. So, he is attempting to reach out to minority voters. But the efforts will be futile as people from all communities are with us," said Anubrata Mondal, Trinamul's Birbhum's chief.
The Prime Minister also invoked Rabindranath Tagore — Santiniketan is barely 10km from the rally venue — and claimed the bard's idea of the fearless mind was being frustrated in Birbhum because of Trinamul's "hooliganism".