North Bengal: Civic officials raise awareness against plastic bags
In Darjeeling district, municipal corporations in Kurseong and Mirik have also begun a campaign to stop the use of these items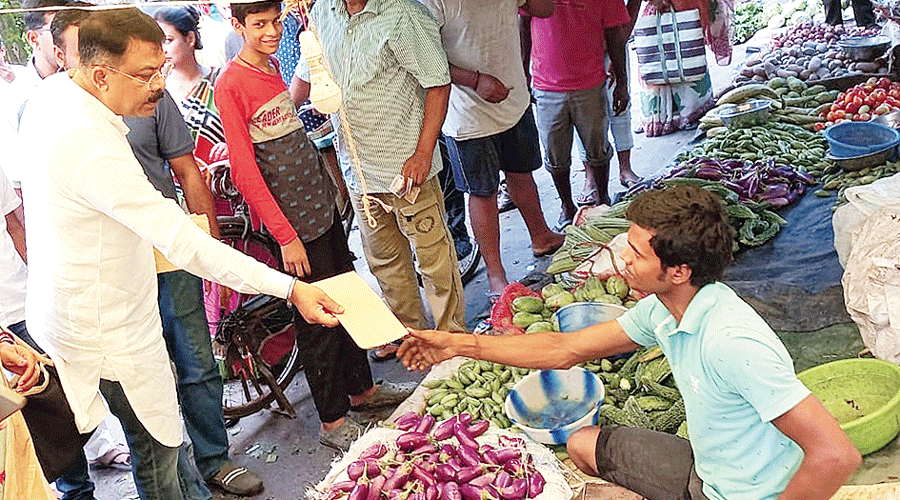 Ranjan Sarkar, deputy mayor of the SMC, campaigns against plastic carry bags at a market in Siliguri on Friday.
Passang Yolmo
---
Siliguri
|
Published 03.07.22, 01:12 AM
|
---
Authorities of the Siliguri Municipal Corporation (SMC), the largest civic body of north Bengal, and several municipalities in the region on Friday began enforcing the ban on single-use plastic carry bags.
There are 26 municipalities in north Bengal. Among these, single-use plastic bags are banned in the Darjeeling hills since 2001 and in the plains since 2010. Such restrictions are also in place in Kalimpong. However, the ban is rampantly flouted both in hills and the plains.
Ranjan Sarkar, the deputy mayor of SMC, said this time they were determined to stop the use of single-use plastic bags.
"We have instructed the local trade bodies to stop using plastic carry bags and items made of styrofoam (thermocol). I have visited markets across the city with officials and councillors to appeal to people to abstain from using plastic carry bags and styrofoam items. From next week, we will take stern steps against the offenders," he said.
The Bengal government has banned the sale, distribution, stocking, manufacturing and use of plastic bags below 75 microns in thickness. Those selling such bags can be fined Rs 500 and those using them Rs 50.
"There are over 1,000 units (across the state) that make plastic carry bags and single-use plastic items. Notices have been served to all of them," an SMC official said. 
In Darjeeling district, the civic bodies in Kurseong and Mirik have also begun a campaign to stop the use of these items.
"We are keeping a watch on marketplaces. If there is any violation, steps will be taken as per government rules," said Subhash Pradhan, a representative of the board of administrators of the Kurseong municipality.
On Friday, a team of officers from the State Urban Development Agency held a meeting with representatives of eight civic bodies of Cooch Behar and Alipurduar districts where the need to enforce the ban was underscored. The meeting also discussed the introduction of a proper solid waste management system. Similar initiatives have started in Malda district.
Krishnendu Choudhury, the chairman of the Englishbazar municipality, said they were distributing leaflets and putting up placards and signboards informing people about the plastic ban.