No one can hold back rathyatras: Amit Shah
Mamata rattled by BJP's rise in Bengal, says party chief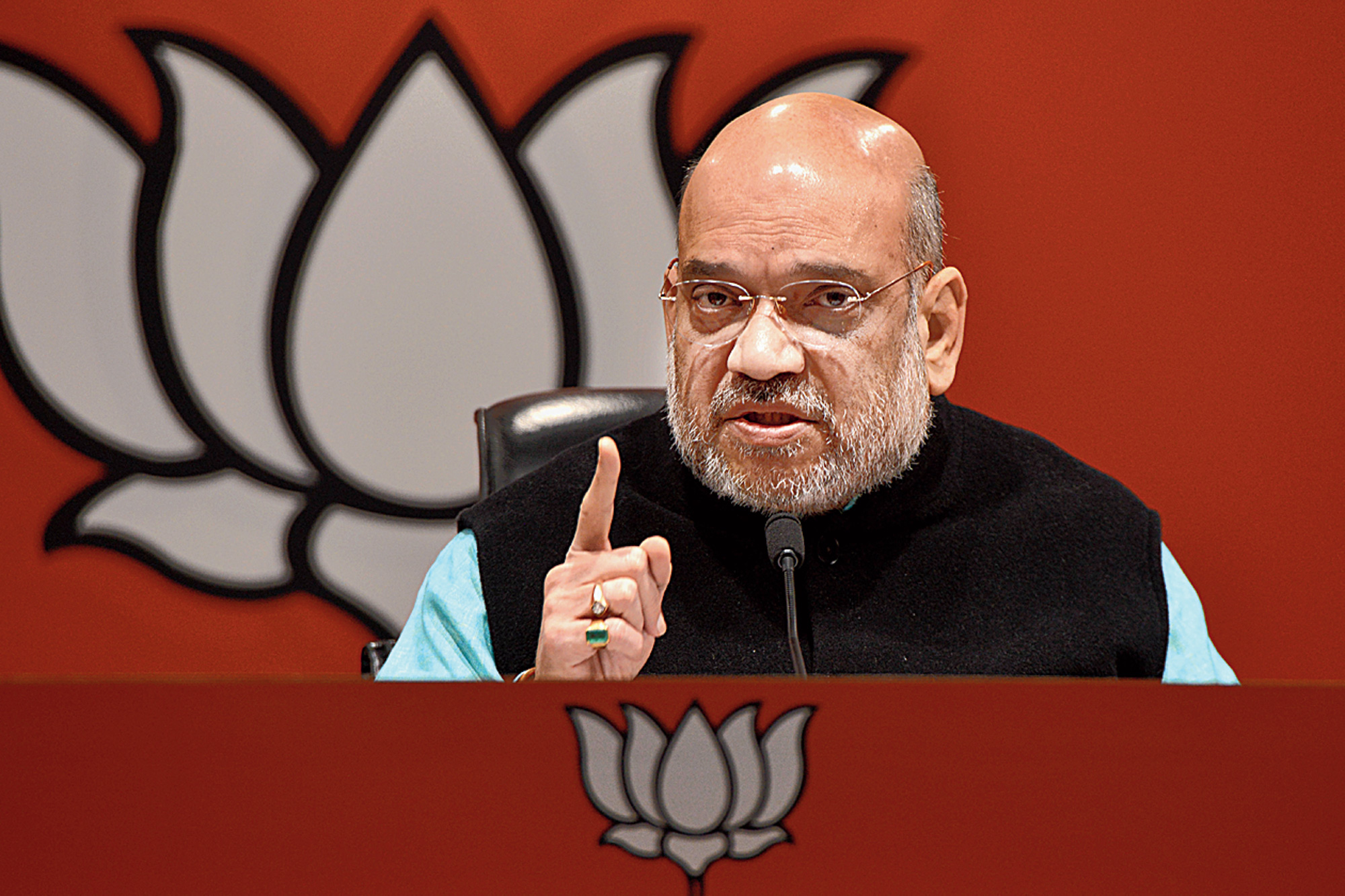 ---
|
Calcutta
|
Published 07.12.18, 08:38 PM
---
BJP chief Amit Shah vowed on Friday to start the party's stalled rathyatras in Bengal and accused the Mamata Banerjee government of "throttling democracy" by denying permission for the programmes.
"Since 2014, I have visited Bengal 23 times. Yatras and other events have taken place. Let them bring before the media one instance of communal tension after a BJP event," Shah said at a news conference in New Delhi when asked about Mamata calling the proposed programme "Ravan yatras".
Shah was speaking three hours before a Calcutta High Court division bench lifted the curbs on the rathyatras clamped by a single-judge bench on Thursday and ordered negotiations between the BJP and the state government.
The Delhi media interaction was held around the time he was to flag off the first of the three yatras from Cooch Behar.
The interaction, according to sources, was held after the BJP state unit pleaded with Shah to make some anti-Mamata noises after his participation in the Cooch Behar event was cancelled.
Shah said: "Many party events have taken place and not once was there any instance of communal violence."
Shah said the BJP had sought permission for the yatras in October and sent reminders to the state home secretary and the director-general of police.
"The three yatras will surely take place and I will flag them off. Let Mamata use all kinds of force," Shah said. He claimed Mamata was "rattled" and "spending sleepless nights" because of the BJP's rise in Bengal. "By stopping the yatras, you can't stop the people of Bengal who want to support the BJP."
Accusing Mamata of letting in illegal migrants and appeasement politics, Shah painted a picture of law and order collapse in Bengal.
Mamata has opposed the NRC, which aims to weed out illegal migrants, in BJP-ruled Assam.
Asked if the Centre would impose President's rule in Bengal, he said: "We will overthrow the Trinamul with the people's support."
Shah claimed Bengal was yearning for change and the BJP would bag a record number of the state's 42 Lok Sabha seats next year — a campaign that the rathyatras aim to build.
Although Shah announced he would come to Calcutta on Saturday to address party workers, the visit was later cancelled.
After the Calcutta trip was called off, shoulders in the BJP state unit drooped again. "His visit at this time would have been really beneficial," said a leader, referring to bickering in the state unit that intensified since Thursday with each lobby trying to blame the other for the loss of face over the yatras.