No NRC, we'll all live here: Mamata Banerjee
Chief minister reaffirms vow against Assam-style exercise in Bengal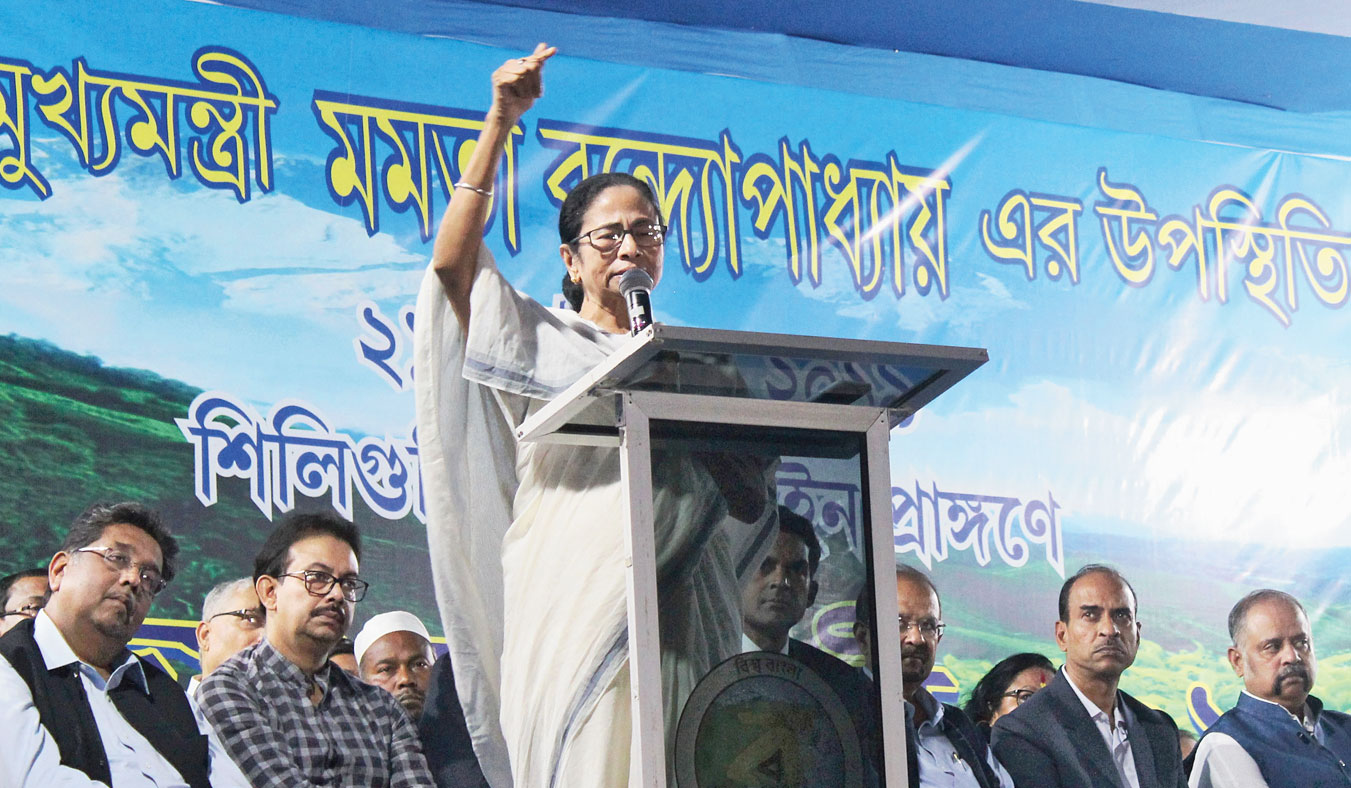 Chief minister Mamata Banerjee at the Bijoya Sammilani in Siliguri on Monday.
Picture by Passang Yolmo
---
Siliguri
|
Published 21.10.19, 07:14 PM
|
---
Mamata Banerjee on Monday promised continued development with a renewed pledge to oppose a National Register of Citizens (NRC)-like exercise in Bengal, rolling out the twin assurances during her first north Bengal trip since the Lok Sabha polls in which Trinamul lost seven of the eight seats in the region.
"Look at the roads, they are much better. The road network connects north Bengal with Nepal and Bhutan. Bagdogra airport has got night-landing facilities now. We have arranged for land for the expansion of the airport…. A lot of development work has happened here and we will continue doing our work. We are with you," said the chief minister.
Sources close to Mamata said that though the electoral setback did affect her initially, she had smelt the possibility of recovering lost ground since the Bengal BJP's high-pitched campaign demanding an NRC-like exercise in Bengal.
"There is going to be no NRC here, I am telling you," Mamata thundered at Bijoya Sammilani, a programme organised by Siliguri police as part of a festive-season get-together.
The fact that the audience — comprising members of 300-odd clubs from across north Bengal — was expecting such an assurance was clear as a huge round of applause followed after the chief minister ruled out the possibility of an NRC-like exercise.
With the BJP leaders threatening such an exercise in Bengal, panic has gripped large parts of north Bengal, especially areas which share borders with Bangladesh.
Sources in Trinamul said the ruling party had decided to regroup in north Bengal over the NRC fears, blamed for at least nine deaths in the region, according to government sources.
"Get your names included in the electoral rolls…. This is your democratic right. We are all Indian citizens…. We all will live here. No one can do anything about it," Mamata said, repeating a reassurance she has offered often.
Then she went on to point out how NRC in Assam — which shares borders with Cooch Behar and Alipurduar — had affected people. "Don't you know that out of the 12 lakh Bengalis, who have been excluded, around 11 lakh belong to the Rajbangshi community?" she asked.
The question was loaded, sources said, as some of the organisations of the Rajbangshis in Bengal — who comprise 35 to 40 per cent of the voters in north Bengal — have started talks with the BJP to press their long-standing demand of a separate state.
"Those pressing for NRC are trying to create a divide among people. They are telling the Rajbangshis that Bengalis would be excluded. They are dividing people," the chief minister said.
Though Monday's programme was described as a festive-season get-together, Mamata used the opportunity to "reconnect" with the people of north Bengal —the theme of this leg of her visit.
On Tuesday, the chief minister will hold administrative review meetings for Alipurduar, Jalpaiguri and Cooch Behar and then travel to the hills in Kurseong to take stock of the situation in Darjeeling.
The chief minister, who had once made it a routine to visit the region at least once a month, came to north Bengal after around six months this time.
"I am coming here almost after six months…. It was raining heavily during a large part of the intervening period. I was monitoring everything from Calcutta but I did not come. Had I been here around that time, it would have inconvenienced you," Mamata said. "I will keep coming," she signed off.