9 held for violence in Deocha-Pachami coal project protest
All nine persons, including Left-leaning economist and activist Prasenjit Bose, were produced before Suri court which sent two local residents to police custody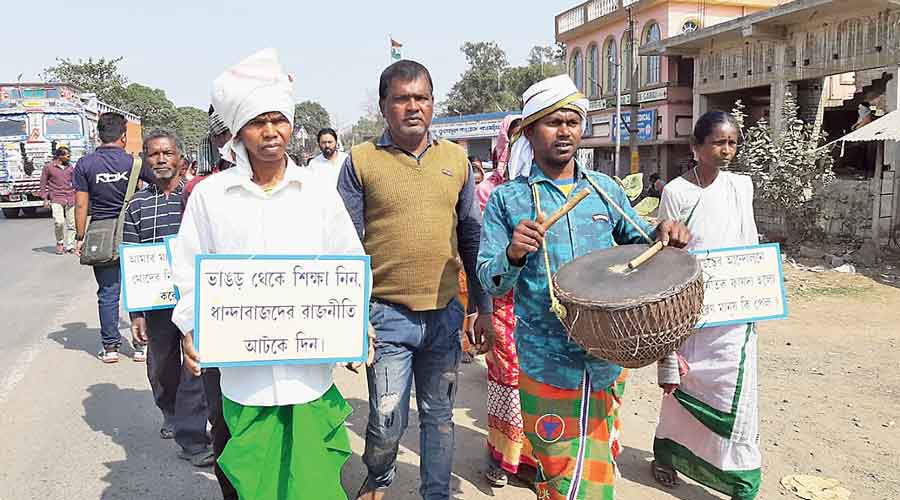 A group of tribal people takes out a rally to back the coal mine in Birbhum's Deocha on Monday.
Himadri Mondal
---
Bolpur(Birbhum)
|
Published 22.02.22, 12:59 AM
|
---
Police on Monday arrested nine persons, including seven activists from Calcutta and two local persons, who took part in a meeting on Sunday to protest against land acquisition for the proposed Deocha-Pachami coal that spiralled into a detention-cum-hostage situation.
All nine persons, including Left-leaning economist and activist Prasenjit Bose, were produced before Suri court which sent two local residents to police custody and seven Calcutta-based activists to judicial custody for four days.
They will be produced before the court on February 24.
Police sources said that Bose apart, the arrested activists from Calcutta included Sumit Chanda and Abdul Malik Mollah. Local residents were Mohan Mardi and Kalicharan Baske.
Police started two cases against all nine — a case of abduction and attempt to murder based on complaints lodged by Trinamul leader Sunil Soren, who was allegedly kidnapped by protesters and released late on Sunday night, and a suo motu case for the attack on cops.
"We are probing into Sunday's incidents," said Nagendra Nath Tripathi, the Birbhum district police chief.
"The arrested were charged with several sections of the Indian Penal Code, including 307 (attempt to murder), 364 (kidnapping or abduction of a person in order to murder) and 332 (voluntarily causing hurt to any public servant in the discharge of his duty)," said a source. The trouble was over the meeting against the proposed coal mine in Dewanganj village on Sunday afternoon, organised by a fledgling platform named Birbhum Jamee, Jeebon, Jeebika O Prakriti Bachao Mahasabha. "After the meeting, participants were allegedly detained by a group of people backed by local Trinamul workers... Many members of the platform, mostly local tribal people, protested against the detention and took Soren and one of his aides into custody, following which police intervened," said a source.
After Soren's rescue, police arrested the Calcutta-based activists. Though the police said they had valid reasons to arrest the activists, many blamed them for implicating activists in "false cases".
Protesters said it was a part of an elaborate plan to crush democratic movement against the coal mine project.
"There is genuine resentment against the project... The activists from Calcutta came to show their solidarity towards the movement of tribal people and police slapped them harsh charges in a bid to slow down the movement of the people, who are against the mine. We condemn such police action and demand immediate release of all nine persons," said Sailen Mishra, the Birbhum's APDR (Association for Protection of Democratic Rights) president.
A group of tribal people, mostly women, on Saturday took out a rally in protest of the arrests in villages like Dewanganj and Harinsingha. On the other hand, another group of tribal people, who support the coal mine, took out a protest rally against the move of instigation by outsiders.
Trinamul leaders said that outsiders from various platforms were visiting the coal mine areas to instigate the local people which resulted in violence and illegal detention of of a leaders.
"It was a result of provocation. We condemn the manner in which our leader Sunil Soren was taken hostage... Most of the people in the area are with the government," said Kali Banerjee, a local Trinamul leader.