Newsmakers 2005
Read more below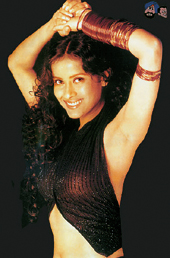 ---
---
Nandana Dev Sen
actress
The infatuated girl in Goutam Ghose?s Gudiya went missing for eight long years. After dabbling in theatre, scripting, production and acting in a string of foreign films, Nandana Dev Sen is all set to resurface in Bollywood, and how!
Sanjay Leela Bhansali?s Black finds this younger daughter of Nobel Laureate Amartya Sen and writer Nabaneeta Dev Sen playing Rani Mukherjee?s screen sister.
Nandana has also played Beatrice in the off-Broadway production Modgliani, while Delhi-based NGO Rahi had her performing for its play on incest. Of the films that kept her busy, the literature student from Harvard University earned loads of accolades for her lead role in Hunt Hoe?s Canadian venture Seducing Maarya.
2005 is sure to see a lot of this vivacious girl from Hindustan Park ? sharing screen space with Amitabh Bachchan in Black, opposite Anil Kapoor in Ram Gopal Varma?s Galti Se and with Ajay Devgan in Mani Shankar?s Tango Charlie.
Parambrata Chatterjee
actor
2003 caught him exerting his grey cells and chasing goons with Big Brother Feluda. This year finds Topshe in the big league, yet again. Parambrata is playing Soumitra Chatterjee's younger son and Sabyasachi Chakraborty's younger brother in Sandip Ray's next feature film, Nishijaapon. The intense tale of relationships being put to the test under strange circumstances has Raima Sen playing Parambrata?s love interest.
While the 24-year-old is busy shooting in Kalimpong, a host of soaps and telefilms awaits his return back home. The megaserials Swapner Rong Neel, Kon She Aalor Swapno Niye and Alokito Ek Indu, has our man at the centre of the family dramas. Waiting in queue is Tridib Poddar's yet-untitled film, co-starring Jishu Sengupta and Reshmi Ghosh, which will take Parambrata to Canada for the shooting.
Neel Dutt
musician
?The guitar was always lying around at my home but I never bothered to pick it up.? But ever since Neel Dutt did that at the age of 13, he hasn?t looked back. Today, the talented 25-year-old is arguably the most promising solo musician in the city. Having been in many a stage musical during his school days, Neel started jamming with dad Anjan Dutt from 1993 and went on to play the guitar in his debut album Shunte Ki Chao?
?I never learnt the guitar formally,? says Neel. ?Amit Datta stayed in my para and he helped me out. Once I started playing, I also began writing my own songs, which I never dared to sing anywhere. Then once into college, I started composing jingles. Baba (Anjan) got into television and I started doing background scores for his telefilms. I even acted in a serial called Half Chocolate.?
With 35 telefilms under his belt, Neel decided to give up his copywriting job at Bates as he took up the assignment of lyricist-composer for his father?s second feature film, Bow Barracks Forever. ?The music is very nostalgic and hummable and very Calcutta. The album should come out in end-January. I always knew how special this film is for Baba and so I made him sing the title song.?
There are more film assignments in hand with Neel composing for the six-in-one film Chhoy and the Bengali thriller Ananya Apartments. ?This year, I will also venture into Hindi film music and continue to play my own music at live gigs. Nothing?s better than that.?
Shantanu Goenka
fashion designer
The young NIFT pass-out has carved a niche in the designer bridalwear market in the last six years that he has been around. While 2004 saw him winning accolades at Bridal Asia and another prominent bridal show, it?s the Lakme India Fashion Week (LIFW) the most-coveted platform for Indian designers, he is eyeing in 2005.
Shantanu has already been inducted into the Fashion Design Council of India and is now all set to face the final jury which will give him the go-ahead to showcase at the LIFW to be held this April.
Retailing from stores across the country and even Kuwait and Bangladesh, Shantanu has also made an entry into the pret market with his Western line that he launched in early 2004.
But it?s trousseau talk that interests him more than anything else and he is even venturing into complete wedding planning ? right from wardrobes to pandals, cards and trousseau designing.
?In 2005, my primary focus will be LIFW, for which I am doing a vintage Western line called Eliza?s Tea Party. Talks are on for shows abroad, but that?ll wait till later in the year,? he says.
Girish
disc jockey
Lounge was a concept alien to Calcuttans but things turned around when Shisha Bar lit its hookah. And the success can be majorly attributed to the music at the lounge bar. Girish, the resident DJ of Shisha since its inception, now promises to look beyond.
And that could be as far as Europe. ?I am playing at quite a few parties abroad. In January I?ll be playing at Dhaka. In March I will play in Bangkok and from there I?ll head to Spain to play at a party,? says the table turner.
But the high point will be when he cuts his own album later on in 2005. ?I have decided to try my hand at production. Talks are on with a leading label and if things work out, the album will see the light of day in the second half of 2005,? reveals the disc jockey. And the content of the album won?t be very different from what has made him a rage in the year just past. ?Most of the songs will be remixes, but in my own style,? says Girish.
It?s the console at Shisha, however, that still occupies prime position in Girish?s priority list. ?I am sure Shisha will retain its top position in the coming year... I?ll pick up loads of international tracks from my trips abroad,? he signs off.
Nicolette Bird
model
The 20-year-old model is a popular face, nationally, in print ads and we also saw her sizzle in a couple of music albums like Saiya dil mein aana re and Nisha. 2005 starts on a high note for this svelte beauty as she will soon add fizz to a Pepsi commercial alongside Shah Rukh Khan. ?It?s an experience of a lifetime for an amateur like me to shoot with Shah Rukh. Till the day of the shoot we didn?t know that the ad would feature him and so I was in a dream-like state the entire day of the shooting in Mumbai,? she recalls.
The other big project Nicolette will start the year with is an AIDS awareness campaign produced by Hollywood star Richard Gere?s production agency. Both the ads are scheduled to hit the screens in January. These apart, she has been signed by brands like Pantaloons, Elle 18 and Reliance as their in-house face of the year.
While things are shining on the modelling front, Nicolette?s sights are set on completing her graduation in May. ?To have a proper education is important, career can wait,? says this English honours student of Bhawanipur Education Society College. ?In the later half of this year, I?ll try my luck in the movies. I?ve already got offers that I had to decline because of my exams,? she says.
Puneet Soi
artist
Trained in Baroda, 33-year-old Puneet Soi uses traditional techniques of painting to create works that pull from various sources, many of them localised.
Schooled in Calcutta, the city keeps recurring in his work, and though he has been living in Amsterdam for some time, he often returns to meet artists such as Paritosh Sen.
After a stint at the University of California in 1998, he was artist in residence at the prestigious Rijksakademie Van Beeldende Kunsten, Amsterdam, in 2002 and 2003, and a guest artist at Duende Studios, Rotterdam, last year.
Soi?s latest project is a collaboration between video artists, theoreticians from the Netherlands and Calcutta artists. Slated for September, he wants ?to let accidents happen?.