Cover up site to get completion papers
A clause is being introduced in the building plan sanction rules requiring buildings to be covered by cloth, jute or any such protective material
---
---
The New Town authorities are introducing a norm to ease the lives of those living near under-construction buildings. Soon, all buildings in the making will have to drop down curtains of jute or cloth while civil construction is on, so dust and noise do not make their way out and bother neighbours.
"New Town is a fast-developing township with lots of construction work everywhere," said Debashis Sen, chairman of New Town Kolkata Development Authority (NKDA), adding that they have been receiving complaints about cement, stones and construction debris hitting adjacent houses and about the noise from stone-cutting machines in use.
"Since there was no rule thus far, our staff could not challenge construction workers about these complaints. So on January 27, the NKDA board adopted a special resolution to address this," said Sen.
A clause is now being introduced in the building plan sanction rules requiring buildings to be covered by cloth, jute or any such protective material so dust and debris do not fall outside the property. "The notification will be uploaded on the NKDA website soon," he said.
The cloth needs to be put up only when builders are working on things that will produce dust and noise, perhaps only on one side of the building at a time. "In case builders fail to comply, we can issue an order to stop construction or refuse to issue their completion certificate," said Sen. "There is a grey area about buildings that have already started work as the rule cannot be enforced in retrospect. But we shall advice them to follow the new rule and hope their good sense prevails."
Air quality
Besides being a menace, construction dust is highly harmful as it pushes up the PM 10 pollutant quotient in air. PM 10 can penetrate the nasal barrier and enter the lungs and trigger a range of respiratory and cardiac diseases. Incidentally, Calcutta and Salt Lake's PM 10 concentration generally remains more than 1.5 times of the nationally permissible annual limit of 60 micrograms per cubic meter. According to various studies, constructional activities are responsible for at least 30 per cent of such pollution.
The West Bengal Pollution Control Board had earlier prepared a guideline to cover the high-rises under construction to avoid the menace of air pollution during construction but in 2016 the union environment department came up with the Construction and Demolition Waste Management Rules, 2016 to make it mandatory.
Subsequently, municipalities have started to include the condition in their building rules. For instance, Calcutta Municipal Corporation has already changed its building rules to accommodate the condition.
The cover stops the dust generated during construction to spread in the immediate neighbourhood, reduces noise generated during construction and also saves passersby from freak accidents.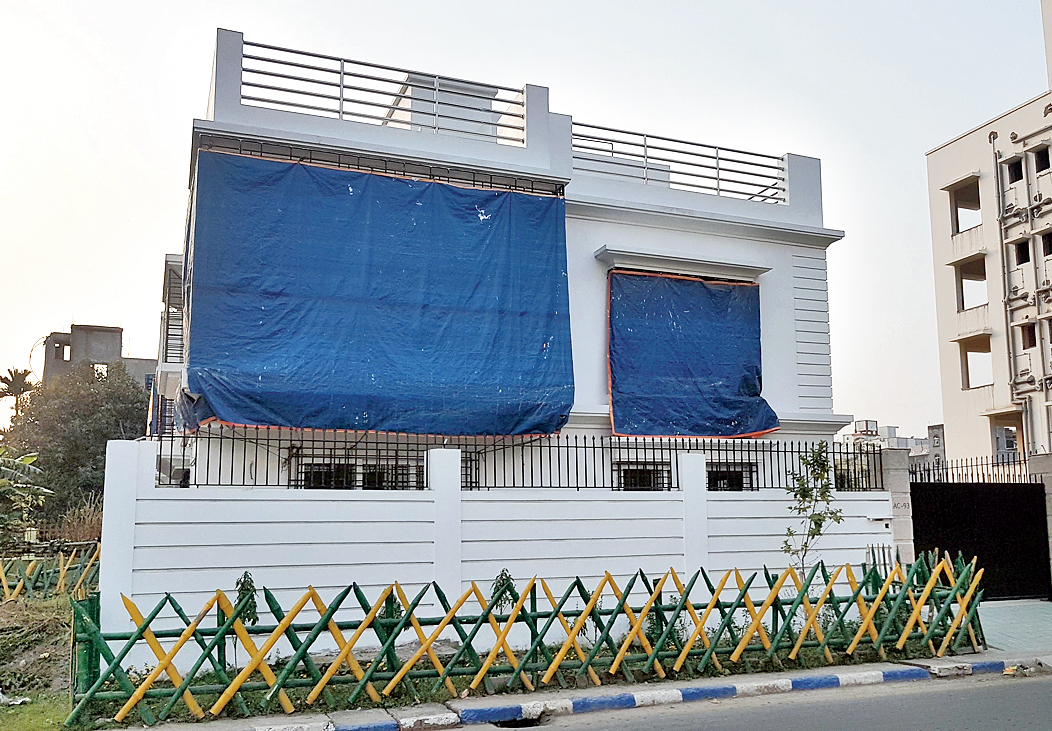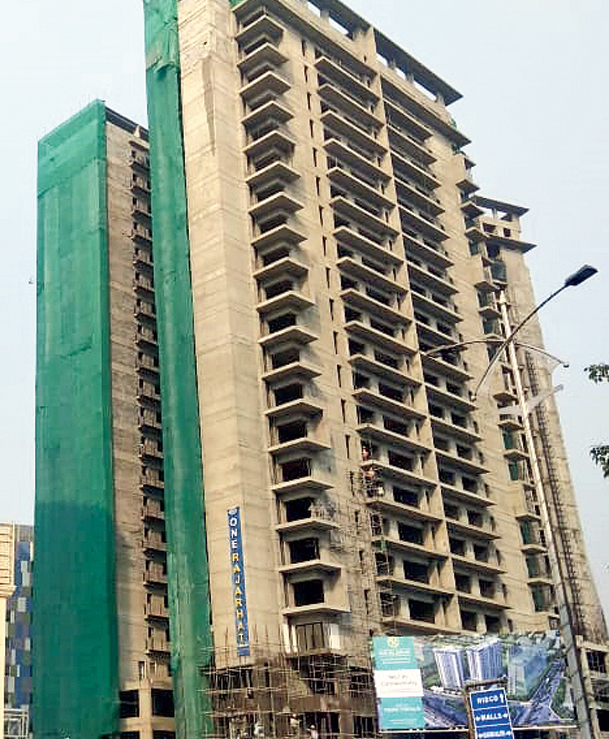 Cost and convenience
Construction companies are warming up to the idea. "In Calcutta proper, under-construction buildings are always covered when there is a chance of bricks or chunks falling off and hitting pedestrians. If this was not followed in New Town so far, perhaps it was because the township is not densely populated yet and there wasn't a risk of injuring others," said marketing head of Bengal Shelter Housing Development, Sankalan Datta. Their company has built major complexes like Akankha in New Town and have more in the pipeline.
The Merlin Group is building the Elita Garden Vista residence in Action Area 3 and managing director Saket Mohta said the buildings were covered with green jute when civil construction work was on, for between a year and half and two years. "Real estate contributes may be 10 per cent to total air pollution but even that we should try to minimise. In developed countries, this cover is a norm while in Calcutta it is done on an ad hoc basis by responsible builders."
The cost of these sheets could be an impediment for some companies, Mohta felt. "Besides the cloth itself, one has to pay for installing it, maybe by building a scaffolding. Then there's rent for all the months that the scaffolding stays put," he said.
Rakesh Gupta, a partner at Neelam Realtors Construction Company, says they have always kept their buildings covered during tasks like marble-cutting. "Builders will comply with this rule but beyond a point all stake holders will have to compromise. Only 20 or 30 per cent of New Town is ready now. Majority construction lies ahead and a basic amount of dust and noise is unavoidable," he said.
Labourers like Mohor Lal, working on a five-storey house in CA Block, say maximum dust is created during carpentery and marble-cutting work. "It gets quite suffocating for us too but we try to cover windows and open walls so it doesn't escape outside," he said. "We don't want to inconvenience others."
Other pollutants
Residents have welcomed the move. Chirobikash Sarkar is a DA Block-based doctor who also conducts camps to raise awareness about pollution. "Prolonged exposure to construction sites can lead to silicosis, an incurable lung disease," he says, adding that he himself would get breathing trouble and watery eyes when a building was coming up near his house. "But most of that can be blamed on the faulty generator the site was using," he added.
Lutful Alam, joint convenor of New Town Residents' Welfare Forum, said they are happy with the new rule but like Sarkar, seek solutions to the indiscriminate use of generators and the burning of leaves and coal by roadside eateries.
Sen said they are working on all the said issues. "Faulty generators are the jurisdiction of the pollution control board and anyone who spots one can inform them or the police. As for the burning of dried leaves, NKDA has teams to catch and stop these," he said.
The problem of roadside eateries using coal as fuel, however, is a tough nut to crack. "We are appealing to these vendors to switch to induction cookers or microwave ovens as they neither cause pollution nor are a fire hazard but vendors are reluctant. Cost is a factor for them and they are also used to burning coal. We have tried asking dhobis to switch to electric irons too but the response in lukewarm," he said.
Input from Jayanta Basu