New Town block fights plastic
90-minute walk to raise awareness about environment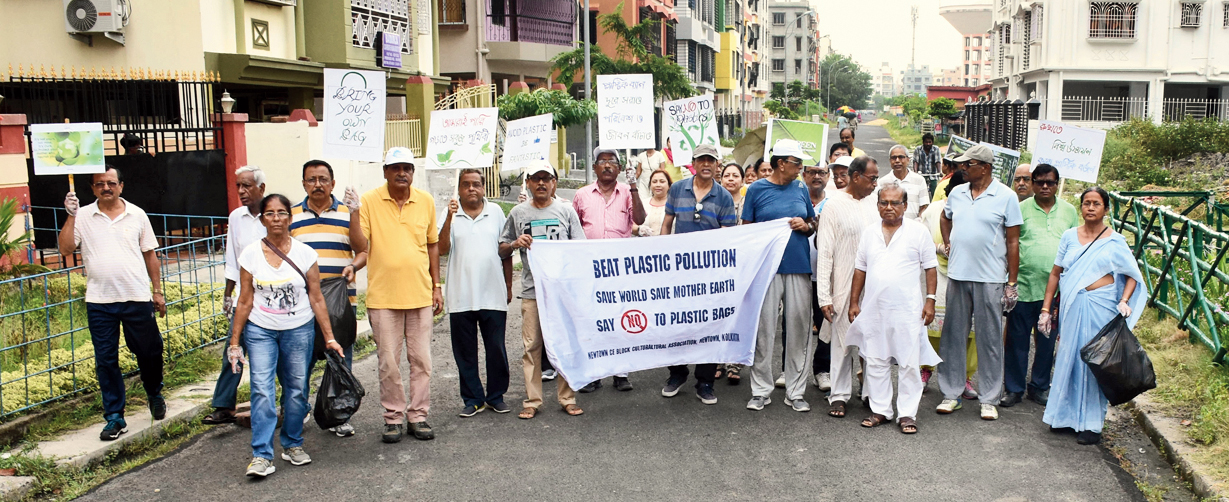 ---
|
Calcutta
|
Published 14.06.19, 01:34 AM
---
Aj World Environment Day. Plastic byabohar borjon korun. Plastic byabohar swasthyer pokshey hanikor (Today is World Environment Day. Quit using plastic. Plastic is bad for health...)
The voice on the microphone from a toto making the rounds of the lanes in New Town CE Block was of Ashok Lahiri, an 88-year-old resident of the block.The toto from which the announcement was being made was leading a rally of a group of mostly senior citizens to spread awareness about the block's drive to discard plastic from daily use. They also picked up litter as they made their way along the lanes and bylanes.
The programme started around 6.30am with a salutation to the sun, with the chanting of Surya pronam mantra.
They then began the walk, with Tagore songs on their lips and placards in hand. The placards carried a variety of messages. Some said 'Bring Your Own Bag' while others had "Avoid Plastic, Be Fantastic'.
And all through the 90-minute walk, Lahiri sent out appeals — to not let thermocol pile up on empty plots leading to accumulation of water which would facilitate mosquito breeding that in turn would cause vector-borne diseases. "People entrust me with announcements because of my voice. I have made announcements on the move twice before — once in my service life in Odisha and another time during a candle-light march for Nirbhaya when I used to stay in Garia," smiled Lahiri.
Bibhas Kumar Pramanik, a teacher at Burdwan University, took the day off to join his neighbours. "Industrialisation is the major source of pollution. We need to drastically reduce industrial waste. Only then can we have a healthy atmosphere around us. I am very happy that I could participate in the programme today."
At the end of the walk, the residents gathered at a ground where the local Durga puja is held to plant saplings, led by Gopal Mishra.
"We do this every year. This year I alone have planted as many as five saplings. We do this on both sides of the road and elsewhere," said Alok Das, secretary of CE Block Cultural Association.
"Last year, inspired by the United Nations (UN), our slogan was 'Beat plastic pollution'. This year, again following UN, our slogan is 'Beat air pollution'. The idea is to spread awareness. We also distributed cloth bags among residents and chased vendors who handed their ware packed in thin plastic bags. But unless the administration helps we can't do anything about it," said Tarak Baran Mukherjee, president of the association.
Last year on the day, the block forum had announced that the block would become plastic-free and used the occasion to raise awareness against plastic bags, especially those thinner than 50 microns. "We distributed cloth bags as samples among vegetable and fish hawkers who roam our streets. We asked them to either ask buyers to come out of the house with their bags or utensils or charge them the 80 paise that each recyclable bag costs," said Das.
But the message still has not reached everyone. Rafiqul Iqbal roams the streets with a four-wheeled van selling vegetables and fruits. "Once a few residents had chased me out of CE Block for handing over my items in plastic bags. But what can I do? I also need to make a profit to run my business. Unless I get a cheaper alternative, I can't stop the use of plastic," he added.
Das pledged to intensify efforts to minimise plastic bag usage. "We have managed to convince our local fish monger to shift to cloth bags," he smiled. But the NKDA market in the neighbouring block was beyond their orbit of influence, he admitted.