New road passes test on Day 1
On October 12, the journey between the same places via a new road and two adjoining Bailey bridges, built as an alternative to the collapsed bridge, took just 25 minutes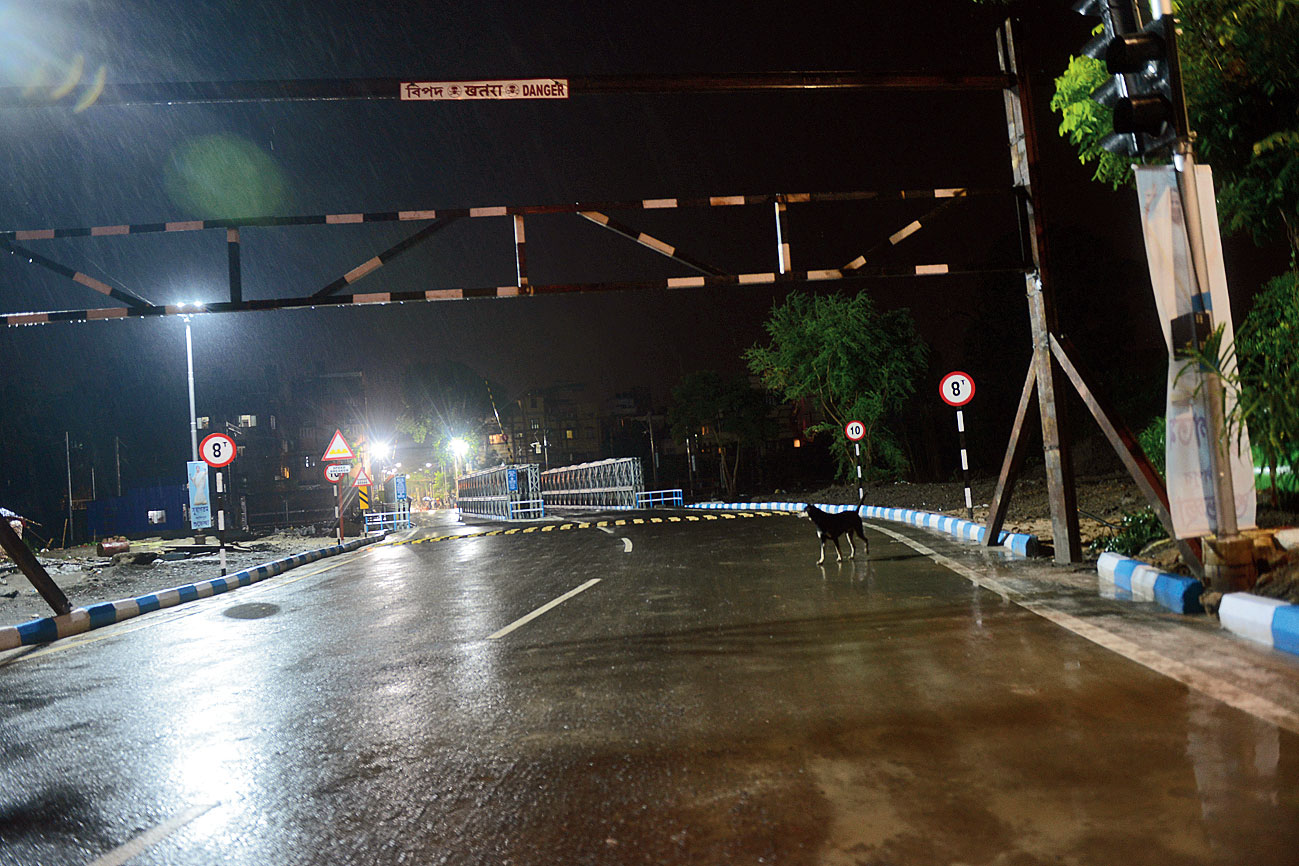 The road that was made operational on Friday as an alternative to the collapsed Majerhat bridge.
Picture by Bishwarup Dutta
---
Calcutta
|
Published 12.10.18, 08:55 PM
|
---
On September 10, five days after the collapse of Majerhat bridge, a ride from Taratala to Mominpore via New Alipore Road and Durgapur Bridge took more than an hour.
On October 12, the journey between the same places via a new road and two adjoining Bailey bridges, built as an alternative to the collapsed bridge, took just 25 minutes.
On debut, the new road and the Bailey bridges (opened at 2pm) passed the test with distinction. The nearby roads in Alipore and Chetla, however, were choked with traffic, triggered by rain and the rush of pandal-hoppers.
It was 5.30pm when the car Metro was travelling in reached Taratala on its way to Mominpore. The car crossed a Bailey bridge and reached Raja Santosh Roy Road in 10 minutes.
The Esplanade-bound cars on Diamond Harbour Road were being made to turn right and enter New Alipore Road. Guardrails were erected on Diamond Harbour Road to ensure vehicles turned right to New Alipore Road, instead of travelling further north and enter Humayun Kabir Sarani. New Alipore Road and Humayun Kabir Sarani both lead to the new road and the Bailey bridges.
"The barricade was placed in the evening. Had traffic been allowed on both roads, there would have been a bottleneck on the new thoroughfare," an officer in the traffic police said.
"The intersections of the new road with Humayun Kabir Sarani and New Alipore Road are sharp. There were long snarls in the afternoon as vehicles were slowing down to make a turn at the crossings," the officer said.
The left turn, leading to the new road, came after travelling around 150m on New Alipore Road. A newly installed traffic signal had a green arrow pointing left.
A group of policemen in white and khaki was deployed at the crossing. Yellow signboards with Esplanade and Mominpore written on them have been put up at the spot.
Policemen were posted near the level crossing and at both ends of the bridges, too.
The new road is 14m wide over the railway tracks, much wider that it is on the New Alipore and the Alipore side.
Once the car reached Raja Santosh Roy Road, it was caught in one snarl after another. Traffic hardly moved on Burdwan Road and parts of Judges Court Road.
Earlier in the afternoon, when this newspaper was travelling towards Taratala, it took almost 40 minutes to travel 1km from the Alipore branch of the State Bank of India to Durgapur Bridge, via Alipore Road.