Nepal relaxes protocols for Indians travelling through land
They are required to produce a printed copy of the international traveller arrival form obtained after online registration on www.ccmc.gov.np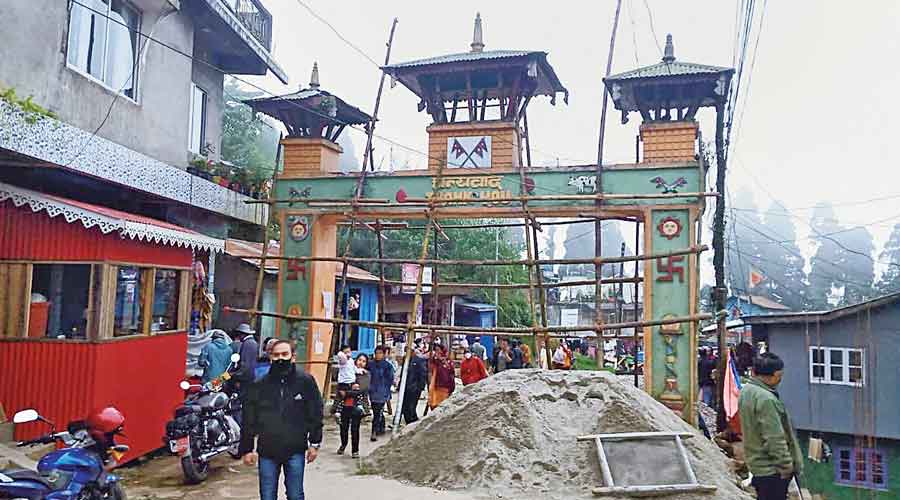 ---
Pashupatinagar (India-Nepal border)
|
Published 09.10.21, 01:05 AM
|
---
The Nepal gate is barricaded with bamboo scaffold while the Indian check-post has not been raised since March last year. But in the festive season, a small "chor-bato (a short-cut pathway)" has turned into a lifeline for citizens to enter each other's territory.
After Nepal's cabinet had decided on September 21 to allow in Indian vehicles, the first overland Indian tourists had entered Nepal through the Raxaul-Birgunj border from Bihar on October 1
The Nepal government has also relaxed travel protocols for Indians travelling through land. Indians need to submit a Covid-19 report obtained within 72 hours of departure from the first port of embarkation or within 72 hours of entering Nepal by land.
They are also required to produce a printed copy of the international traveller arrival form obtained after online registration on www.ccmc.gov.np.
On the Pashupatinagar border, which is 30km from Darjeeling town, the cabinet decision has not reached in writing but people are visiting the country without producing any documents.
"We have heard that a decision has been taken to allow Indians to enter Nepal in vehicles but we have not received the instruction in writing and hence, are not issuing any permit," said a Nepalese official at the border town.
Indian officials, who also downed the gate, too, said they had not received any specific instruction to open the gates from the Indian government.
"At the local level, Nepalese officials did approach us to allow vehicles to move but we have told them to take up the matter with embassy officials," said a senior district official.
However, through the lockdown, Indian commercial vehicles carrying essential items have been allowed to enter the country. Such entry is, however, allowed only from Naxal-Kakarivitta border near Siliguri and not through Pashupatinagar border.
At a time when the "official" movement of people is tied up in red-tapism, a "short-cut" near the border posts has become the thoroughfare. Officials from both sides are overlooking the "chor-bato" movement.
Of late, tourists are even allowed to enter the heart of Pashupatinagar bazar in Nepal, which is a kilometre away from the Nepal gate.
"Earlier, Indian tourists were not allowed beyond the Nepal gate (which is 50 meters from India's post) but now they allow the tourists to visit their town," said an Indian official posted at the border.
Many tourists visiting Darjeeling do go to Pashupatinagar "to get a feel of visiting a foreign country" and also for shopping.
For many local people, the decision by officials of both the countries has come as a major relief. "There are relatives on both sides of the borders and for many, it has come as a major relief during Pujas. Many locals also go to Pashupatinagar for shopping," said a local.
The entry of Indian citizens at Pashupatinagar has brought some relief to the Nepalese businessman. "My shop would be chock-a-block during this period but not this time around. Nevertheless, the steady trickle from across the border has ensured some business," said a Nepalese businesswoman who deals in "foreign clothes".
According to a report in Kathmandu Post, a leading English newspaper of Nepal, travel and tourism businesses account for around 8 per cent of Nepal's gross domestic product and provided more than 1.05 million jobs directly and indirectly in pre-Covid times.
Indians account for the largest number of travellers to Nepal. In the first eight months of 2021, Nepal received 33,680 Indian tourists by air, the paper reported. There were, however, no data of Indians crossing land border points.
India and Nepal share a 1,800km-long border which is largely porous.