Modi ties Netaji's vision to govt slogans
PM's speech was replete with attempts to underscore Netaji's Hindu background while keeping mum on the icon's uncompromisingly secular, tolerant, humanist worldview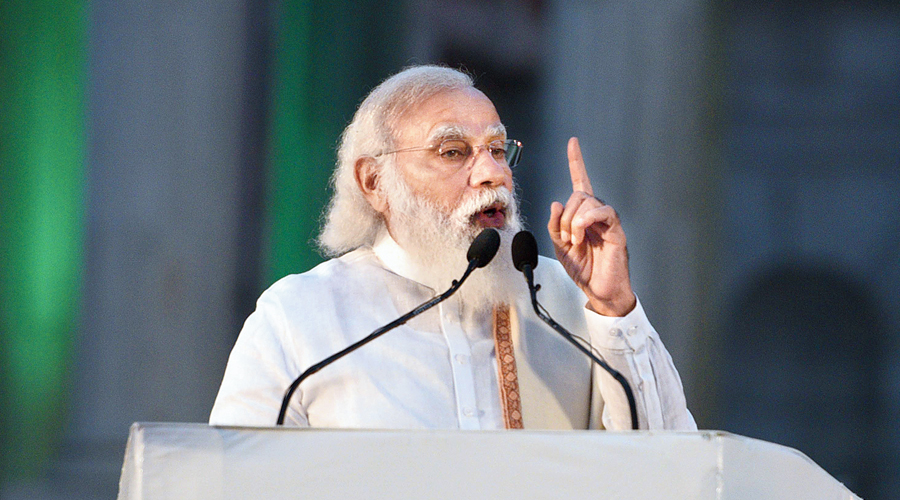 ---
|
Calcutta
|
Published 24.01.21, 01:47 AM
---
Prime Minister Narendra Modi on Saturday strenuously attempted to associate the vision of Netaji Subhas Chandra Bose with the "achievements" of his government, steering clear of the secular hero's inclusive philosophy.
Quoting Netaji repeatedly in laboured Bengali, the Prime Minister allowed saffron to paint what was to be an apolitical event of the ministry of culture at the Victoria Memorial Hall lawns on Saturday, not unlike his January 12, 2020 address at Belur Math, where Modi had used the occasion of Swami Vivekananda's birth anniversary to defend the controversial amended citizenship law.
Modi — in the presence of chief minister Mamata Banerjee — went to the extent of raising his party's pitch for its Assembly poll campaign, urging people in the name of Netaji and his legacy not to rest till "Sonar Bangla" was achieved.
"Netaji Subhas, along with Atmanirbhar Bharat, is the greatest inspiration for Sonar Bangla. The role he played towards India's Independence, Bengal must play that role in Atmanirbhar Bharat…. Bengal must come forward, add to its own glory, and that of the nation. Like Netaji, we must also not stop till we achieve the goals we have set for ourselves," he said, towards the end of what virtually became a BJP campaign speech.
Modi's speech was replete with attempts to underscore Netaji's Hindu background — such as references to how Netaji supposedly carried a copy of the Bhagvad Gita with him, how he sent a niece to seek blessings for his mission from the Dakshineswar Kali Temple — while keeping mum on the icon's secular, tolerant, humanist worldview.
Referring to Netaji's request to nephew Sisir Kumar Bose — "Amar ekta kaj kortey parbey (Can you carry out a task for me)?" — for help with the historic escape from under British surveillance from his Elgin Road residence in January 1941, which paved the way for his epic transcontinental war effort for India's Independence, Modi launched into a series of associations between Netaji's aspirations and the things attempted by the present central government.
"Today, if every Indian puts his hand to the chest and experiences Netaji once again, everyone would hear that (request to Netaji's nephew)…. That task, that goal is of making Atmanirbhar Bharat…. There is no power in the world that can stop India from achieving Atmanirbhar Bharat," Modi said.
"It pleases me that this country now is working tirelessly for the empowerment of the downtrodden, the exploited, farmers, women…. Today, every poor person is getting help for healthcare (apparent reference to Ayushman Bharat)," he added. "Farmers of the nation, from seeds to the markets, are being given modern aid...what they spend on agriculture, there are efforts underway to reduce that (apparent reference to the contentious farm laws)," he added.
Adding the National Education Policy and even the acquisition of Rafale aircraft to the mix of things that, according to Modi, would have pleased Netaji, he broached the subject — albeit only in passing — to the conflicts with Pakistan and China.
"Netaji is watching us, blessing us, loving us… the strong India he had imagined, today from the LAC to the LoC, that is the avatar of India that the world is watching. From wherever there is an attempt to challenge India's sovereignty, today, this country responds fittingly," said the Prime Minister.
Modi, who in his very first year as premier, decided to replace Planning Commission envisioned by Netaji with the NITI Aayog, attributed to the icon his government's propensity to commit to contentious policies despite opposition. "Something Netaji said that influences me, the relentless effort to achieve your own goal…. He taught me that if some idea is not simple, not common, has difficulties, despite that, there should be no fear in trying out something new..."
"If you believe in something, you have to show the courage of starting it. It might seem that you are going against the tide. But if your goal is pure, there should be no hesitation," he said.